Chinese Easter Book by Gail Gibbons: 复活节 Review & Craft Stick Puzzle
Finding Chinese 复活节 (Fùhuó jié / Easter) books is not easy. I have searched for Chinese Easter books at every online Chinese bookstore, and the options are few to none. At last, I found Gail Gibbons' Easter book in simplified Chinese!
Gail Gibbons is known for her narrative nonfiction picture books, and I am always looking for realistic Chinese books for my kids. This Chinese Easter book is a great way to teach the principles of Easter to young children.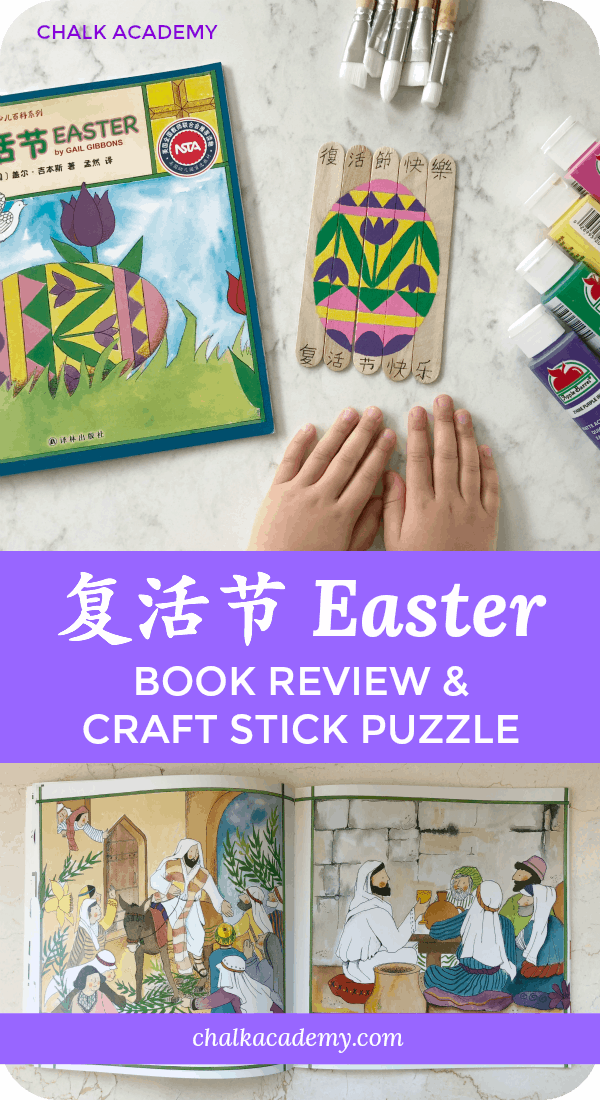 This post has affiliate links. Please see our disclosure policy for further details.
Chinese Easter Book by Gail Gibbons
Title: 复活节 (Fùhuó jié / Easter)
ISBN: 9787544712934
Author: Gail Gibbons

Publisher:译林出版社
Language versions/Where to Buy:
Simplified Chinese
English
Type: Narrative nonfiction book, picture book
Level: Preschool to 3rd grade
复活节 (

Fùhuó jié / Easter) Book Review
Background
复活节

by Gail Gibbons is 23-paged book about the origin of Easter and how modern traditions arose from the religious event. The book begins with a religious background about the Last Supper, Crucifixion, and then the Resurrection. The latter part of the book concludes with modern-day traditions, including Easter egg games and the legend of the Easter Bunny.

The text is simple with a few lines on most pages. However, there was a lot of new vocabulary for both my daughter and myself. For reference, my daughter can read ~700-800 characters, but most pages had a few unfamiliar characters.

Proportional, watercolor-and-ink illustrations are a refreshing change from the cartoon-heavy children's book options, which makes this book Montessori-friendly.

What we like about this Chinese Easter book
The narrative is suitable for a young child. The book explains that the Crucifixion is a nailing of the cross with illustrations of the three crosses (see photo below). However, traumatic details are left out while giving room for the parent to have further discussion with their child.


I also appreciated that the author removed the commercialized aspect of the holiday and acknowledges why many children believe in the Easter bunny.
Downsides
On the front and back covers, the pictures of the Easter egg and basket are misleading. Initially, I thought that the content would be focused on the secular traditions.

The book uses the phrase "滚蛋比赛 (

gǔndàn bǐsài / Egg games)". However, it would be preferable to say

滚

鸡蛋比赛 (g

ǔnjīdàn bǐsài/ Chicken egg games) since 滚蛋 (gǔndàn) is a Chinese interjection meaning "Be gone!", "Get out!", or "Go to Hell!"
Photos of Gail Gibbons Chinese Easter Book
Hands-on Chinese Easter activities
While our family believes in focusing on the religious meaning of Easter, we also take part in some modern Easter activities.
Since my daughter is a puzzle-lover, I made a craft-stick puzzle of the egg on the book cover with acrylic paint. For character reinforcement, I wrote "Happy Easter" in both simplified and traditional Chinese on the craft sticks for reading practice.
More Easter Activities for children
If you're interested in more hands-on learning activities, explore our Multilingual Activities Library!
Chinese Christian resources for families
To see more Chinese children's book recommendations, check out our Chinese book reviews!