Teach Days and Months with Calendar Wheels in Chinese and English (Printable)
To teach my children about the past, present, and future and learn about the relationship of important calendar terms, I made interactive calendar wheels!
Since my children speak Chinese and English, these printable wheels come in both languages! They have been super helpful for teaching calendar concepts, such as days of the week and months of the year.
This post may have some affiliate links. If you click an affiliate link and make a purchase, I earn a small commission which supports our educational tips at no additional cost to you. Please see the disclosure policy for details.
I first got the brilliant idea from a paper plate days of the week wheel that I saw on @Lnnally. She inspired me to make these bilingual printables to share with other parents and teachers! 🙂
Fun way to teach days of the week and months of the year!
In this post, you will find:
Days of the Week wheel
Months of the Year wheel
These calendar wheels are available in:
Simplified Chinese
Traditional Chinese
English
Teach Kids clock and calendar skills
This resource is part of a series on how to teach kids clock and calendar skills:
Calendar Wheels: Days of the week and Months of the Year (This article)
Calendar translations in Chinese, Pinyin, and English
Since many of you have told me that you're learning Chinese with your children like me, I wanted to share common calendar translations here.
Taking these notes also helps me remember the Chinese words.
Below, I have included important calendar terms in simplified Chinese, traditional Chinese, Hanyu Pinyin, and English.
NOTE: The Pinyin from Google translate is often inaccurate. I recommend checking Pleco app or a Chinese dictionary website like Yabla Dictionary for accuracy.
日历 / 日曆 (rìlì /calendar)
星期 (xīngqī / week)
月 (yuè / month)
年 (nián / year)
季节 / 季節 (jìjié / season)
天 (tiān / day)
How to say the months of the year in Chinese
一月 (yī yuè / January)
二月 (èr yuè / February)
三月 (sān yuè / March)
四月 (sì yuè / April)
五月 (wǔ yuè / May)
六月 (liù yuè / June)
七月 (qī yuè / July)
九月 (jiǔ yuè / September)
十月 (shí yuè / October)
十一月 (shí yī yuè / November)
十二月 (shí èr yuè / December)
I've also learned that standard Chinese words for days of the week varies depending on location.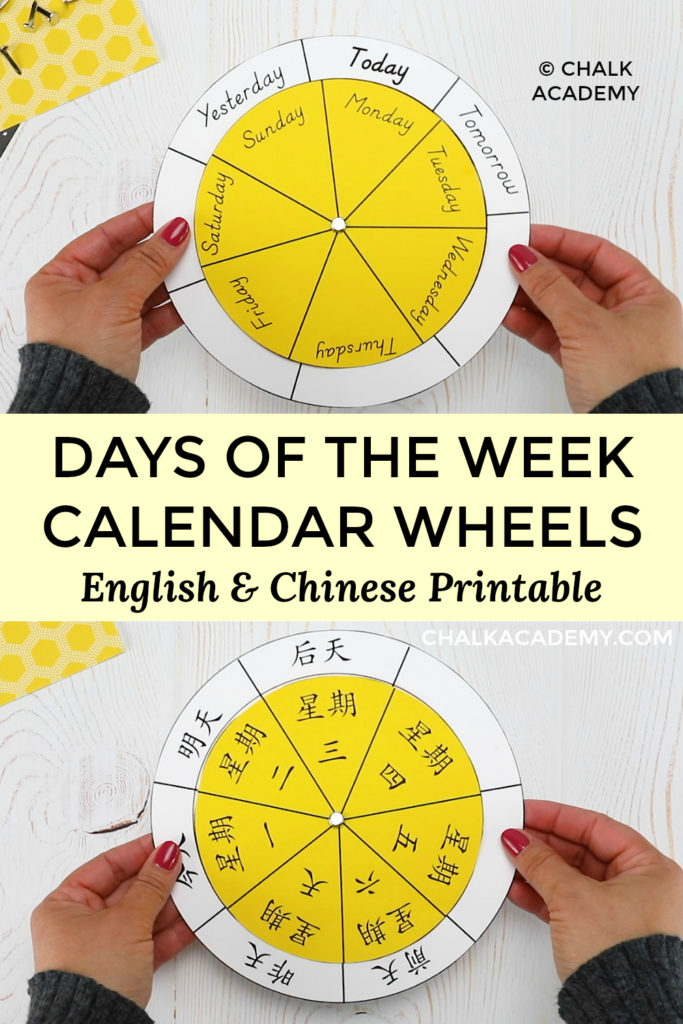 How to say the days of the week in Chinese
Here are 3 of the the most common ways to name the days of the week:
Sunday

星期天 (xīngqītiān) or 星期日 (xīngqīrì)
周日 (zhōu rì)
礼拜天 (lǐbàitiān)

Monday

星期一 (xīngqīyī)
周一 (zhōu yī)
礼拜一 (lǐbài yī)

Tuesday

星期二 (xīngqī èr)
周二 (zhōu èr)
礼拜二 (lǐbài èr)

Wednesday

星期三 (xīngqī sān)
周三 (zhōu sān)
礼拜三 (lǐbài sān)

Thursday

星期四 (xīngqī sì)
周四 (zhōu sì)
礼拜四 (lǐbài sì)

Friday

星期五 (xīngqī wǔ)
周五 (zhōu wǔ)
礼拜五 (lǐbài wǔ)

Saturday

星期六 (xīngqī liù)
周六

(zhōu liù)
礼拜六 (lǐbài liù)
星期, 周, and 礼拜: Which is the most common way to describe days of the week in Chinese?
After speaking to dozens of parents around the world, my understanding is that 星期 (xīngqī) is the most common general term to describe the day of the week in most parts of Asia.
周 (zhōu) seems to be common for Beijing natives.
礼拜一, 二, 三… (lǐbài yī, èr, sān…) is another way to describe days of the week and is used often in certain regions, such as Hong Kong and Singapore.
My Shanghainese relatives also typically say this. Although, I have not made a 礼拜 wheel yet, leave a comment if want me to make this version for your family!
Since we are a Christian family, a few years ago, I made a personalized wheel that says 主日 (zhǔ rì / Lord's Day) for Sunday which you'll see in these photos.
At that time, I was teaching my daughter about 主日学 / 主日學 (zhǔ rì xué / Sunday school).
However, 主日 is not typically used to describe Sunday compared to the aformentioned terms.
How to teach calendar concepts
Every morning, we try to start the daily routine by identifying the date on the calendar. Habit and practice encourages pattern recognition and comprehension over time.
Here are basic questions that we discuss when reviewing the calendar wheels
Months of the year:

我们在哪个月?/ 我們在哪個月?(Wǒmen zài nǎge yuè? / What month are we in?)

Days of the week:

今天星期几?/ 今天星期幾? (Jīntiān xīngqī jǐ? / What day is it today?)
昨天是星期几?/ 昨天是星期幾? (Zuótiān shì xīngqī jǐ? / What day was it yesterday?)
明天是星期几?/ 明天是星期幾 ?(Míngtiān shì xīngqī jǐ / What day is it tomorrow?)
What you need for the calendar wheels
Please review the Terms & Conditions before downloading any materials.  ©2021 CHALK ACADEMY. Do not share any files without permission from chalkacademy.com. Only this website link may be shared.
Calendar wheel templates: Our Printables Library for subscribers has several versions of calendar wheels in Chinese and English
Scissors
Pushpins
If you prefer not to pin to corkboard, you can use paper fasteners
How to set up the calendar wheels
Print pdf file on different colors of paper. My daughter likes choosing the colors!
Laminate each page
Cut out circles
Pin to corkboard so that your child can visualize all wheels
My daughter has so much fun spinning the wheels! It's so helpful being able to compare the months of the year and days of the week side by side.
More fun interactive calendar printables
Interactive Chinese calendar
I highly recommend using the calendar wheels in conjunction with our fun Interactive Chinese Calendar!
Chinese Zodiac Wheel
For Chinese New Year, your family can also enjoy our interactive Chinese Zodiac Wheel in simplified Chinese, traditional Chinese, and English!
Does your family use 周, 星期, or 礼拜?  Should I make a 礼拜 Days of the Week Wheel?  Please leave a comment with your suggestions!
Have you tried our bilingual calendar printables with your kids?
If you try this activity, please let us know in the comments below! What age(s) are your kid(s) and how did it go? We'd love to hear about your learning experience!
On Instagram and Facebook, tag a photo @chalkacademy and use the hashtag #ChalkAcademy so our family can check out the action! Or email me a photo at [email protected]!
Tips on creating a Chinese learning environment at home
Happy learning, friends!