Eyes That Kiss In The Corners Book Celebrates Asian Heritage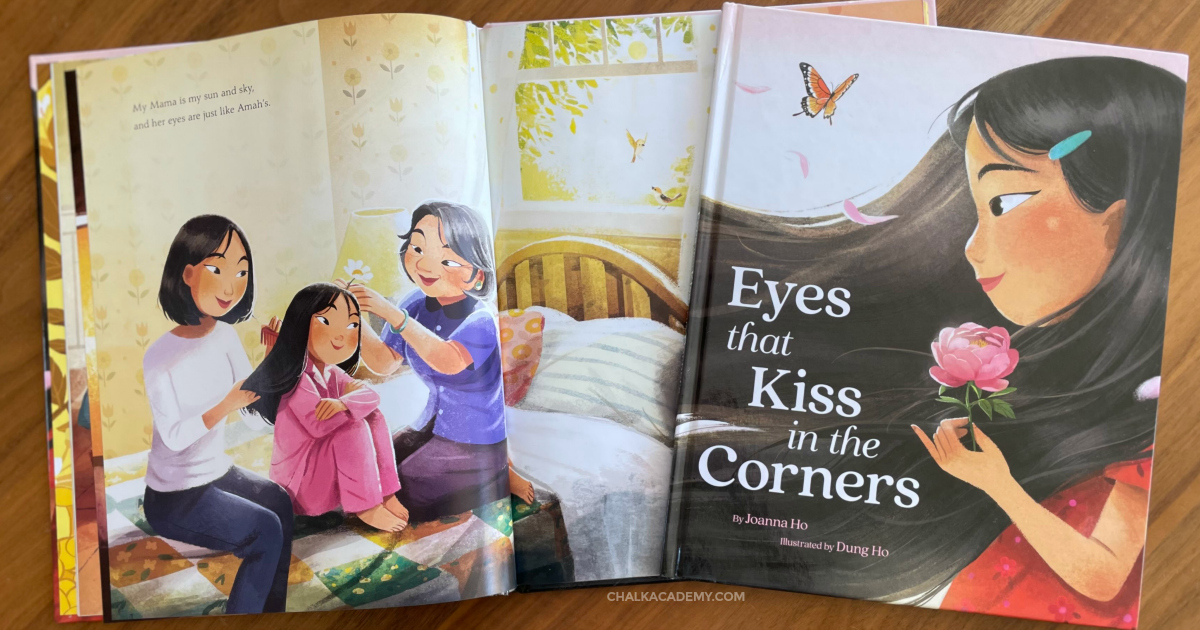 I've been waiting for this book my whole life and it's finally here: Eyes That Kiss In The Corners! As many of you know, I was bullied throughout my childhood due to race, and I didn't embrace my appearance and parents' language until I was an adult. This story is a true blessing for people like me, my Chinese-Korean-American children, and many of you, too.
This post may have some affiliate links. If you click an affiliate link and make a purchase, I earn a small commission which supports our educational tips at no additional cost to you. Please see the disclosure policy for details.
Review of Eyes That Kiss In The Corners
Author: Joanna Ho is a Taiwanese-Chinese-American vice principal and mother of 2 children.
Illustrator: Dung Ho is a Vietnamese illustrator who is also well known for her work in the Mindy Kim series.
Publisher: Harper Kids
ISBN: 9780062915627
Where to buy:
When I first read Eyes That Kiss In The Corners to my children, I broke down in tears.
Tears of relief.
Tears of gratitude.
And tears of hope.
What is Eyes That Kiss In The Corners Book about?
On the first page, a little girl notices that her friends' pretty eyes are different from hers: "I have eyes that kiss in the corners and glow like warm tea."
It's the most eloquent and healing way I've ever heard our eyes described.
Throughout the story, the little girl notices her beautiful eyes are windows and mirrors like her sister's, mother's, and grandmother's.
Explore this: Why Our Kids Need to Hear These Affirmations Everyday (English / Chinese Printable)
Pages of poetic affirmation and breathtaking illustrations are paired with references to iconic legends.
My children were delighted to find familiar fictional favorites, such as Monkey King 孙悟空 from Journey to the West 西游记 and Cháng'é 嫦娥 from the Mid-Autumn Festival folktales.
Since tea is a central part of Asian culture, I was moved by artistic analogies like "Gold flecks dance and twirl while stories whirl in their oolong pools…"
Why this book is important
Children deserve to see themselves represented in books and other media.
In the United States, according to research from the Cooperative Children's Book Center:
"The number of books featuring BIPOC protagonists lags far behind the number of books with white main characters–or even those with animal or other characters. Taken together, books about white children, talking bears, trucks, monsters, potatoes, etc. represent nearly three quarters (71%) of children's and young adult books published in 2019.
Only ~ 8.7% of published books feature Asian/Asian American protagonists. The vast majority of these books are related to Lunar New Year and other festivals rather than regular, everyday life.
Heartfelt gratitude to author Joanna Ho and illustrator Dung Ho for creating this beautiful masterpiece. I feel so honored to have their brilliant work in our home library and have ordered several extra copies. Eyes That Kiss In The Corners is a true gift for friends, local libraries, and our community.
Trigger warning for transracial / adoptive families
Edit: January 11, 2021
I saw a few reviews on Amazon that highlighted potential challenges with this story for transracial / adoptive families. To quote reviewer Katherine S. Kelly: "If your sweet girl's eyes don't look like their moms or grandma's, then it could likely cause some hard feelings and conversations. Really disappointed as I was looking forward to this book so much and want more books to celebrate her beauty. Beauty doesn't come from sameness. Her eyes are beautiful even if they don't look like mine."
However, I've also heard from several Caucasian mothers who enjoyed reading the book to their transracial and/or adoptive children. Author Joanna Ho is Asian, and her children are part-Asian, part-white. Every family is different, so I wanted to bring up this up and also reiterate the pressing need for diversity and representation of beautiful transracial and adoptive families in books!
More resources that celebrate Asian Heritage
Happy reading, friends!