Sight Word Soccer – Reading Practice for Kids Who Love to Be Outdoors!
This summer, sight Word Soccer has been a fun way to practice reading outdoors while being active!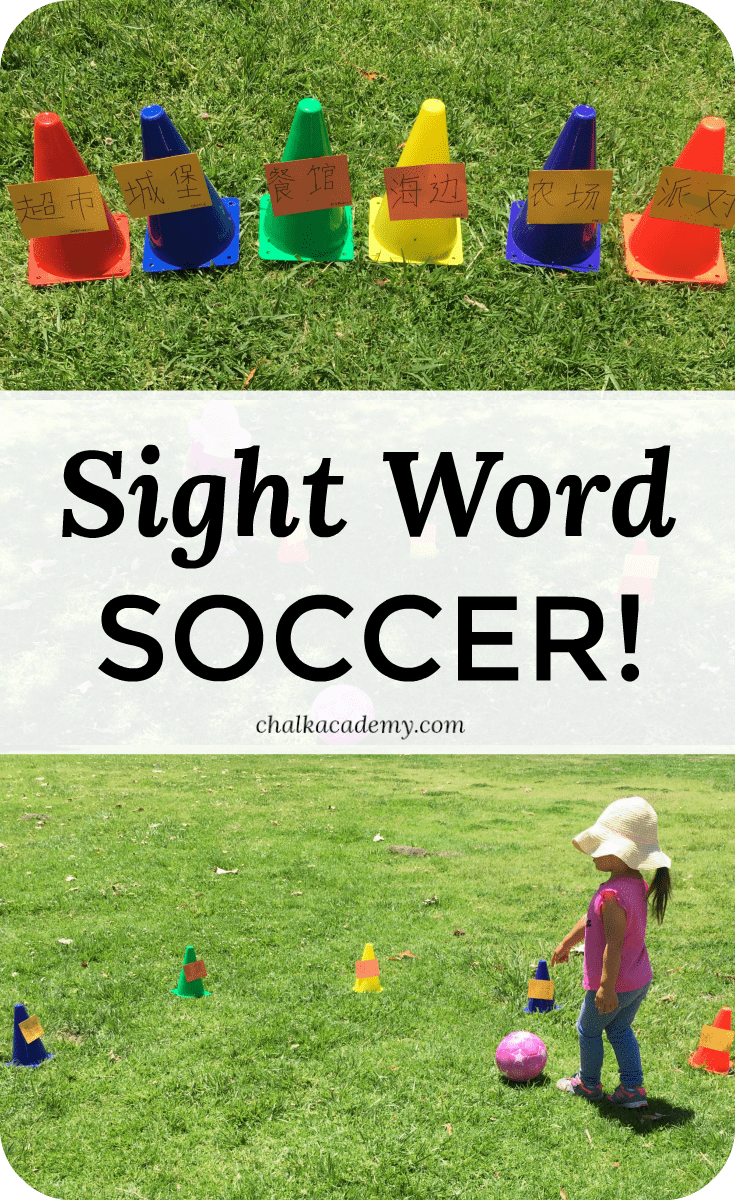 Who can play sight word soccer?
Sight word soccer is a fun literacy game for all ages – preschool, elementary, middle, and high school!
Kids naturally love to run around and play, and games are a low-stress way to sneak in reading practice!
In addition, it was great fun for me, a 30-something-year-old mom, and I certainly could use more exercise!
Families can play this sight word game at home, and teachers can enjoy this at school.
Benefits of Sight Word Soccer
Sight word soccer is perfect for any language. Since Chinese is one of my children's minority languages, we try to make it as fun as possible.
Naturally, everybody prefers English in our town.
However, my daughter loves to speak Chinese with me because we are making special memories with interactive games like Sight Word Soccer.
Use soccer games for other languages and other skills
All Chinese characters are essentially sight words – words that require frequent review to commit to memory.
If your family speaks another language, you can focus on letters, such as in the English or Korean alphabet.
In addition, you could make a game dedicated to shapes and numbers!
Related: Sidewalk Chalk Activities: 12 Fun Ways to Play and Learn Chinese!
What you need for sight word soccer:
Index cards
Painter's tape
Black Sharpie marker
Since we don't have much of a yard at our home, we took our soccer ball and cones to a local grassy park!
How to set up sight word soccer:
Write characters on index cards with Sharpie marker
Tape cards on cones
Take turns calling out the words and kicking ball to the chosen sight word
Following my child's interests with Sight Word Soccer
We recently tried a 6-week 足球 (zúqiú / soccer) course to see if my 3-year-old daughter might be interested in the sport.
Of course, she was really excited about the colorful cones and her imagination was stimulated.
Pretend play while learning Chinese
To narrow the learning objective, I asked my daughter to name her favorite places and wrote each name on index cards.
Including your child with the decision-making process will make any activity easier, since our kids love to feel like their opinion matters.
My daughter chose the following places:
超市 (chāoshì / supermarket)

城堡 (c

héngbǎo / castle)
餐馆 (cānguǎn / restaurant)

海边 (h

ǎibiān / beach, oceanside)

农场 (n

óngchǎng / farm)

派对 (p

àiduì)
Clear, legible signs for sight word soccer
I wrote these Chinese characters on flashcards and taped them onto the cones.
Since I want the Chinese words to stand out as the focal point, I didn't draw any pictures, and I did not add any Pinyin or English.
Imaginative play while learning, kicking, and running!
We pretended that each cone was a different place and my daughter contributed her own creative ideas to the educational game!
It was so fun to hear her express her imagination in Mandarin Chinese!
Sight Word Soccer was a huge hit with my toddler, and I hope your family can enjoy it, regardless of age!
Hooray for exercising our body and brain!!!
Have you tried Sight Word Soccer in your family's language?
If you try this activity, please let us know in the comments below! What age(s) are your kid(s), and how did it go? We'd love to hear about your learning experience!
Learning activities for every topic!
To sign up for our educational newsletter, please click the button below.
What is your child interested in today? Click below to explore activities and books that your child will love.
Happy learning, friends!