10 Kids Books About Preparing for New Baby Sibling in Chinese and English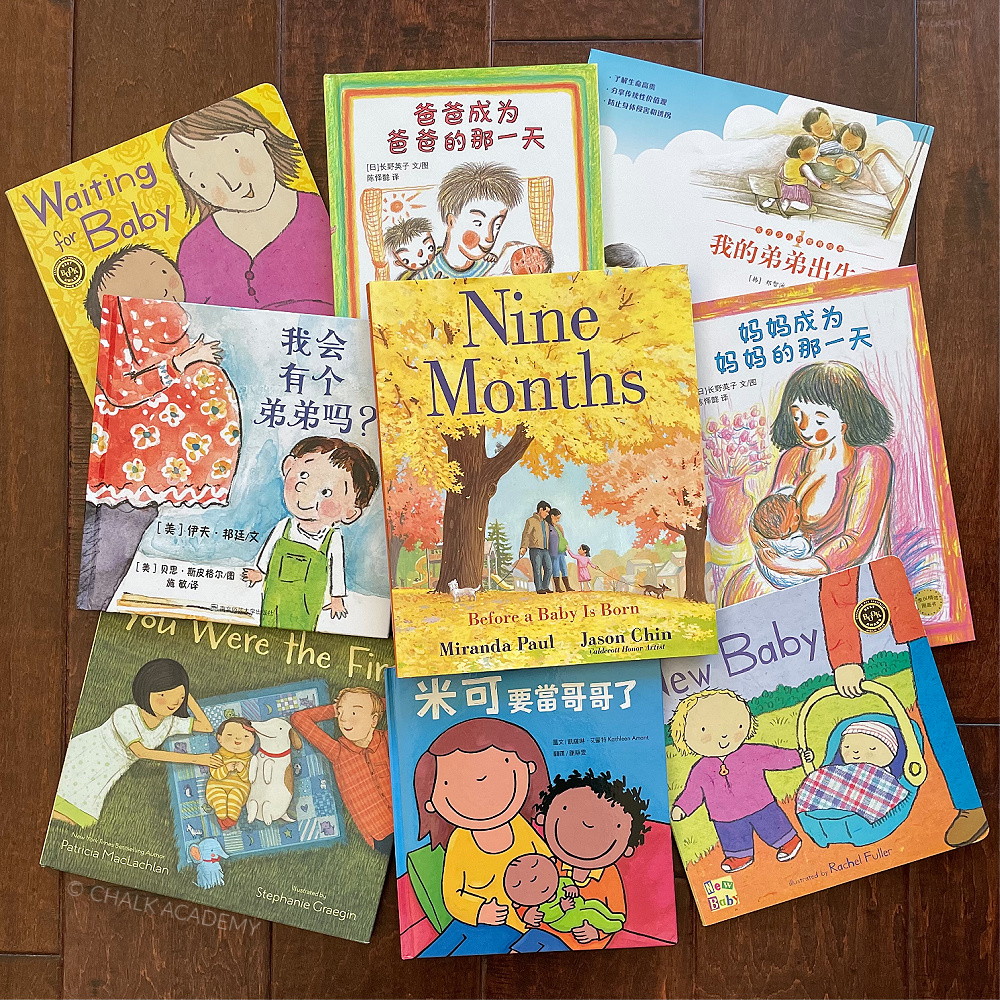 Years ago when I was pregnant with 弟弟 (dìdì / little brother), 姐姐 (jiějiě / big sister) had so many cute and curious questions. At that time, we only had 3 English picture books about preparing for a new baby sibling, and we read them over and over again. Over the years, I've collected a few more Chinese picture books about pregnancy so my children could learn this topic bilingually.
In this list of 10 English and Chinese children's books about preparing for a new sibling, I had the following criteria in mind:
Racially diverse families
Realistic pictures
Positive messages about pregnancy and new siblings
If your family is growing or you're looking for a gift for a friend, I hope these Montessori-friendly children's books can help!
Try this: Teach Your Child a Second Language at Home with 5 Key Steps
Children's Books About Pregnancy and New Baby Sibling in Chinese
Some of these books have free Mandarin narration on Ximalaya FM or are compatible with Luka Chinese Reading Robot. For older kids and parents learning Chinese, the Youdao Dictionary Reading Pen is a great option.
妈妈成为妈妈的那一天 / 媽媽成為媽媽的那一天 and 爸爸成为爸爸的那一天 / 爸爸成為爸爸的那一天
Originally published in Japanese, these engaging stories and whimsical illustrations reveal the journey of pregnancy. In the mom book, the birth occurs in the hospital; on the other hand, in the dad book, the birth occurs in grandma's house with all the siblings around.
Where to buy 妈妈成为妈妈的那一天 / 媽媽成為媽媽的一天

Simplified Chinese ISBN: 9787532493517

JD.com (China, ships internationally)

Traditional Chinese ISBN: 9789862941966
Where to buy 爸爸成为爸爸的那一天 / 爸爸成為爸爸那的一天

Simplified Chinese ISBN: 9787532493616

JD.com (China, ships internationally)

Traditional Chinese ISBN: 9789862942086

Audio narration (Mandarin)
我会有个弟弟吗? Will It Be a Baby Brother?
This is a cute story about a little boy who's excited about preparing for his new sibling. Throughout the book, he hopes he'll have a little brother and even chooses the name "James" for the baby. Turns out, his mother gives birth to a sister, and he still loves and bonds with her.
Where to buy

Simplified Chinese ISBN: 9787565105241

JD.com (China, ships internationally)

English ISBN:

Audio narration (Mandarin)
米可要當哥哥了
Originally written in Dutch and published in the Netherlands, 米可要當哥哥了 is an adorable story about a mixed-race family preparing for their new baby. Breastfeeding is included as shown in the image above.
Where to buy

Traditional Chinese ISBN: 9789869674737
Related: This book is part of a 3-book series about 米可 Growing Up, Potty Training, and Going to School; more photos here.
我的弟弟出生了
Originally published in Korean, this book features a little girl who wonders how her mother became pregnant as the family prepares for the new baby.
From nurturing standpoint, the father helps out with home responsibilities before and after the baby is born.
As for the more objective information, the baby's growth in the uterus, as well as a picture of the parents lying together, embraced and unclothed, with a drawing of sperm and egg, are shown. In addition, a glimpse of the delivery room is shown with the baby's head emerging, but details are not visible.
Where to buy

Simplified Chinese / ISBN: 9787564070441

Audio narration (Mandarin):
Understand this: Why Kids Need to Learn Real Names for Private Parts
Children's Books About Pregnancy and New Baby Sibling in English
Nine Months
Chinese-American author Jason Chin is known for his science-based books with diverse characters, and Nine Months is one of his many amazing books! Check out those amazingly detailed illustrations with true-to-life-sized embryo/fetus pictures! Of all the books in this list, Nine Months is a great option for older kids and younger kids alike.
Where to buy

English ISBN: 9780823441617
I wasn't able to find this book in Chinese, but several other Jason Chin books are available in simplified Chinese here and here.
Waiting for Baby
Rachel Fuller's book is a simple and sweet summary of pregnancy, preparation, and visits to the doctor! I read this a million times with my daughter as she was especially fascinated by the ultrasound and blood pressure evaluation pictures!
My New Baby
This book is a great follow-up to Waiting for Baby with simple questions and observations from the perspective of a toddler sibling.
You Were the First
For big siblings that need a reminder that they were our first loves, author Patricia MacLachlan writes this reassuring story. Illustrator Stephanie Graegin has featured a mixed-race family (Caucasian father, Asian-passing mother), which is rare to find in current picture books.
Where to buy

English ISBN: 9780316185332
It's Not the Stork: A Book About Girls, Boys, Babies, Bodies, Families and Friends:
This book came highly recommended by my pediatrician friends. It details the physical process of conception, pregnancy, and delivery. Some families feel comfortable discussing this topic at different times during childhood. Be sure to read the various reviews on Amazon to help with your family's decision!
Where to buy

English ISBN: 9780763633318
Explore this: The Best Human Anatomy Toys and Science Gifts for Kids!
What are your favorite Chinese and English books about pregnancy and new baby siblings?
If you end up reading this book, let me know what you think in the comments below!
We'd love to hear about your learning experience and if you agree or disagree with our review! What other books do you recommend?
FREE CHINESE AUDIOBOOKS
Many websites and apps offer FREE multilingual books for kids!
Ximalaya FM is our favorite, and I highly recommend their free Chinese audiobooks for all kids!
Since the entire website and app is in Chinese, please refer to this guide on How to Use Ximalaya if you cannot read Chinese.
Happy reading, friends!