Bilingual Chinese Picture Books with Pinyin and English for Kids
Are you a parent who is struggling to read Chinese books to your child? If you're like me, not fluent but trying to learn, bilingual Chinese picture books with pinyin and English translations can help you read to your child.
Reading is one of the best ways to teach a child a new language, and Chinese books with Pinyin and English can help parents learn, too! Years ago when I was first learning Mandarin with my children, I had no idea where to find beginner bilingual Chinese picture books. Gradually, we've discovered a bunch of great stories, and I'm excited to share our favorites with your family.
This article was first published in November 2018 and has since been updated with new information. Unfortunately, most of the books I initially recommended are no longer in print. To support authors and keep great resources available, please try to write reviews for your favorite books and share this post with family, friends, and teachers.
This post may have some affiliate links. If you click an affiliate link and make a purchase, I earn a small commission which supports this educational website at no additional cost to you. Please see the disclosure policy for details.
Best bilingual Chinese picture books with Pinyin and English
Since Pinyin is the phonetic system used in China and Singapore, most of these books have simplified Chinese characters. Some of these books are also available in traditional Chinese, the main language script used in Taiwan and Hong Kong.
Most of these Chinese picture books include English translations. This helps me focus on reading and connecting with my children without pausing to check my Chinese dictionary apps!
For your reference, these Chinese picture books with pinyin are listed in order of increasing difficulty.
Bilingual Chinese Library Series picture books with Pinyin and English
The Chinese Library Series was specifically created for overseas learners like our family, and these were some of the first books we read in Chinese. The series includes anthropomorphic animal stories, realistic stories about family, and famous Chinese festivals like Lunar New Year.
I appreciate the small, light-gray Pinyin is small which helps the black Chinese characters stand out.
In the back of each book, a glossary of key Chinese words are translated with English definitions. There's also an extended reading section plus a few reading comprehension questions.
My children's enjoyed most of the animal stories and Chinese festival stories! They weren't too fond of the family stories, and I felt that those were pretty dull, too.
However, I'll include the all of the links below if you're looking for more stories to read while boosting Chinese literacy.
Where to buy:
China Sprout (United States)
Purple Culture (Hong Kong, ships internationally)
Candied Plums bilingual Chinese picture books with Pinyin and English
I love the variety of stories published by Candied Plums. And the adorable watercolor illustrations are beautiful, too.
Each book has Pinyin plus full English translations at the back of the book.
Only 1 or 2 lines of text are on each page, making this a great Chinese book for beginners.
Unfortunately, I have some bad news to share. These books are going out-of-print, so try to get them before they are gone!
There's a Dark, Dark Hole 黑黑洞,有一个洞
In nature, there are dark holes everywhere. What could be in each of these holes? Sometimes ants march out in single file, sometimes crabs crawl out.
The title, 黑黑洞,有一个洞 (Hēi hēidòng, yǒu yīgè dòng), is also the phrase that creates a curious guessing game on each page. This picture book is fun and engaging for little kids.
Where to buy: Amazon | China Sprout
Who Ate My Chestnut? 谁吃了我的毛栗子?
A cute squirrel discovers a big chestnut and hides it in a hole in the ground. Winter comes, and after snow blankets the ground, he cannot find his chestnut. On each page, he follows footprints to find out who might have eaten his precious chestnut. "谁吃了我的毛栗子? (Shéi chīle wǒ de máo lìzǐ?)" he asks over and over again! The repetition and suspense on each page helps children remember this phrase until the spring season brings a happy surprise.
Where to buy: China Sprout
Borrowing a Tail 借尾巴
A young gecko 壁虎 (bìhǔ) loses his tail from a snake bite, and he asks various animals for help. He is hoping for the animals to lend him their tails, but they each decline, expressing concern that they cannot function without their tails. At the end of the story, he tells his mother how he lost his tail. Without realizing it, he had grown his tail back!
Borrowing a Tail 借尾巴 (Jiè wěibā) is one of my son's absolute favorite Chinese books! It's so fun to see the tail, guess the animal on the next page, and learn about the amazing ability to regenerate.
Where to buy: China Sprout
An's Seed 安的种子 (Ān dì zhǒngzǐ)
During winter, Ben, Jing, and An each receive a dormant lotus seed from their master. While Ben and Jing rush off to plant their seeds, An goes about regular life. However, the other boys are unable to get the seed to sprout. They wonder why their won't plant grow? Meanwhile, An patiently for spring, the right season.
This Chinese picture book teaches children the important virtues of patience and perseverance.
Where to buy: Amazon | China Sprout | Bilingual Bees
Mandarin narration: Ximalaya
Magic Hole Chinese books with Pinyin 奇妙洞洞书
We've had these interactive Magic Hole board books forever since my first child was a toddler. These books were also among the first that I learned to read, and I still remember trying to sound out the Pinyin while my toddler poked her fingers through each hole!
Years later, my second child also enjoyed the interactive holes and the simple, vibrant illustrations. As for me, I liked the plain white background because the Chinese words were more legible compared to other books with pictures behind the text.
Most of these Chinese magic hole books rhyme! But since the books were originally published in another language, some of the translations can be a little awkward. Please note that these books do not have English.
Where to buy: JoJo Learning
Note: Some of these Magic Hole books have been published in traditional Chinese with Zhuyin. They are available on books.com.tw.
Bilingual Mina Learns Chinese books with Pinyin and English
The Mina Learns Chinese series was created by a Taiwanese American mom who noticed a lack of relatable picture books with Pinyin and English translations for every word. The topics include family, Asian food, shopping, playing in nature, preparing for a baby sibling, gratitude, and more!
Good news: each of the books are available in simplified Chinese AND traditional Chinese! Mandarin and Cantonese narration is available on the author's website.
Where to buy: Amazon
Bilingual Shapes Chinese books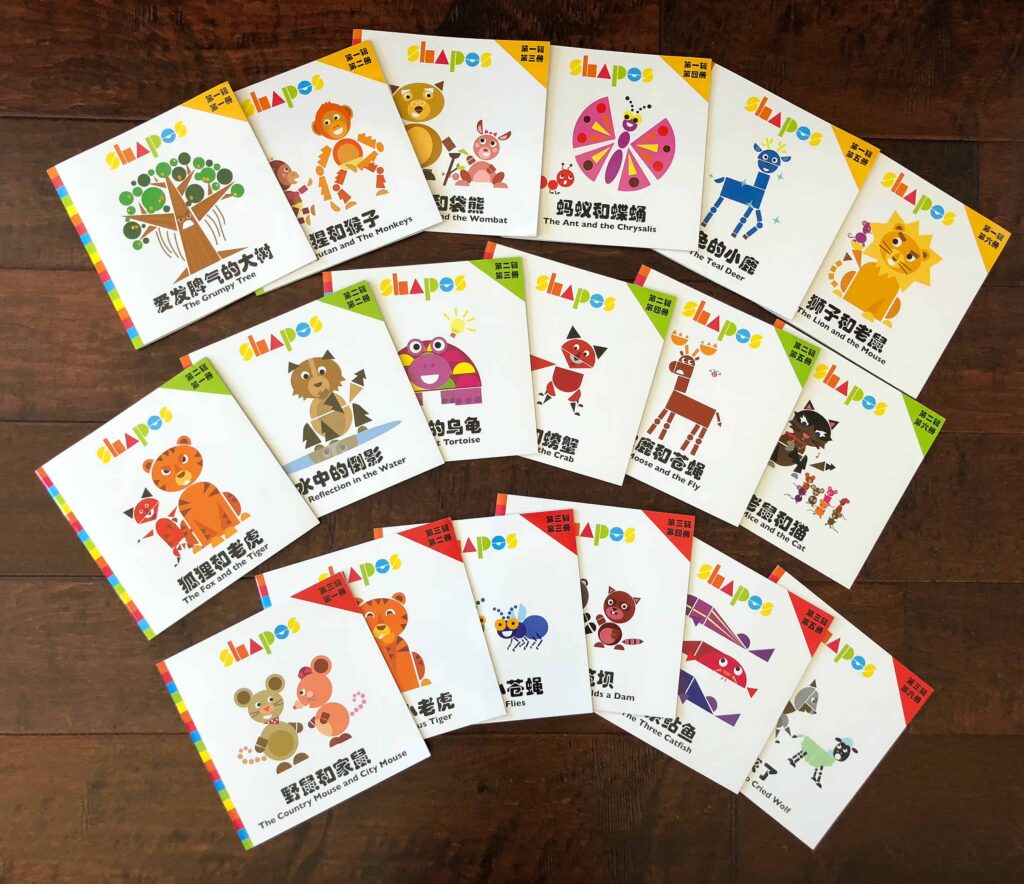 The 形状万花筒 Shapes series is more advanced but also much more interesting than the other stories here! Many of these books are based on classic fables, and all have really cool illustrations based on shapes. The giant Chinese characters make the books excellent for reading practice. If you're not sure about a word, flip to the back for full Pinyin phonetics as well as English translations.
Both of my children loved these intriguing stories! I really hope these Chinese pinyin books stays in print. The full set includes 3 volumes with the following titles:
Volume 1 – Friendship and Kindness 友爱互助
ISBN 9789810867812
The Grumpy Tree 爱发脾气的大树
The Orangutan and the Monkeys 猩猩和猴子
The Kangaroo and Wombat 袋鼠和袋熊
The Ant and the Chrysalis 蚂蚁和蝶=蛹
The Teal Deer 蓝色的小鹿
The Lion and the Mouse 狮子和老鼠
Volume 2 – Use Your Intelligence 多动脑筋
ISBN 9789810875695
The Fox and the Tiger 狐狸和老鼠
The Reflection 水中的倒影
The Clever Tortoise 聪明的乌龟
The Fox and the Crab 狐狸和螃蟹
The Moose and the Fly 驼鹿和苍蝇
The Cat and the Mouse 老鼠和猫
Volume 3 – Look Before You Leap 三思而行
ISBN 9789810875794
Barn Mouse and Country Mouse 野鼠和家鼠
The Mischievous Tiger 顽皮的小老虎
The Playful Flies 贪玩的小苍蝇
The Beaver's Dam 河狸筑坝
The Moose and the Fly 三条鲶鱼
The Cat and the Mouse 狼来了
Where to buy:
More helpful Chinese books and tools for bilingual families
What are your favorite bilingual Chinese picture books with Pinyin and English?
If you've read any of these books or have other books to recommend, please share in the comments below! Your experience would be so helpful to the community.
Happy Chinese reading, friends!