Emotions Book and Montessori 3-part cards in English, Chinese, and Korean
Empathy is an important life skill, and interpreting emotions requires analysis of facial expressions and body language. To reinforce this important skill for our family, I made an Emotions Book and Montessori 3-part cards with photographs of diverse children.
These helpful printables are available in English, Chinese, and Korean, my children's 3 languages.
Explore this: Why Our Kids Need to Hear These Affirmations Everyday (English / Chinese Printable)
This post may have some affiliate links. If you click an affiliate link and make a purchase, I earn a small commission which supports our educational tips at no additional cost to you. Please see the disclosure policy for details.
When to teach children about emotions and empathy
Emotions are feelings which change depending on what one is experiencing.
Empathy is the awareness of other people's emotions.
Emotional Intelligence is the ability to identify and manage one's own emotions, as well as the emotions of others.
Ideally, we are teaching our children how to observe and identify emotions throughout childhood.
When discussion is normalized and part of the daily routine at home and school, opening up and harnessing one's emotions becomes easier.
With control over emotions, children can think more clearly and demonstrate empathy, such as cheering up or calming down other people.
However, many adults struggle with emotions and may be learning how to navigate various feelings with their children.
The printable emotions book and Montessori 3-part cards can help all family members practice recognizing and discussing emotions together!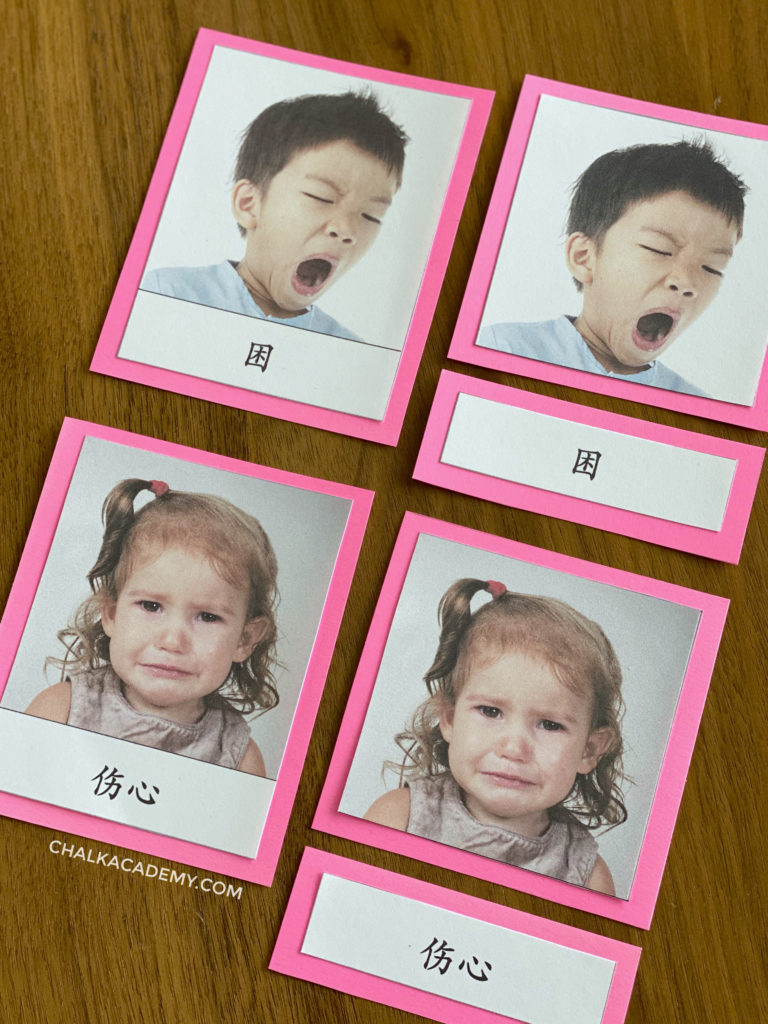 Why real photos are effective for teaching emotions
Although we have done several emoji learning activities in past years, photographs of real people are much more effective for teaching this topic.
Representation matters when teaching our kids
Since we live in a non-diverse town, my kids are exposed to children of different ethnicities primarily through books.
Although some baby board books have wonderful photos of emotions, these felt a bit young for my oldest child who is 5 years old.
Therefore, I was motivated to make printables about emotions that feature children of different backgrounds.
Download DIY emotions book and Montessori 3-part cards
Montessori emotions book and 3-part cards include step-by-step instructions, teaching tips, and game ideas. Chinese and Korean versions come with translations.
Recommended supplies for Montessori emotions books and 3-part cards
Tips for teaching kids with the Montessori emotions printables
My recommendation is to casually have open-ended conversations about emotions with your child. For example:
Look at a picture of a child.
Observe his or her features. Some children (like my 5-year-old daughter) may want to jump to naming or asking you to label the emotion. Encourage them to be patient.
Take out the "conversation starters" page of the emotions book. With each picture, consider the questions. If the questions are too open-ended for your child, you can ask more specific questions, for example:

Are the eyes open or closed?
What shape is the mouth?
Can you see what their hands are doing?

You can add more photos to your emotions book, such as with photos of your family members, or cutting out people from a magazine. I am only able to provide a limited amount of photos in this printable due to the high cost of licensing of copyrighted images.
With more photos of expressions, you can sort expressions by type. You can also compare how variations of an expression can represent the same emotion, and notice that slight differences can represent a totally different emotion. Also make note of how hands and body language can help convey an emotion.
Act out various emotions! Attempting to replicate various expressions may be a fun way for children to apply what they learned. However, we need to teach that imitating someone's real emotion can be insulting and mocking.
Lastly, I think it's important to emphasize that we can guess what emotion someone is conveying through their facial expressions, but the only person who knows the "correct' answer is the person in the photo. We don't know what another person is truly experiencing unless they can verbalize it honestly. In addition, recognizing a facade is an important skill.
Of course, the conversation with younger toddlers will likely be rather superficial. On the other hand, with older children and adolescents, you can delve into deep analysis!
Questions to encourage noticing and reflecting about emotions
The following questions are included in the printable emotions book:
Let's look at the facial expression. What do you see?

让我们来看一下面部表情。你看见什么? / 讓我們來看一下面部表情。 你看見什麼? (

Ràng wǒmen lái kàn yīxià miànbù biǎoqíng, nǐ kànjiàn shénme?)

어린이의 얼굴을 봅시다. 어떤 표정을 짓고 있나요?

How do you think he/she feels?

你觉得他/她有什么感觉? / 你覺得他/她有什麼感覺? (

Nǐ juédé tā/tā yǒu shé me gǎnjué?)

어떤 기분일까요?

What made you think he/she felt that way?

是什么让他/她有这样的感觉?/ 是什麼讓他/她有這樣的感覺? (

Shì shénme ràng tā/tā yǒu zhèyàng de gǎnjué?)

왜 그런 기분일까요?

Have you ever felt that way before?

你曾经有过这样的感觉吗?/ 你曾經有過這樣的感覺嗎? (

Nǐ céngjīng yǒuguò zhèyàng de gǎnjué ma?)

그런 기분이든적이 있나요?

What would you say to him/her?

你会对他/她说些什么?/ 你會對他/她說些什麼?(

Nǐ huì duì tā/tā shuō xiē shénme?

)

그 아이에게 어떤 말을 하고싶어요?
Emotions Montessori 3-part cards
Montessori 3-part cards encourage observing and matching images while learning new words. Each matching set of cards consists of:
Control card with picture card and word label
Picture card
Word label card
How to use the Montessori 3-part cards
For the 3-6 year old child, the task is to match the picture to the picture and the word to the word.
For children age 6 years and up, you can add a brief description of the concept on the back of the picture card for more information.
Note: These ages are only suggestions since children develop and learn at various paces.
I recommend presenting the Montessori 3-part cards after open-ended discussions with the emotions book.
Get the Montessori emotions book and 3-part cards here
More ways to learn about our amazing body
Learning activities for every topic!
To sign up for our educational newsletter, please click the button below!
What is your child interested in today? Click below to explore activities and books that your child will love!
Happy learning, friends!