6 Geography World Map Atlas Books in Chinese and English for Elementary and Preschool
I'm really excited to share our collection of world atlas books in Chinese and English for elementary school and preschool students! Geography has been surprisingly fun for my kids to learn bilingually, thanks to gorgeous map books!
Since my kids are fascinated by animals, we also have a few animal atlas books!
Each of these Montessori-friendly books have real photos or realistic illustrations.
Since I am part-time homeschooling my children, I got various English and Chinese world atlas books for us to learn together (I need a refresher).
These world atlas books are geared for children ages 5-12 years, but it's hard to give an exact age because every child is different. My 3-year-old toddler enjoys exploring the books with his big sister. However, he is still mastering his Montessori felt world map and sandpaper globes.
After browsing these with my children, I think a few are not necessary. I'll share pictures and details so you can see which books work best for your family! I'll also note which books are compatible with Luka Reading Robot!
I hope that you'll be able to find these world atlas books in your favorite library or bookstore!
This post may have some affiliate links. If you click an affiliate link and make a purchase, I earn a small commission which supports our educational tips at no additional cost to you. Please see the disclosure policy for details.
Montessori Geography World Map Atlas Books in Chinese and English
1. National Geographic: Wild Animal Atlas 美国国家地理·世界野生动物地图集 / 國家地理世界野生動物百科地圖
This is my 6-year-old daughter's favorite atlas, and my son loves to explore the photos, too! The atlas features physical maps only – no political maps.
Although the reading level is a bit challenging for her, she is motivated to learn the details about habitats and endangered species around the world.
Red dots next to animals indicate that they are endangered; this visual indicator was useful for my toddler son to be part of the discussion about how the animal population changes over time.
2. Usborne Animal Picture Atlas 动物地图
The Usborne Animal Picture Atlas is currently my 3-year-old son's favorite, and my 6-year-old rising second grader also loves it! The information and text are relatively focused compared to the other atlases in this post.
The book is divided into two sections:
The first part features physical and political maps of each continent and ocean with associated animals. Countries like India and Taiwan are labeled). In the corner of each double page, a small world map shows the region of focus.
The second part features different animal types, such as monkeys and apes, big cats, bears, birds, river dwellers, and ocean dwellers.
3. Barefoot Books World Atlas 跟爸爸一起去旅行地图绘本:世界地图
This beautifully illustrated world atlas focuses on communities and cultures around the world related to their environment.
In the corner of each page is a mini world map to give context for each country and continent featured. Many pages have additional flaps of information. North pole is also included.
However, reviews raise concerns about errors. For example, Mexico is excluded from North America and instead grouped with Central America. This contrasts publications such as National Geographic and Encyclopaedia Brittanica.
Despite conflicting information, since this book can be read in fluent Mandarin by our Luka reading robot, it's still helpful for us. This highlights the importance of checking different resources while learning and teaching our children to analyze presented information carefully.
Similar option in traditional Chinese: 我的環遊世界大發現
3. Maps
This Maps book by Daniel Mizielinska, Aleksandra & Mizielinski is very popular among homeschoolers! It illustrated with country borders, big cities, rivers, mountains, historical landmarks, and, iconic animals.
While I understand that they can't include every country in the world, it was disappointing to see major absences in the English version.
For example, in the Asia section, Korea is excluded, and Taiwan is just a blank, unlabeled island next to China. In Africa and South America, many countries are also skipped over. There are different editions of this book, and the special edition includes more countries, but Amazon reviews still have complaints.
Here are a couple close-up photos of this world map book. I am thinking about donating this book, but I'm concerned that the recipient might not question accuracy.
However, other moms shared with me that the traditional Chinese version has a full size map of Taiwan in the book! I'm always fascinated by how different the content can vary among different publishers.
Montessori world atlas books in English
1. Around the world from A to Z
Written by Christinia Cheung and Han Tran and illustrated by Tong Wu, this book is a Montessori dream! The hardcover book features slightly textured sandpaper letters in the context of a country and sports.
The letters are in standard Montessori colors (consonants = red, vowels = blue), just like the globe (orange = North America, pink = South America, red = Europe, yellow = Asia, green = Africa, brown = Australia).
Parents and teachers seeking inclusive resources will be happy to see a diverse array of sports and people on each page!
However, to be honest, as much as I love this book, my children do not reach for this as often as other books. Please take this into consideration when choosing which world map books to get!
2. National Geographic World Atlas
As usual, National Geographic books are always a big hit!
This book is different that our Chinese version above as it focuses more on physical features and general statistics about culture and language in each continent.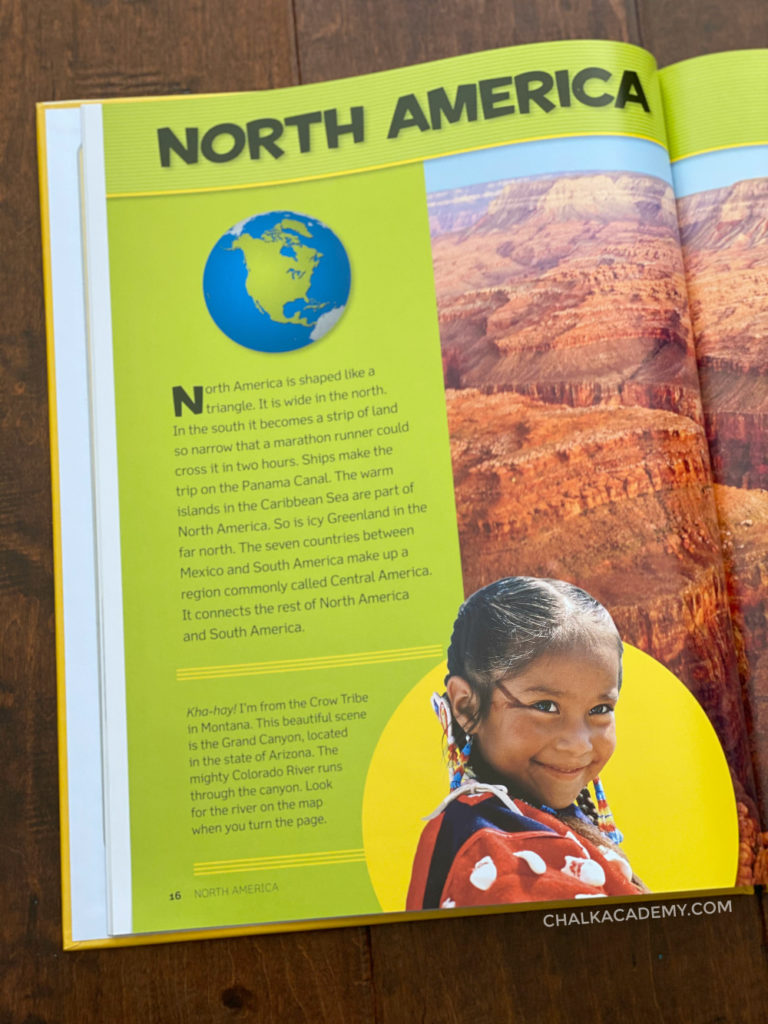 Regarding Taiwan, the caption on Asia's page says "The People's Republic of China claims Taiwan as its 23rd province. Taiwan's government (Republic of China) maintains there are two political entities.
More bilingual geography resources for kids
Do you have any of these English or Chinese world atlas books?
Please share your favorites in the comments below so that other parents and teachers can learn, too!
FREE CHINESE AUDIOBOOKS
Many websites and apps offer FREE multilingual books for kids!
Ximalaya FM is our favorite, and I highly recommend their free Chinese audiobooks for all kids!
Since the entire website and app is in Chinese, please refer to this guide on How to Use Ximalaya if you cannot read Chinese.
More Chinese books for kids
For all book recommendations, explore our favorite Chinese books for kids!
If you're wondering where to buy kids' books, click here for the most popular online Chinese bookstores!
Happy reading, friends!