How to Make Paper Fortune Cookies with Template (Video Tutorial)
A few years ago, my family made rainbow paper fortune cookies for the first time. Since my daughter loves rainbows, my sister loves origami, and I'm obsessed with learning Chinese, we were the dream team! If you're wondering how to make fortune cookies, we made a handy template with special bilingual messages that you can simply print. Then, I'm going to guide you step-by-step on how to make perfect paper fortune cookies!
Our fortune cookie template includes famous Chinese proverbs and bilingual positive affirmations. If you're a visual learner, be sure to watch our video tutorial, too. It really helps to see the folding process in action.
This post may have some affiliate links. If you click an affiliate link and make a purchase, I earn a small commission which supports this educational website at no additional cost to you. Please see the disclosure policy for details.
Where did fortune cookies come from?
When making these paper fortune cookies, my daughter asked, "Who invented fortune cookies?" And I thought that was a great question!
Although most people think of fortune cookies as a dessert in Chinese restaurants, they are not actually traditional Chinese food! Instead, fortune cookies are thought to have originated from Japanese American immigrants who first made fortune crackers.
Fortune crackers were larger and darker, as they were made of sesame and miso, rather than the vanilla and butter you would see at Chinese restaurants today.
The first known fortune cookie in America is thought to originate from the Japanese Tea Garden in Golden Gate Park in San Francisco, although a few other places also claim credit! Eventually, they became popularized by Californian Chinese immigrants who began to serve them after dinner since Americans often want dessert!
Currently, fortune cookies are popular at Chinese take-out restaurants and fine-dining establishments. They are known for their crisp, sweet vanilla flavor and a surprise message with "lucky" numbers inside.
And the paper fortune cookies you see here? Especially with the positive bilingual messages from our template, this activity has become a bonding and learning opportunity for my kids. However, feel free to put any kind of messages inside your fortune cookies!
Explore this: Why Our Kids Need to Hear Positive Affirmations
Download paper fortune cookie template and messages
To save time, you can download and print my fortune cookie template. Inside the printable, you'll find:
Step-by-step instructions
Printable circle template
Bilingual English and Chinese messages with famous proverbs plus positive affirmations
When you're ready to begin crafting, print out the template and messages to put inside your origami fortune cookies.
Other supplies for making paper origami fortune cookies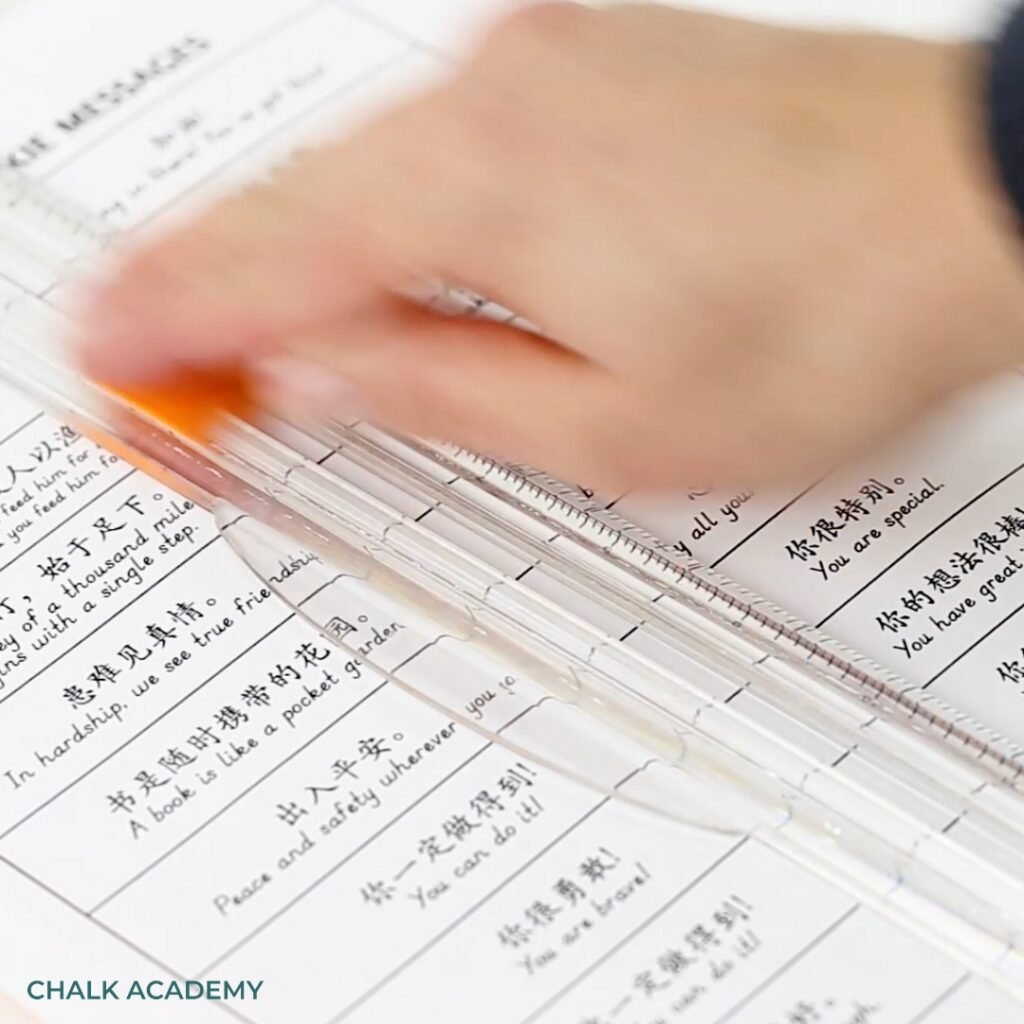 As this is a fairly simple craft, you probably have most of the supplies on hand already! Colored paper is a must-have to make them pop. Plus, choosing colors adds a little extra fun for kids.
How to make paper fortune cookies
While paper fortune cookies might seem easier than baking the real treat, this craft took us a bit of trial and error to perfect. But once you get the hang of how to fold them, each one takes just a few seconds to make.
Therefore, we're glad that we can share our tips so that you'll have an easier time making these compared to our first attempts.
Cut circle and message templates.
With the first circle, make a half-inch crease at the center with your fingertip or nail.
Unfold the circle.
Flip the paper around and gently bring the edges of the circle together perpendicular to the crease.
Press in crease with your index finger.
Use your thumb and middle finger to press cookie edges together. You now have the

fortune

cookie shape

.
Place 1 message inside circle; length of paper should be perpendicular to the crease.
Repeat steps 4 to 7.
Place double-sided tape (or glue) in the middle of the cookie to maintain shape.
Repeat above steps to make more fortune cookies.
Give the fortune cookies to your friends and family! 🙂
Video tutorial for how to make a paper fortune cookie out of paper
I know that reading instructions can sometimes make the brain spin. So, if you're more of a visual person, watch my video tutorial and make paper fortune cookies along with me!
See our tips in action. Scoring and folding the paper is important before inserting the fortune message and makes folding and shaping the cookie easier.
Ways to play and learn with paper fortune cookies
Play pretend restaurant
After we finished folding the cookies, my kids had their own plans in mind. They set up a pretend restaurant with cute wooden plates, cups, and our rainbow paper fortune cookies!
Paper fortune cookie lunchbox message
For big kids who are able to read, you can also surprise your child with a fortune cookie message in their lunchbox! This is such a fun way to send them a little message each day that they can look forward to.
Party favors
Hosting a party? Make paper fortune cookies and print our bilingual messages for the goodie bag!
They are also a great addition when celebrating Chinese Lunar New Year at home or in the classroom. It's a fun way to get your kids involved in the festivities.
Valentines
If you want a little something different for Valentine's Day, you can make these origami fortune cookies and replace the messages inside with heartfelt sentiments and wishes.
Get the fortune cookie template and bilingual messages here
Have you tried making rainbow paper fortune cookies?
If your family has fun making these rainbow paper fortune cookies, please let us know in the comments down below. I'd also love to see how your cookies turn out and your own spin on them! If you make them, please share a picture of your origami fortune cookies.
More ways have fun learning about Chinese culture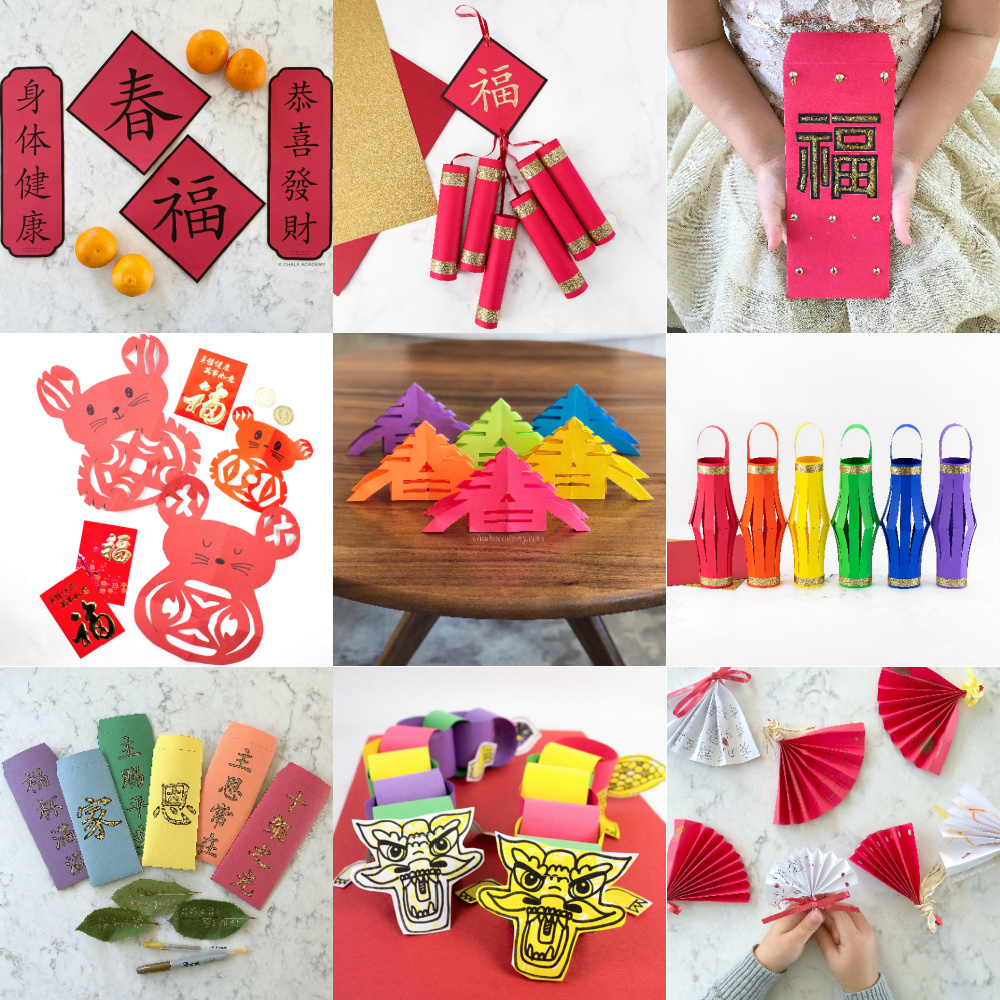 Happy crafting, friends!