Chinese Play Food: Review of Realistic, High Quality, Non-Plastic Toys!
In attempt to provide a taste of Chinese culture to my son and daughter, I bought these beautiful, Chinese play food toys from Heartfelt Makan.
Here is a peek inside the bamboo steamers….
Memories of Chinese dim sum with family
My favorite memories as a child involve Toronto trips to feast on dim sum with my Chinese relatives.
Since I grew up in a small, non-diverse town in New York state, I was always in awe of seeing many Chinese people in one place!
At dim sum restaurants, we shared the common goal of waiting and wading through the crowd to enjoy delicious, bite-sized Chinese dishes.
Through the hustle and bustle, you have to keep an eye out for your favorite dumplings as the creaky carts roll by!
Since we live several hours away from the nearest authentic Chinese restaurant, my children rarely get to experience this.
Also, my son also has multiple severe food allergies including egg and sesame, which are ubiquitous ingredients in Chinese food.
Therefore, we are grateful for the beautiful Chinese play food from Heart Felt Makan!
Chinese play food- a great cultural gift for kids!
In December 2017, I bought these Chinese food toys as their Christmas gift.
We love this play food set and highly recommend it as a Chinese cultural gift for birthdays and holidays!
Teach Kids Chinese with Chinese play food
My kids have learned a lot of practical Chinese vocabulary through pretend play with Chinese play food.
Some ideas that you can try with your child(ren) or student(s) include:
Letting them use their imagination as if they were at a Chinese restaurant
Talking about the dim sum ingredients in Chinese, reviewing kitchen related words, and imagining the delicious aroma and taste!
Using the toys for reference when reading books about Chinese culture!
Practice speaking Chinese through dramatic play!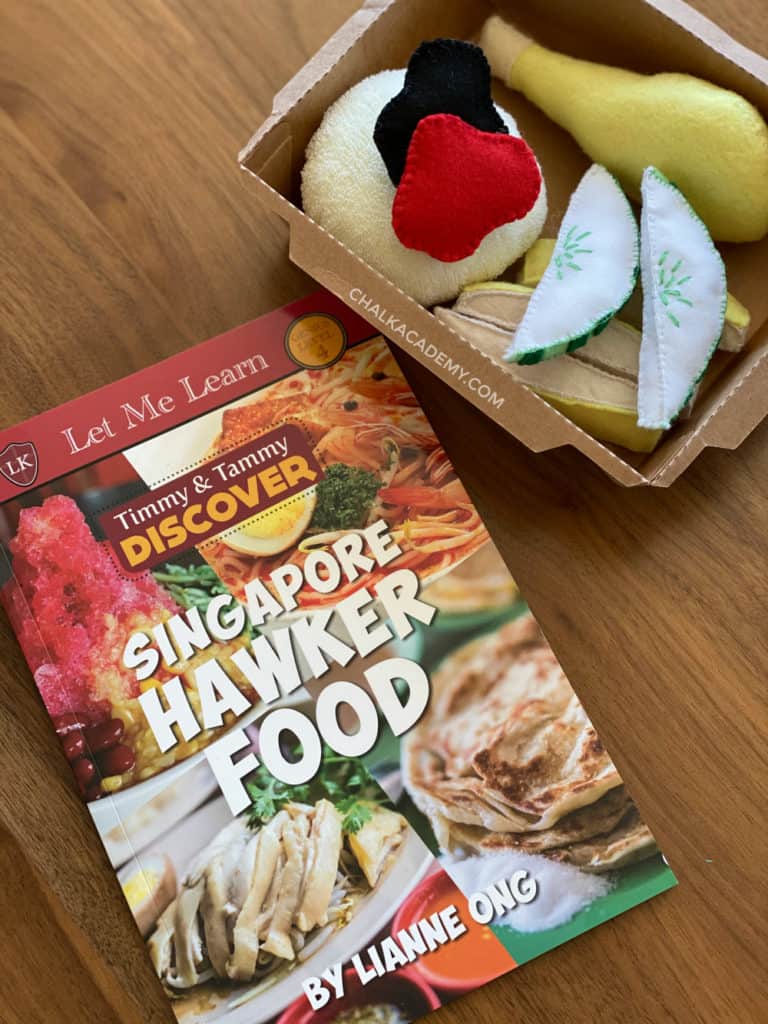 About Heartfelt Makan
Heartfelt Makan is a small family company based in Singapore.
The owner's mother sews all of the felt play food by hand, while the owner handles photography, social media, and everything else!
This business grew out of a passion to preserve Singaporean food heritage.
Review of Heartfelt Makan's pretend Chinese play food
Each Chinese food toy from Heart Felt Makan is handmade with high-quality felt fabric and polyester filler.
I'm relieved that they are not plastic since excess plastic consumption is harmful to the environment.
The details are realistic and absolutely beautiful! As you'll see in the photos, each toy food resembles the real deal.
The dim sum sets all come with a bamboo steamer base, but each lid is sold separately.
Get ready for a close-up look!
1. Chinese play food:
虾饺 (x

iā jiǎo / crystal shrimp dumpling)

Close-up of the 虾饺 (xiā jiǎo / crystal shrimp dumpling) in the bamboo steamer. 虾饺 is my favorite dim sum food!

Can you see the hint of the pink prawn peeking through the pearly white wrapper?
2. Chinese play food: 小笼包 (Xiǎo lóng bāo / Soup dumpling)
The 小笼包 (Xiǎo lóng bāo / Soup dumpling) makes me nostalgic for my late father. He grew up in Shanghai, where 小笼包 dumplings originate from.
Like the other dim sum sets, 3 pieces are included.
However, at the time of this picture, I was not sure where my kids put the 3rd dumpling!
3. Chinese play food:
烧卖 (S

hāomai / Shumai)

烧卖 (Shāomai / Shumai) is my husband's favorite dim sum dish.

The ingredients normally include steamed pork and prawn dumpling. This set is garnished with orange roe for a pop of color!
4. Chinese play food: 粽子 (zòngzi / sticky rice)
This delicious sticky rice with lotus leaf has various Chinese names such as 糯米雞 (nuòmǐ jī) and 粽子 (zòngzi).
Sticky rice dumplings are widely enjoyed during 端午节 (Duānwǔ jié / Dragon Boat Festival/Dumpling Festival).
Click here for more Dragon Boat resources for kids.
4. Singaporean play food: Hainanese Chicken Rice
Heartfelt Makan's cofounder, Lianne Ong, generously gifted this beautiful set of Hainanese Chicken rice to us.
She explained that this popular Singaporean dish is her favorite! The main ingredients include chicken, rice, cucumbers, soy sauce, and chili sauce.
Where to buy Chinese play food?
Heart Felt Makan is a online shop based in Singapore.
They have a wide selection of realistic pretend play food in their online shop, many of which reflect the Asian cultural heritage.
All items are made-to-order.
Where does Heartfelt Makan ship to?
International shipping is available via registered post.
However, some countries may have restrictions on natural materials, such as bamboo steamers and skewers.
When you're shopping on the website and they fill up your cart, the shipping cost will be calculated automatically.
Use Chinese food toys to role-play while reading
While reading books about Chinese culture, the felt play food can become a wonderfully interactive learning tool to bring stories to life!
Here our favorite books about Chinese Lunar New Year!
Educational toys for children
Other educational toys that my children enjoy:
Tips on creating a Chinese learning environment at home
Learning activities for every topic!
To sign up for our educational newsletter plus convenient access to our Free Printables Library, please click the button below!
What is your child interested in today? Click below to explore activities and books that your child will love!
Let's stay in touch
As always, let me know if you have any questions in the comments. I'll try my best to answer them!
Follow me on Facebook where I share my latest posts as well as favorite articles about children's education, Chinese resources, and hands-on activities!
On Instagram, I share activity highlights and how we integrate learning Chinese & Korean (minority languages) in our daily life.
And I'd love to chat more with you about favorite books at @chalkacademybooks!
Happy playful learning, friends!