Chinese Play Food: Realistic Dim Sum Toys That Celebrate Culture
Because I want my daughter and son to appreciate their heritage, I was so excited to give them these beautiful Chinese play food toys. Since we live in a little beach town in California that's lacking in Asian culture, these dim sum toys give my children a taste of Chinese culture!
My kids have loved our Chinese play food toys since getting them for Christmas 4 years ago. Now at ages 8 and 5 years old, both kids still play with their felt dim sum toys.
Even if your family is not Chinese, dim sum toys are a fun way to bring diversity and inclusion to your home! These toys are wonderful gifts for birthdays, holidays, and special occasions.
I'll share how my kids have been using the Chinese food toys plus where to buy them. But first: here's a peek inside the bamboo steamers…
This post may have some affiliate links. If you click an affiliate link and make a purchase, I earn a small commission which supports our educational tips at no additional cost to you. Please see the disclosure policy for details.
More ways to celebrate Chinese culture with kids
What is Chinese dim sum / 点心 / 點心?
In Chinese culture, dim sum 点心 / 點心 (diǎnxīn) is a breakfast or lunch with tea and a variety of dishes. The small, appetizer-like plates are shared with family and friends, similar to banchan (반찬) in Korean culture and tapas in Spanish culture. These dishes are typically served by carts that are pushed around by waiters and waitresses.
Most modern dim sum dishes originated from southern China (Guangzhou and Hong Kong), and they are now enjoyed all over the world.
My favorite childhood memories involve Toronto trips to feast on dim sum with my Chinese relatives. At dim sum restaurants, we learned to be patient with long lines and noisy crowds. But every delicious, bite-sized Chinese dish was worth the wait!
Examples of popular Chinese dim sum foods
虾饺 (x

iā jiǎo / crystal shrimp dumpling)

虾饺 is my favorite dim sum dish! Can you see the hint of pink prawn peeking through the pearly white wrapper in the picture above?
小笼包 (xiǎo lóng bāo / soup dumpling)
The 小笼包 (xiǎo lóng bāo / soup dumpling) makes me nostalgic for my late father. He grew up in Shanghai, home of the delicious 小笼包 dumplings.
烧卖 (S

hāomai / Shumai)

烧卖 (Shāomai / Shumai) is my husband's favorite dim sum dish. Traditionally, 烧卖 dumplings are filled with steamed pork and prawns. This Chinese play food set is garnished with orange roe for a pop of color!
粽子 (zòngzi / sticky rice)
This delicious sticky rice with lotus leaf has various Chinese names such as 糯米雞 (nuòmǐ jī) and 粽子 (zòngzi).
Sticky rice dumplings are widely enjoyed during 端午节 (Duānwǔ jié / Dragon Boat Festival/Dumpling Festival).
When you can't have authentic Chinese food
While the best way to learn about Chinese food is through cooking and eating, what if you're like us, hours away from the nearest authentic Chinese restaurant?
Or a terrible cook like me?
My son also has multiple, life-threatening food allergies including egg and sesame, ubiquitous ingredients in Chinese food. For his safety, we no longer go to dim sum restaurants as a family.
Therefore, we're grateful that our kids can learn about Chinese culture from realistic-looking dim sum toys!
What kids can learn from Chinese play food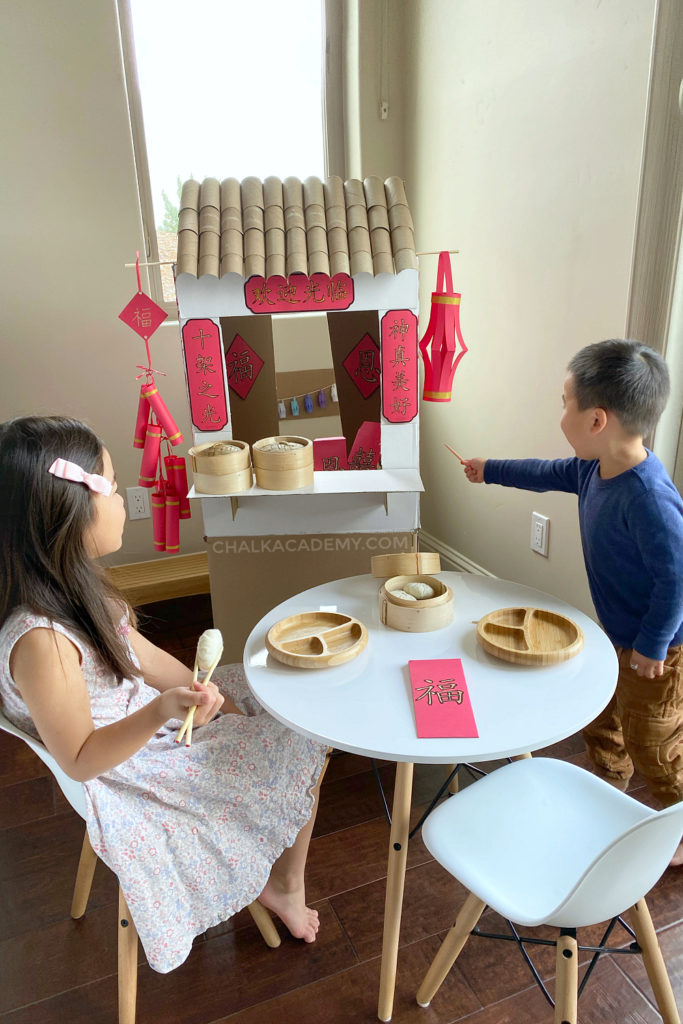 Language
My kids have learned a lot of practical Chinese vocabulary through pretend play with Chinese play food. Here are some ideas that you can try with your child(ren) or student(s):
Math
Make a menu with prices for each Chinese food
Practice counting number of dim sum toys and learn how to divide portions equally.
Add together total cost of Chinese dim sum bill
Where to buy Chinese play food dim sum toys
We bought our handmade Chinese play food toys from Heartfelt Makan, a small online shop in Singapore.
Since posting this review a few years ago, I'm so happy to see Asian American and Asian Canadian families selling handmade felt dim sum toys.
To support North American shops and minimize shipping costs, you can buy beautiful Chinese dim sum toys from Etsy:
Learning activities for every topic!
To sign up for our educational newsletter, please click the button below!
What is your child interested in today? Click below to explore activities and books that your child will love!
Happy playful learning, friends!