Fun Template: Make Easy Chinese Paper Lanterns in 5 Steps! (+ Video)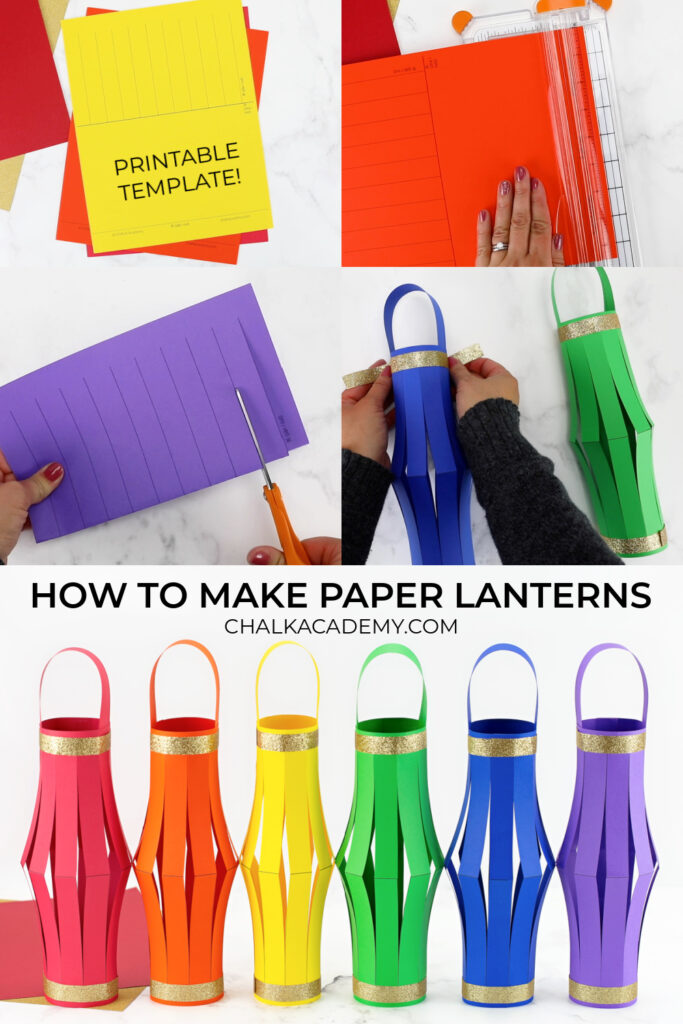 Looking for an easy and affordable way to decorate your home or school? Look no further than these Chinese paper lanterns! This is one of our favorite crafts for Lunar New Year and Mid-Autumn Festival! Thanks to our convenient downloadable template, putting a paper lantern together takes just 5 steps.
We first learned how to make paper lanterns through reading Chinese New Year Books, and my daughter was soon able to make them independently!
For younger kids (like my son), I made a bilingual printable template with lines to guide cutting and folding. Not only does this make putting the lanterns together very simple, it also helps your child practice working with scissors and developing hand-eye coordination.
I'm happy to share the template with your family and school so you, too, can learn how to make paper lanterns.
This post may have some affiliate links. If you click an affiliate link and make a purchase, I earn a small commission which supports our educational tips at no additional cost to you. Please see the disclosure policy for details.
Making lanterns for Chinese Lunar New Year: a special tradition
We're not the only ones who love making these lanterns. In fact, many of our friends share that making paper lanterns is a big hit for Chinese Lunar New Year celebrations at school, church, and local communities.
Chinese lanterns go as far back as the Han dynasty and are still very popular for celebrations today. They represent the hope for a bright future and good luck, but your family can create your own meaning, too!
Typically, traditional lanterns are lit with a tiny flame and launched into the sky, left to float on water, or hung for decorations. This lantern craft is a much simpler and safer version to use with kids. Plus, they're much better for the environment. They require no fire, and you can properly dispose of them once you are done with the festivities.
They are also extremely low cost – all you need are scissors, tape, and paper, along with our convenient template (see below).
What age is the Chinese lantern activity for?
The Chinese lantern craft is very versatile for a wide age range from preschool through elementary school and even adults! I developed the template to help people of all ages and abilities.
Before I created the lantern template, I remember many children in my daughter's class had trouble following instructions.
Although making this lantern takes only 5 steps, a template with dotted and solid lines would have helped guide the struggling students. After offering the lantern template, teachers and parents have told me that students had an easier time following along!
Since sharing the lantern template a few years ago, I also received a lovely message from a nurse who created beautiful Chinese paper lanterns with senior citizens in a nursing home.
I was also inspired by the occupational therapist who told me how much fun her patients had making paper lanterns during therapy!
I hope the DIY paper lantern template can help your family, school, and community celebrate important Chinese festivals!
Download lantern template for Lunar New Year crafts
Please review the Terms & Conditions before downloading any materials. ©2022 CHALK ACADEMY. Do not share any files without permission from chalkacademy.com. Only this website link may be shared.
Other recommended supplies to make this lantern craft
8″ x 11″ printer paper or card stock to use with the template; construction or other paper of any size if not using the template
Scissors and/or paper cutter
Tape or staples

Optional:
How to make Chinese paper lanterns in 5 steps
Cut the bottom edge of the paper (at the dotted line). This will be the future handle.
Fold the paper in half "hamburger style" (at the solid line).
Cut along dotted lines through both sides of the paper. Make sure to stop before you get to the end of the paper to keep the strips all connected.
Unfold the paper and loop both edges together. Seal edges on both ends with clear tape (or a stapler).
Tape or staple on your handle.

Optional: Decorate and hang as desired!
How to decorate paper lanterns
For decorating, you can get as creative as you like. I keep mine fairly simple with washi tape and a gold paint pen. But the kids can go wild with stickers, stamps, drawings, and whatever else they like.
Tip: It's easier to make the drawings and patterns on the paper before you cut it, especially if it's something a little more complicated.
What color should I make my lantern?
You can make these lanterns in any kind of color, not just the typical red and yellow you might see. This makes them a great craft to make and decorate with for any holiday, birthday party, or simply a rainy day activity!
Write a riddle
Traditional lanterns for the Lantern Festival at the end of Chinese New Year come in all kinds of shapes. People write riddles on them, and trying to solve them is one of the beloved activities during the festival.
How long will it take to make this lantern?
Teachers who are planning Lunar New Activities for school often ask how long it will take to make a paper lantern. As with any activity, the time it takes depends on the child's fine motor skills and developmental milestones and how many extra decorations they want to add.
Elementary school kids and skilled crafters can make a paper lantern in less than a minute! Preschoolers might need around 5-15 minutes to make one lantern.
If you're preparing for a Lunar New Year celebration that is a half hour or longer, you can add another simple activity, such as our popular Chinese Red Envelopes with fun templates.
DIY Chinese lantern video tutorial
While these Chinese paper lanterns are pretty easy for big kids and skilled crafters to make, I know how confusing they can be for people who are developing fine motor coordination.
Make your lanterns along with me in this video, and use the template as a guide for cutting and taping.
Get the printable lantern template here
Extension activity: counting paper lanterns
Want to get even more fun out of this paper activity? Here's an adorable "DIY abacus" that my 3-year-old son loved because it was fun to slide across the mini lanterns!
To make the lantern abacus, we followed the same instructions as our nature leaf abacus to secure the string onto a piece of cardboard.
Please note that folding mini lanterns is more difficult than larger lanterns. For this reason, I didn't create a template for the tiny size.
Once kids are comfortable cutting larger lanterns without a template, they can create lanterns of any size! Just use larger or smaller pieces of paper to make them smaller or bigger. You can really get creative with them.
Have you made these Chinese paper lanterns?
If you try this activity, please let us know in the comments below! What age(s) are your kid(s) and how did it go? We'd love to hear about your learning experience!
Learning activities for every topic!
To sign up for our educational newsletter, please click the button below!
What is your child interested in today? Click below to explore activities and books that your child will love!
Happy playful learning, friends!