Chinese LEGO Sets: Lunar New Year, Culture, and Landmarks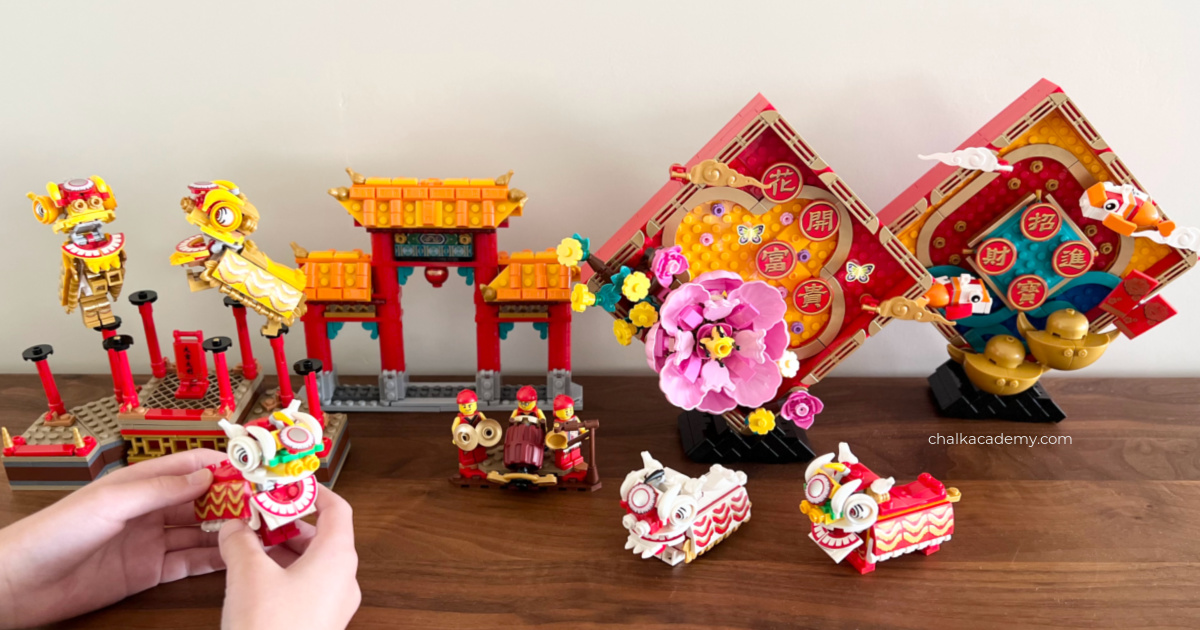 Whenever I share my Chinese gift guide for kids, parents always get excited about the very cool Chinese LEGO sets, especially for Lunar New Year! LEGOs are so fun for all ages. Due to popular requests, I've rounded up the best Chinese LEGO toys for kids – and us parents.
The best Chinese LEGO sets for kids
These Chinese LEGO sets are perfect gifts for birthdays, Lunar New Year, and other holidays.
Our children have been so excited to receive several Chinese LEGO toys from generous friends and relatives. And I'm so grateful that these toys connect them to their Chinese heritage.
To help you find the best Chinese LEGO sets for your family, I've included LEGO's recommended age level as well as number of pieces in each set.
Chalk Academy is reader-supported. Some of the links are affiliate links. When you buy something through an affiliate link, we may earn a small commission at no additional cost to you. More details here.
Benefits of Chinese LEGO sets for kids
As a pediatrician and former home educator, I am a huge fan of LEGO toys. In case you need any convincing, Chinese LEGO sets offer loads of educational and social benefits!
Timeless
Legos are among the best open-ended toys for kids spanning a wide age range. These durable STEM toys can be passed down through the generations.
Versatile
LEGO building is fantastic for independent play, focus, and creativity.
On the other hand, LEGO toys are also wonderful for family bonding and connecting with friends.
Language development
Research shows that LEGO toys are fantastic tools for oral communication and storytelling. If you're raising multilingual children, interactive LEGO toys can be a fun tool for boosting the minority language, such as Mandarin or Cantonese.
Cultural awareness
Moreover, diverse toys are a wonderful way to introduce culture to kids of all backgrounds. Through LEGO toys, children can learn about Chinese culture. And when kids see Chinese characters in their LEGO sets, they may get curious about learning a second language.
Many Chinese culture LEGO sets feature intricate designs and details that make them visually appealing for display as well, making them a great addition to any home.
STEM skills
Last but not least, research also shows that playing with LEGO toys can boost math and visuospatial skills.
Chinese Lunar New Year LEGO sets
Each year, LEGO releases special sets to celebrate the Chinese Lunar New Year! Also known as Spring Festival, these LEGO toys feature important cultural traditions like Chinese banners and red envelopes. Here are our children's favorite LEGOs plus a few on their wish list.
Chinese New Year Lion Dance
If you're impressed by Chinese lion dancers, you'll love this LEGO set! It includes 5 adorable dancing lions, an obstacle course for the lions, a mini cabbage to feed the lions, a trio of drummers, a beautiful temple gate as the backdrop, and 5 more LEGO people for imaginative play.
Age: 8+
Number of pieces: 882
Story of Nian
This dramatic LEGO set tells the story of the Nian dragon monster. Chinese communities protect their people from the Nian monster with fireworks, firecrackers, lanterns, and Chinese banners; these elements are thoughtfully included in this set. In addition, 6 LEGO people are included for role play, including Chinese elders cleaning and decorating, plus a cute Year of the Ox hat.
Age: 8+
Number of pieces: 882
Related: How to Make Chinese Firecrackers for Lunar New Year
Lunar New Year Display
This set of Chinese Lunar New Year displays are gorgeous decorations! One display features golden ingots, red envelopes, koi fish, and a traditional Chinese greeting, 招財進寶 (zhāocái jìn bǎo), which means "welcome fortune and treasures". The other has beautiful peony flowers and the phrase 花開富貴 (huā kāi fùguì), which means "blooming prosperity and happiness."
Age: 8+
Number of pieces: 872
Chinese Money Tree
According to ancient legends, the money tree can bring fortune into the home. This LEGO Chinese Money Tree set includes several mandarin oranges, lucky red envelopes, and gold coins representing prosperity and good luck.
Age: 9+
Number of pieces: 336
Lunar New Year Parade
This interactive Lunar New Year parade set was released during the Year of the Rabbit. This Chinese LEGO set includes a Rabbit float, a music float, a dragon float, and 18 mini-people ready to party! Whoohoo!
Age: 8+
Number of pieces: 1653
Lunar New Year Traditions
This LEGO set features 6 mini dioramas with snapshots of common Lunar New Year traditions in Chinese culture:
Spring cleaning
Shopping for food and sweets
Putting up lucky decorations
Giving red envelope gifts
Visiting the God of Prosperity at a temple
Watching a Lunar New Year celebration on TV (how modern!)
Age: 8+
Number of pieces: 1066
LEGO Monkie Kid Journey to the West toys
Journey to the West is an ancient Chinese novel that remains culturally important in modern times. Monkey King, also known as 孫悟空 (Sūnwùkōng), is one of the main characters that inspired an entire line of Chinese LEGO toys – Monkie Kid™!
The LEGO Monkie Kid Journey to the West toys tap into the popularity of this story. They allow children to recreate their favorite characters and scenes to life through imaginative play.
Here are some of the most popular Monkey King LEGO sets for big kids, teens, and parents to build!
Related: 30 Entertaining Chinese Netflix Shows for Kids
Chinese culture LEGO sets
There are SO many options for learning about Chinese culture with LEGO toys! These LEGO sets celebrate iconic Chinese symbols and other important festivals.
DUPLO Learn about Chinese culture
DUPLO toys are designed specifically for little ones, and this set is great for introducing Chinese culture to toddlers and preschoolers! It includes a Chinese café, temple, and activity area with the Chinese Go game and ruan string instrument.
The Chinese characters featured in this set are 春夏秋冬 (chūn, xià, qiū, dōng), which means spring, summer, fall, and winter.
Age: 2+
Number of pieces: 124
Related: 35 Fun Chinese Language Learning Activities
LEGO Dragon Boat Festival
The iconic LEGO Dragon Boat Festival set includes two dragon boats with moveable heads and wheels under each boat for gliding. Yes, wheels! My son loves to slide it around the ground. In addition, the set includes a judge's stand, a snack stand, and 15 LEGO people for role-playing.
Age: 8+
Number of pieces: 643
LEGO 3-in-1 tiger, red panda, koi fish
This very cool LEGO set can be used to create 3 majestic creatures that are important in Chinese culture:
A Chinese tiger (which symbolizes bravery) accompanied by a small red bird
A red panda (which has a "lucky" fur color) with bamboo and a bonsai tree
A koi fish (which represents harmony and wealth) and a water lily
Age: 9+
Number of pieces: 755
LEGO Chinese panda family
As China's national treasure, pandas symbolize peace and friendship. This LEGO set features an adorable panda family with a lucky mandarin orange tree, 3 Chinese lanterns, and green bamboo.
Age: 10+
Number of pieces: 249
LEGO Orchid flower
Orchids are an important flower in Chinese culture. They symbolize love, beauty, wealth, and fortune. Confucius also famously said, "Orchids grow where others cannot."
This life-sized Phalaenopsis LEGO orchid and vase is impressively detailed with stems, blooms, roots, and leaves.
Age: 18+
Number of pieces: 608
Famous Chinese landmarks LEGO sets
If you can't travel to Asia, take a tour of famous landmarks with these intricate LEGO models!
LEGO Beijing Postcard
This 3D LEGO postcard honors Beijing, the capital of China, and two famous landmarks: the Great Wall of China and the Summer Palace. You can also add an English sign with "Beijing" or a simplified Chinese character sign "中国北京" (zhōngguó běijīng).
Age: 9+
Number of pieces: 276
LEGO Great Wall of China
The Great Wall of China is one of the most iconic landmarks in history and culture. This accurately designed Chinese LEGO set features two towers connected by a winding section of the Great Wall on a lush green mountain. English and Chinese nameplates are also included.
Age: 12+
Number of pieces: 551 pieces
LEGO Architecture Singapore
This impressive LEGO set celebrates Singapore, a country near China home to a large Chinese community. It includes the Marina Bay Sands, the OCBC Centre, One Raffles Place, Lau Pa Sat food market, The Fullerton Hotel, Supertree Grove at Gardens by the Bay, and the Singapore River.
Age: 18+
Number of pieces: 827 pieces
Chinese zodiac animal LEGO sets
Each Lunar New Year, LEGO releases new Chinese zodiac animal toys. If you're interested in collecting the Chinese zodiac animals, check out the Lunar New Year rat, ox, tiger, rabbit, monkey, rooster, dog, and pig sets.
The Chinese zodiac LEGO toys are geared for ages 7 years and up. Each set includes just over 150 LEGO pieces.
In future years, keep an eye out for a special Chinese dragon, snake, horse, and goat!
Review of our favorite Chinese LEGO sets
Currently, my children have completed the following Chinese LEGO sets: Lion Dance, Story of Nian, Lunar New Year Display, Monkey King Warrior, Dragon Boat Festival, Panda Family, Money Tree, Orchid Flower, and the 3-in-1 Majestic Tiger / Red Panda / Koi Fish.
Seeing my children have so much fun building and playing while learning about Chinese culture has been amazing. Although we rate these amazing toys five stars across the board, there are a few caveats:
In the LEGO Story of Nian set, the large dragon monster is delicate and easily breaks apart.
As for the Lion Dance set, if I have to be nit-picky, I think it would be more consistent with Chinese culture to include a lucky even number of 6 lions rather than 5.
If you are still debating which LEGO toys to get, I love the Chinese Lion Dance set despite my slight criticism. It is a fun rendition of the cool Chinese lion dances we've seen.
I also adore the Lunar New Year Display. Normally, I prefer my children's LEGOs in their room or play corner, but this is the one set I enjoy seeing on my desk!
As for my children, my daughter's favorite is the LEGO Orchid, while my son's is the Story of Nian.
What are your favorite Chinese LEGO sets?
Which Chinese LEGO toys did you decide to get? Was it a gift for the Lunar New Year or another occasion? Please share in the comments below!
More fun way to learn about Chinese culture