If you're planning present ideas for the holidays, birthdays, or special occasions, I hope my family's Chinese gift guide can help! This list is based on what my kids have loved plus a few favorites from friends.
This post may have some affiliate links. If you click an affiliate link and make a purchase, I earn a small commission which supports my blog and free printables at no additional cost to you. Please see the disclosure policy for details.
Gift guide for kids learning Chinese
I first published this post in November 2017; every year, I update the list to include only gifts that have stood the test of time. For reference, my daughter is currently 7, and my son is 4 years old. I've added suggested ages, but you know your child best.
Please remember that teaching Chinese requires parents, teachers, and caregivers to speak Chinese consistently. No amount of Chinese learning toys can replace fun, loving, and engaging human interaction!
However, Chinese gifts can spark a child's interest in the language and culture!
Related: Play Area / Homeschool Room Before and After: 11 Tips for Decluttering
Bookish gifts for kids and adults
Chinese books
For: All ages
Books are our favorite gifts for all ages, especially for bilingual kids! We love to cuddle while exploring new stories, and now my older kid reads her favorites for hours on her own. Click on the link below to see our reviews!
We also enjoy wordless picture books to focus on observing and discussing the illustrations without any pressure of reading.
Special mention for the The Art of Clean Up: Life Made Neat and Tidy. It's not a Chinese book per se, but the photographs are incredible and a true conversation starter. See the page below that won me over: the strokes of the Chinese words are deconstructed and arranged neatly by size!
Luka Reading Companion
For: Ages 3-10 years
Reading experts agree that audiobooks can significantly improve fluency and literacy. Luka Reading Companion can read over 70,000 simplified Chinese picture books to children and is at the top of my gift-giving recommendation list! My kids adore Luka and have read hundreds of Chinese books with him over the past year. Use coupon code CHALK_LUKA for extra $10 off orders at JoJo Learning.
Youdao Dictionary Reading Pen
For: Age 7 to adults
The Youdao Dictionary Pen has been a great help for us to learn new Chinese characters while reading various books. My daughter also uses it to learn new English words and translate them to Chinese. Use coupon code CHALK_PEN for $5 off orders at JoJo Learning.
Related: How I Taught My Child 1000+ Chinese Characters as a Non-Fluent Speaker
Book stand with engraved Chinese design and poem
For: Age 5 years to adults
This beautiful Chinese book stand measures 13 x 9.4 inches and is made of bamboo. We use it daily for online classes on the iPad and reading large picture books.
Educational gifts for learning Chinese characters
Chinese Montessori gifts
Calisota Designs has several high-quality learning products that you can personalize with your child's name in Chinese or English. Several of my readers have shared rave reviews about the name tracing board, Chinese writing grid board, and the sand writing tray! Since my son's name as a ton of strokes, I'm getting him a name board for Christmas!
Magic Water Calligraphy Cloth
For: Age 5 years to adults
This reusable calligraphy cloth is definitely one of our favorite resources for children of all ages as well as adults! Water is the magic "ink" for painting Chinese characters! If you're debating between this and the Buddha Board, we personally use the water calligraphy cloth much more often.
If you're looking a real calligraphy brush set with ink, below is the link for what I'm thinking about getting for my daughter.
Buddha Board Water Calligraphy
For: Age 5 years to adults
The Buddha Board can be used to practice painting and writing Chinese words. The board comes with a stand which you fill with water. Then dip the bamboo brush to create soft, beautiful images and calligraphy. When the water evaporates, the images fades, and then it's time to create another masterpiece!
We gifted this to our Chinese teacher, and she said her husband and 10-year-old son use it for relaxing painting!
Chinese motivational stamps
For: Age 4 years to adults
These Chinese stamps come in simplified and traditional Chinese and would be great for Chinese teachers or kids who use visual sticker or stamp charts.
The following phrases are included:
你真棒!(Nǐ zhēn bang! / You are awesome!)
赞 / 讚! (Zàn! / Awesome!)
棒棒噠!(Bàng bàng da! / Amazing!)
你进步了 / 你進步了!(Nǐ jìnbù le! / Big Improvement!)
极了 / 好極了 (Hǎo jí le! / Excellent!)
太棒了!(Tài bàng le / Fantastic!)
太好了!(Tài hǎo le! / Superb Work!)
加油! (Jiā yóu / Add Fuel!)
再努力!(Zài nǔlì! / Keep it Up!)
再试一次 / 再試一次!(Zài shì yí cì! / Try again!)
请改正 / 請改正 (Qǐng gǎi zhèng / Please correct)
请完成 / 請完成 (Qǐng wánchéng / Please complete)
Related: 30 Positive Affirmations I Tell My Kids Everyday (English / Chinese Printable)
Chinese Characters Magnetic Game
For: Age 4 years to adults
These magnets are a fun, hands-on way to learn simplified Chinese characters. Putting together the pieces also help prepare for writing.
Wood Chinese numbers board
For: Age 3 to 5 years
My daughter loved the 1-10 reversible Chinese numbers board when she was younger. One side is for tracing and the other is for fine motor counting practice. The wood is sanded smoothly and has no rough edges or sharp corners.
Please note:
In contrast to big sister, my son has little interest in this board.
Wood balls are a choking hazard for kids who are in the mouthing phase.
Chinese cultural gifts
Wood Chinese calendar
For: All ages
Growing up, I remember my parents bringing home a Chinese calendar from Chinese restaurants. My Korean in-laws also like to give us calendars at the end of the year! I'm not sure of the cultural significance, but I'm grateful for this beautiful wood perpetual calendar that we can use year after year.
This is definitely one of my top gift recommendations because you can use it forever. From Jennifer, translates her products in many languages!
Related: Free Chinese, Korean, and English calendar printables
Chopsticks
In Chinese culture, a pair of chopsticks is considered a lucky gift, because 筷子 (kuàizi) sounds like 快乐 / 快樂 (kuàilè / happy).
For older kids and adults, these have high ratings:
We've had the Crate and Barrel set for years and have faded only minimally.
For little kids, my kids have these: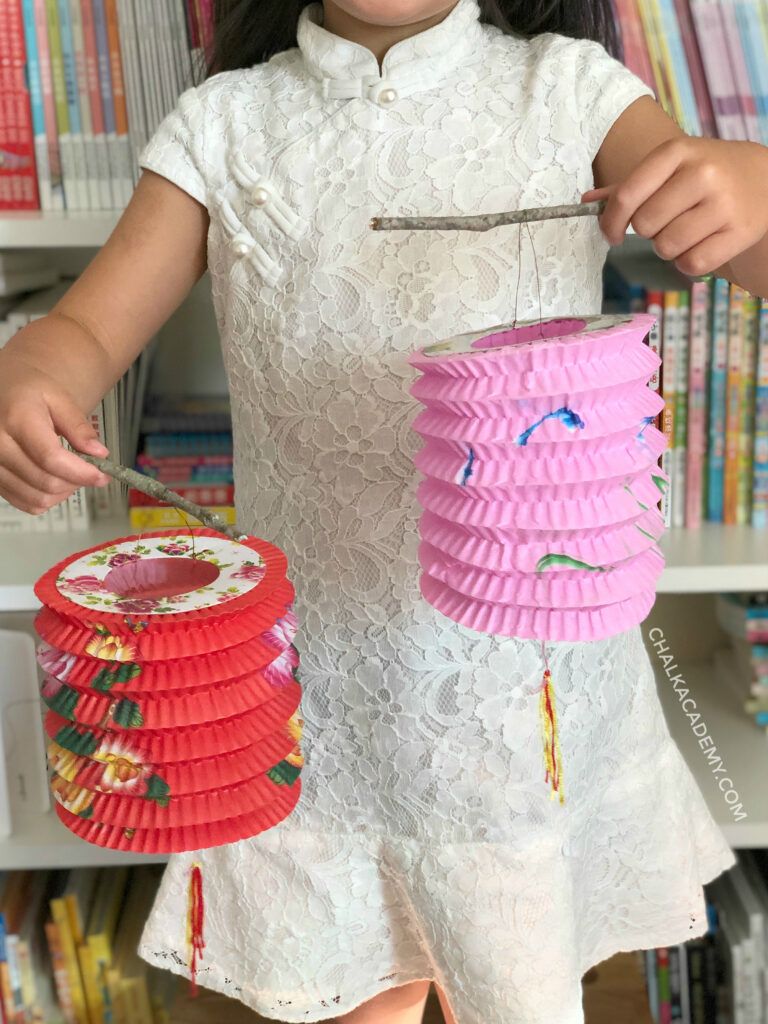 Chinese lanterns
For: All ages
These colorful paper lanterns are a bright way to bring Chinese culture into the home. My kids liked walking around at night with these lanterns for Mid-Autumn Festival. Click on the link below to buy the ones my daughter is holding in the image.
You can also make Chinese paper lanterns with our free printable template!
Related: Best 20 Chinese New Year Activities and Crafts for Home and School!
Chinese moon cake molds
For: Age 4 years to adults
If you've always wanted to try making Chinese moon cakes at home, a variety of moon cake molds are available on Amazon! Even if you are not into cooking, the molds are very fun for kids to use with play dough!
Chinese character stencils
For: Ages 6 years to adults
These food-grade plastic Chinese character stencils are great for baking! We use them with powdered sugar to add Chinese characters to pancakes!
Chinese toys for kids
Pretend Chinese play food
For: Ages 3 to 10 years
Heartfelt Makan is a Singaporean shop that specializes in beautiful felt food toys for children! Both of my kids love to play pretend restaurant and cooking with these authentic Chinese toys!
Related: 25+ English and Chinese Picture Books About Food
Asian dolls
For: Age 1 to 10 years
Diversity is important to include with our children's toys. While my kids are more into their wood peg dolls rather than realistic-looking ones, I wanted to share recommendations for representation.
Related: 7 Natural Ways to Improve Communication Skills Through Play
Wood Chinese blocks
Uncle Goose Chinese blocks
For: Age 1 to 4 years
Uncle Goose has a variety of educational wood blocks, including languages such as Chinese. These are some of the first Chinese toys that I bought for my kids!
Talking toy microscope (multilingual)
For: Age 5 to 8 years
This is a toy and not an actual microscope, and it's a bit unconventional for me to recommend a plastic toy. However, the toy microscope has clear audio for Mandarin Chinese, Korean, Japanese as well as English! We bought it 2 years ago, and the kids have used it intermittently alongside science books.
Please note that the narration is quite fast and would be most suitable for kids who are fluent. My 7-year-old can understand the Mandarin, but my 4-year-old thinks its fast. Our former nanny who was conversational in Korean did not understand the microscope's science terms. I wish that it came with a pamphlet with written phrases.
Educational Insights also has an Asian language telescope.
Chinese music gifts
Music players
CD player
For: Age 3 years to adults
We've had the Jensen CD player for years and currently have 3 in our home. This has been a great way for my kids to listen to music independently.
Related: Montessori Inspired CD Organization and Accessibility for Kids
CD cases
For: Age 3 years to adults
Case Logic is my favorite brand for CD organization. My kids can easily find our Chinese and Korean CDs with the Case Logic CD cases.
MP3 player
For: Age 7 years to adults
Last Christmas, we got my teenage nephews this MP3 player.
Chinese music for children
Check out these 100+ popular Chinese songs on iTunes and Google Play and the engaging BaoBao Learns Chinese Nursery Rhymes Music Books!
For older kids, check out Popular Chinese Music: Mandopop, Rock, Hip Hop Songs.
When in doubt, give this!!!
If you're not sure what to give and don't want to add clutter, the most useful gift is….(drumroll please)…red envelopes! Chinese red envelopes with cash can be gifted to older kids so they learn how to save and spend.
Better yet, talk to your kids about non-profit organizations that you can donate to.
Which Chinese gifts did you decide to give?
I'd love to hear what gifts were most enjoyed by your family, friends, and teachers!
Please share in the comments below!
Holiday shopping guide for kids
If you're shopping for holiday gifts, check out our educational gift guides!
Advice on raising multilingual children
Happy shopping, friends!!!