Korean Gift Guide for Kids: Cultural, Educational, and Fun Toys!
I'm so excited to share our favorite Korean culture and educational gifts for families! As many of you know, my husband is Korean American, and my kids were previously learning Korean through wonderful nannies.
While we had hoped to raise our kids trilingual, my kids have recently forgotten a lot of Korean language. But we still want to keep them connected to their Korean heritage by incorporating culture in other ways. I hope these Korean gift ideas can help your family learn more about Korean culture and language, too!
Try this: 5 Things Parents Should Do When Raising a Bilingual Baby
This post may have some affiliate links. If you click an affiliate link and make a purchase, I earn a small commission which supports our educational tips at no additional cost to you. Please see the disclosure policy for details.
Korean music gifts
Music is one of the most fun and natural ways to learn about Korean language and culture! Here are my kids favorite Korean music books and CDs.
Korean nursery rhyme books
Try this: How to Organize CDs and Make Them Accessible to Kids
Korean gift: songs for all ages
Please see 100+ Popular Korean Children's Songs and Nursery Rhymes for more details about the above nursery rhymes books and Korean songs!
For older kids and teenagers, you can consider getting an mp3 player or a gift card to iTunes! I've heard many parents say their teenagers want to learn Korean due to their love of BTS!
Pinkfong Korean music sound books
For toddlers and preschoolers, music sound books are a great way for kids to enjoy Korean songs independently! Pinkfong has many options. Since the loud volume is not adjustable, we cover the speakers with painter's tape to dampen the sound.
Korean toys
Korean play food
Since my son has several food allergies, we aren't able to go to Korean restaurants. Therefore, we so happy to order Korean play food from Heartfelt Makan (read interview with owner Liane Ong here).
The details are incredible, including the tiny sesame seeds sewn into the tofu, and the heart-shaped sprout leaves. As shown in the above photo, we have:
Bibimbap 비빔밥
Various banchan 반찬
Gimbap 김밥
My kids also often play with Heartfelt Makan's dim sum toys which I reviewed in this post.
We were also gifted this lovely set of felt dumplings from Dumpling Mart, a Korean-American mom's Etsy shop! The set comes with a pack of 10 만두 (mandu).
Asian dolls
Although my kids are more into their wood peg dolls rather than realistic-looking ones, I want to recommend options that represent Asian features.
Geosafari Junior multilingual toy microscope
Educational Insights has a quadrilingual talking microscope with audio in English, Korean, Japanese, and Mandarin Chinese. It includes 60 slides with color images. Although we usually avoid plastic talking toys, I appreciate seeing an Asian language toy being sold by a mainstream brand.
We've had the toy microscope for about 2 years, and we take it out when we are discussing science topics.
Please note that the narration is quite fast, so we mainly use the Mandarin function and rarely use the Korean feature due to our lack of fluency. However, the Korean voice is narrated by a professional, fluent speaker.
Recommended for kids age 5-8 years.
Uncle Goose Korean wood blocks
I love that Uncle Goose has toys in multiple languages; these were some of the first toys I got my kids when they were babies.
Picture above is the older version which you might be able to find on eBay. The current version has different colors; I'd recommend these for kids age 1-4 years. For triilngual families like us, you can see my review of the Chinese wood blocks here.
Korean alphabet gifts
Korean Hangul pillow
We've had this cute rainbow Korean pillow for more than 6 years! The zipper cover is machine-washable, and the Hangul alphabet design is from Zazzle (similar here). If you don't need a pillow, you can choose the Hangul design for a blanket, t-shirt, or other fabric products.
The Korean pillow has been a pretty addition to our print-rich environment for my kids' minority languages! I'm happy that we can use this comfortable pillow as decoration for many, many years.
These are fun toys for kids learning Hangul! We've used them in various ways, including letter matching and spelling short words!
Korean alphabet stickers
Tigerboom Creative has adorable mini Hangul stickers! These stickers can be used to decorate journals or incorporated into learning activities! I think they would make for great stocking stuffers!
Related: Educational sticker activities for kids
Wood Korean Hangul tracing board
Treasures from Jennifer has a high-quality wood Hangul tracing board! The wood is very smooth with rounded corners. It can be used for tracing with a wood stylus or filling up with small objects, like pompoms or dried beans.
However, if you prefer a more affordable option from a Korean-owned business, you can consider the board in the link below.
Acrylic Korean tracing board
Black Yoonicorn sells acrylic tracing boards that can be used with dry erase makers!
Korean book gifts
Books are always at the top of my gift list for all ages! Since we no longer have a nanny to read to the kids in Korean, I've been collecting books about Korean culture in English, plus stories written by Korean-American authors.
English picture books about Korean culture
English chapter books with Korean protagonists
Try this: 15 Ways to Encourage Your Child to Read
Children's baby board books in Korean
These books are for beginners:
Only a few Korean children's books are available on Amazon:
Otherwise, the best place to order Korean books in the United States is through online Korean bookstores. Click on the button below for recommendations:
Korean food gifts
For teachers and relatives, we love giving gifts related to delicious Korean food! Some ideas include the following:
Gift cards to favorite Korean restaurants
Although we don't have the chopsticks-spoon set linked above, my mother-in-law gifted us a different silver set as a housewarming gift. In contrast to ivory or bamboo Chinese chopsticks, Korean chopsticks are typically metal and flat like Western silverware.
Related: Free Printable Pretend Play Food in English, Chinese, and Korean
Which Korean gifts did you decide to give?
Do you have other recommendations to add to this list? I'd love to hear which gifts were enjoyed by your family, friends, and teachers!
Please share in the comments below! And feel free to save the vertical image below on Pinterest to encourage more people to learn about Korean resources!
More Korean learning resources for kids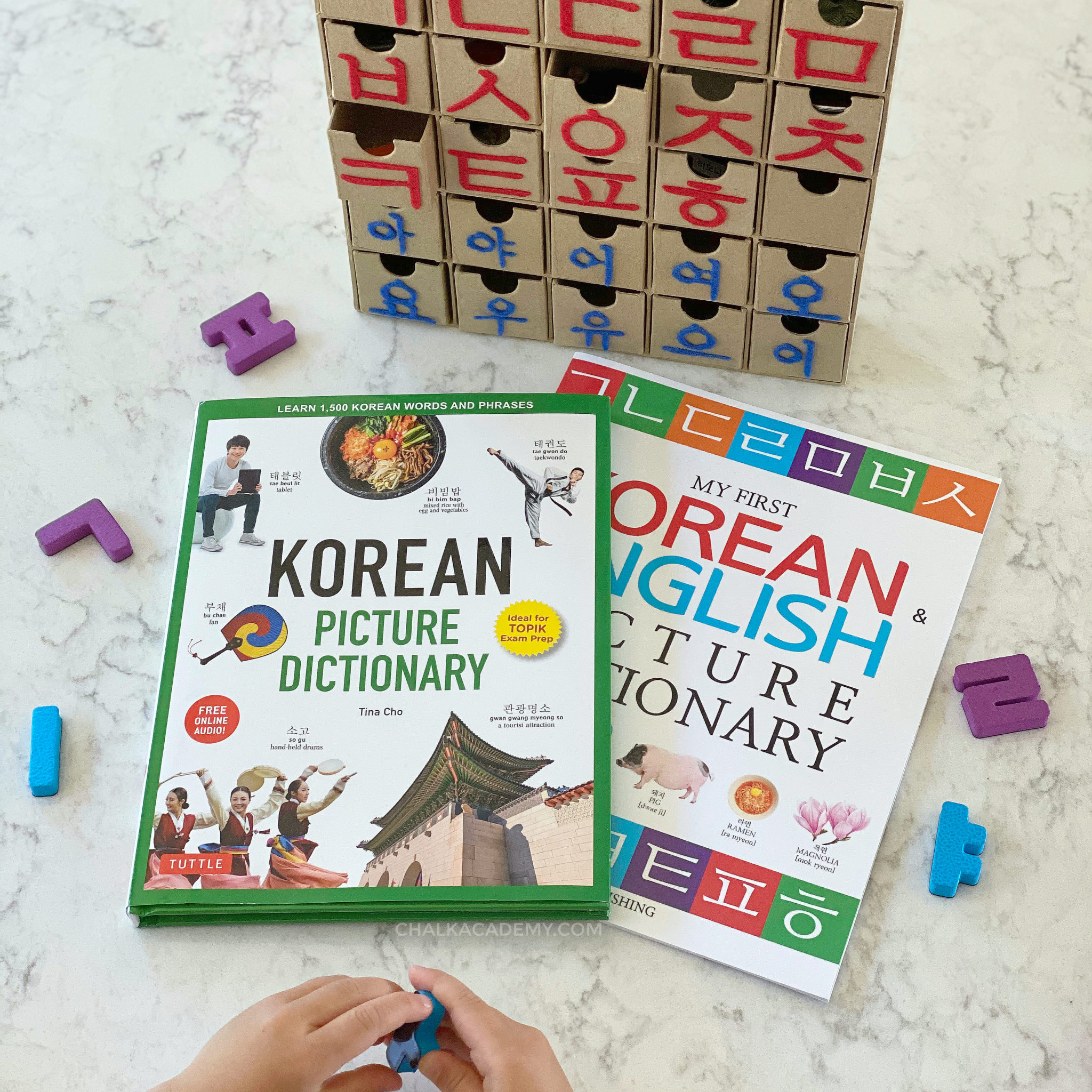 Korean resources for kids on Amazon!
Click on the image below to see Korean toys, books, and other resources on Amazon!
Holiday shopping guide for kids
If you're shopping for holiday gifts, check out our educational gift guides!
Happy gifting, friends!