I'm so excited to share our favorite Korean Lunar New Year crafts and activities with you! When my kids were younger, they learned Korean language from our former nanny. Although they are no longer learning Korean, I hope they can embrace their Korean heritage, despite living far from their Korean paternal grandparents.
Finding Korean-specific crafts online has been challenging for our family, so I'm hoping this post can encourage more families and schools to celebrate Korean culture! I'll explain the activities along with key Korean vocabulary below.
Related: Korean Gift Guide for Kids: Cultural, Educational, and Fun Toys!
Please refer to Chinese Lunar New Year crafts for activities specific to Chinese culture.
This post may have some affiliate links. If you click an affiliate link and make a purchase, I earn a small commission which supports my blog and free printables at no additional cost to you. Please see the disclosure policy for details.
Important Korean Lunar New Year vocabulary
For parents who are learning Korean with their children, below are a few important terms related to the Lunar New Year activities in this post!
새해 복 많이 받으세요 (Saehae bok mani badeuseyo / Happy New Year)

새해 = New year
복 = Luck
많이 = Many
받으세요 = Received (Honorific way of saying 받다)

설날 (Seollal / Lunar New Year)
태극 (Taegeuk)
부채 (Buchae / Fan)
흔들북 (Heundeulbug / Drum) or 소고 (Sogo / Small Drum)
윳놀이 (Yut Nori)
공기 (Gonggi / Korean Jacks)
제기차기 (Jegi Chagi)
나랑 놀자! (Nalang nolja / Play with me!) or 같이 놀자! (Gat-i nolja / Let's play together!)
Related: Best Korean Picture Dictionaries for Kids and Parents!
What is the Korean taegeuk 태극 / 太極 symbol?
South Korean's national flag features a red and blue Taegeuk symbol which represents balance in the universe.
Both of these Korean Lunar New Year crafts feature a tri-colored variation of the Korean Taegeuk symbol. Red, blue, and yellow represent Earth, heaven, and humanity respectively.
Korean paper plate pellet drum craft for kids
Korean paper plate drum craft: what you need
2 biodegradable paper plates
Pencil
Paint brush
String (eg, cotton twine)
Scissors
Tacky or wood glue
Wood beads or jingle bells
Wood chopstick or tree branch stick
Korean paper plate drum craft: how to make it
Draw Taegeuk outline on back of one paper plate (second plate optional)
Paint red, blue, and yellow as shown in above photo
Inside 2 paper plates:

Glue a stick vertically in center
Glue a piece of string on each side of paper plate

Thread beads or jingle bells at end of each string
Roll stick to rotate drum back and forth for pellets to hit drum (plate)!
Korean taeguk fan craft
Cardboard Korean taeguk fan craft: what you need
Printable Korean taegeuk fan template from aerilynbooks.com

Click on "Free downloadable worksheets"
Scroll to the bottom for "Paper Fan Craft"

Cardboard (tip: cereal boxes are easier to cut compared to delivery packages!)
Glue
Markers or paint
Large craft stick (popsicle stick)
Cardboard Korean fan craft: how to make it
Print and cut Korean Taeguk fan template
Trace fan shape on cardboard
Glue fan template on cardboard
Color red, yellow, and blue
Enjoy fanning and keeping cool! 🙂
Alternative option: If your child is not interested in coloring, you can print out the template on red, yellow, and blue cardstock paper.
Related: 100+ Popular Korean Children's Songs and Nursery Rhymes
Korean Lunar New Year games
Here are fun traditional Korean games that have been recommended by relatives and friends:
윳놀이 Yut Nori Board Game: You can buy this game on Amazon or download a free printable from Modern Seoul.
공기 Korean Jacks Stone Game: Our friend gave us this popular children's game from Amazon, which can be played any time of the year! This video explains the game in English.
제기차기 Jegi Chagi Game: This fun game involves kicking a 제기 jegi into the air and keeping it up in the air. A 제기 looks similar to a badminton shuttlecock which you can buy on Amazon or DIY with paper wrapped around a small coin.
Korean hanbok coloring pages
My kids had fun coloring free Korean Hanbok coloring pages for kids! You can download the free printables from Aerilyn Books.
Korean Lunar New Year coloring pages
For more free Korean New Year coloring pages, we downloaded these cute printables from Tigerboom Creative with bubble Hangul letters!
Related: Korean Alphabet Toys: 4 Ways to Teach Kids with Hangul Letters
Korean Lunar New Year books for kids
Last but not least, reading is one of the best family activities! Check out these 8 great Lunar New Year books to learn more about popular cultural traditions!
Have you tried these Korean activities for Lunar New Year?
If you try this activity, please let us know in the comments below! What age(s) are your kid(s) and how did it go? We'd love to hear about your learning experience!
On Instagram and Facebook, tag a photo @chalkacademy and use the hashtag #ChalkAcademy so our family can check out the action! Or email me a photo at [email protected]!
More Korean learning resources for kids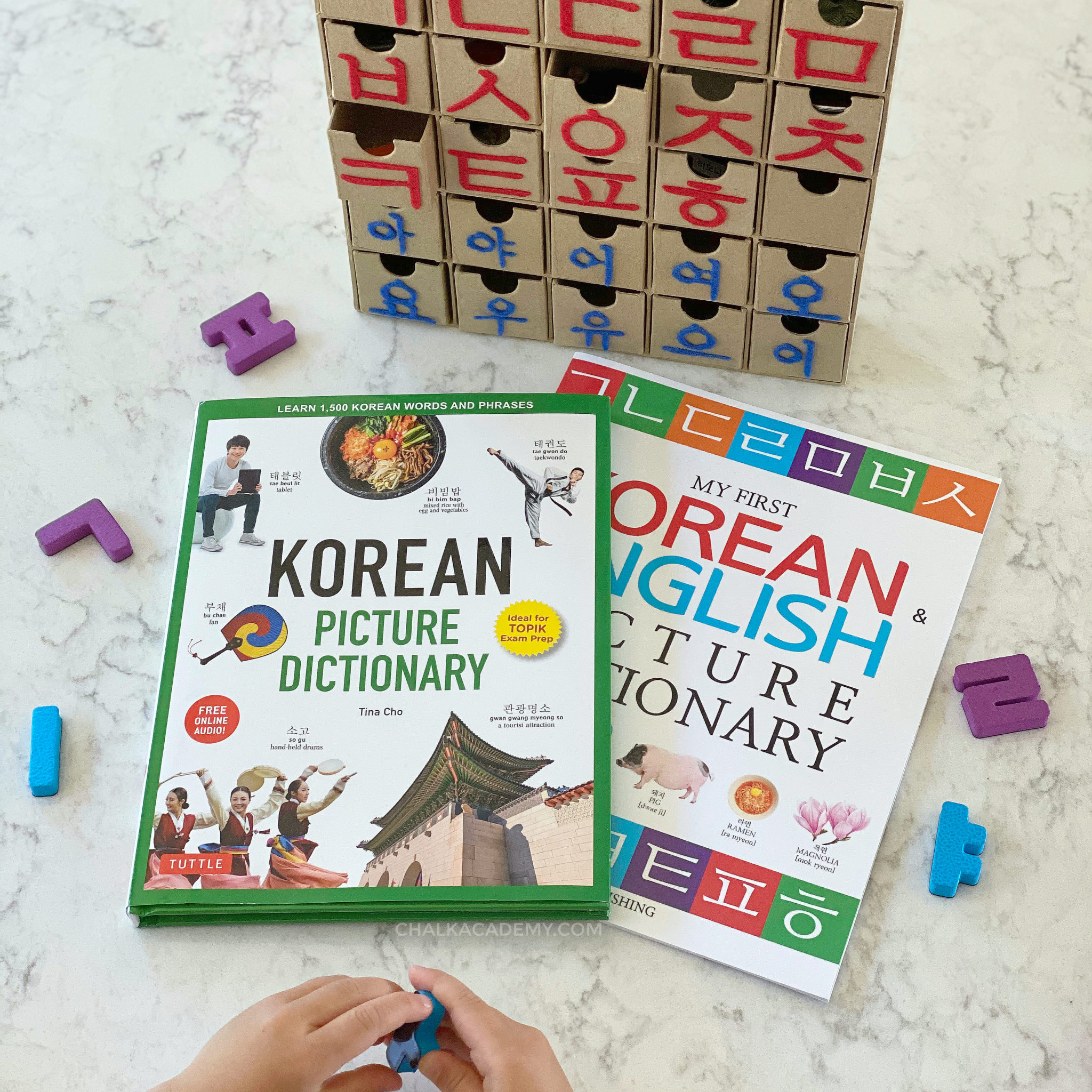 Korean books, toys, music on Amazon
Click here to see Korean books, music, and Hangul toys on Amazon!
Happy Korean Lunar New Year, friends!