Easy DIY Chinese Hand Fan Craft for Kids
Over the summer, my daughter and I made DIY Chinese folding fans 中国扇子 (zhōng gúo shàn zi) in lucky Chinese colors, red and gold. Chinese fans have been iconic in Chinese art, fashion, and history, and paper folding fans are a practical way to cool down. So this Chinese hand fan makes for a practical, cultural, and educational activity for a hot summer day! Once you have made the fans, you can sit back in the shade and enjoy the breeze from waving the fan.

The art of the traditional Chinese fan
While making these DIY paper fans, I showed my daughter a few traditional Chinese fans from my late parents and grandparents. My daughter had fun touching the fabric and intricate designs, and it was a nice way to talk about our family's heritage and culture. I got to share what I have learned about the Chinese fans in Chinese history!
The first Chinese hand fans date back 3000 years ago, during the Shang Dynasty. Originally, they were tied to horse-drawn carriages and used much like an umbrella to block the sun for passengers.
During the Zhou Dynasty 2000 years ago, people began to use folded fans as a method of cooling down. At first, they were made of bird feathers and used only by the aristocracy. Eventually, they became more affordable as bamboo, cattail-leaf, and silk began to be used.
The handles of the silk round fans were often engraved with ornate patterns. Meanwhile, the face of the fan was painted with calligraphy or scenery.
Since the Song Dynasty, fan painting evolved as an art for both artists and writers. They would decorate the fabric and paper folding fans with stories and illustrations of birds, flowers, and mythical creatures like dragons and phoenixes. These beautiful fans were known as scholar fans and helped to show status for the owners.
For almost 1000 years, hand fans remained popular and are still important in Chinese culture. Today, you'll still see Chinese hand fans all over the world, from art auctions to street sellers.
Try this: The Best 20 Chinese New Year Activities and Crafts
This post may have some affiliate links. If you click an affiliate link and make a purchase, I earn a small commission which supports this educational website at no additional cost to you. Please see the disclosure policy for details.
Bilingual vocabulary about Chinese fans
As a pediatrician and mom who's trying to raise multilingual children, I've noticed that hands-on activities are a memorable way to build up vocabulary. When we are experiencing something new and exciting, it encourages use to speak in the minority language.
In case you'd like to learn along, here are some of the Chinese phrases that we looked up and learned from this DIY Chinese fan activity. The words below are in simplified Chinese, traditional Chinese, Hanyu Pinyin, and English.
Different types of fans in Chinese
扇子 (Shān zi / hand fan)

风扇 / 風扇

(

Fèng shān / fan, electric fan)

电风扇 / 電風扇(

Diàn fèng shān / electric fan)
Chinese phrases related to fans
你热吗?/ 你熱嗎?(Nǐ rè ma? / Are you hot?)
这里有一个扇子来帮助你。 / 這裡有一個扇子來幫助你。(Zhèlǐ yǒu yīgè shànzi lái bāngzhù nǐ. / Here's a fan to help you.)
你现在感觉更舒服了吗?/ 你現在感覺更舒服了嗎?(Nǐ xiànzài gǎnjué gèng shūfúle ma? / Do you feel more comfortable now?)
Supplies for DIY paper fan
How to make a Chinese hand fan
Cut half a sheet of 8.5″x11″ red printer paper (folded lengthwise)
Write a message with gold Sharpie; invite your child to trace the characters with a Gold glitter marker for writing practice
Decorate the paper with gold glitter glue
Fold 0.5″ accordion style
Tie the bottom end with a pretty ribbon!
If you don't have red paper at home or want to save paper, you can upcycle anything! In the photo below, you can see that we made pretty Chinese folding fans from random pieces of white paper.
Also, please note that when we made the fans, we were learning the word 风扇 / 風扇, which is why we wrote it on the red paper. However, that word actually means electric fan. But you can write any words or phrases that your child is learning!
How to use the Chinese hand fan for language learning
This is a simple craft that works for most age groups. Those from preschool age to elementary should have no issues making this craft!
As a language learning opportunity, you can help your child spell out the word on the paper. Depending on their age, they can write the words themself or trace your lettering. Every time they use the fan, encourage them to say the new Chinese word out loud.
Also, please note that when we made a paper folding fan, we were learning the Chinese word 风扇, which is why we wrote it on the red paper. However, that word actually translates to electric fan in Chinese.
For your paper folding fans, you can write any words or phrases that your child is learning! I encourage you to use these fans in any language your child is learning at home or at school. These fans work as a great activity for Chinese New Year or as a way to teach your children or students about different cultures.
Did you make a Chinese hand fan?
If you make these easy-to-DIY paper folding fans, please let us know! Leave a comment down below and share your experience with the craft.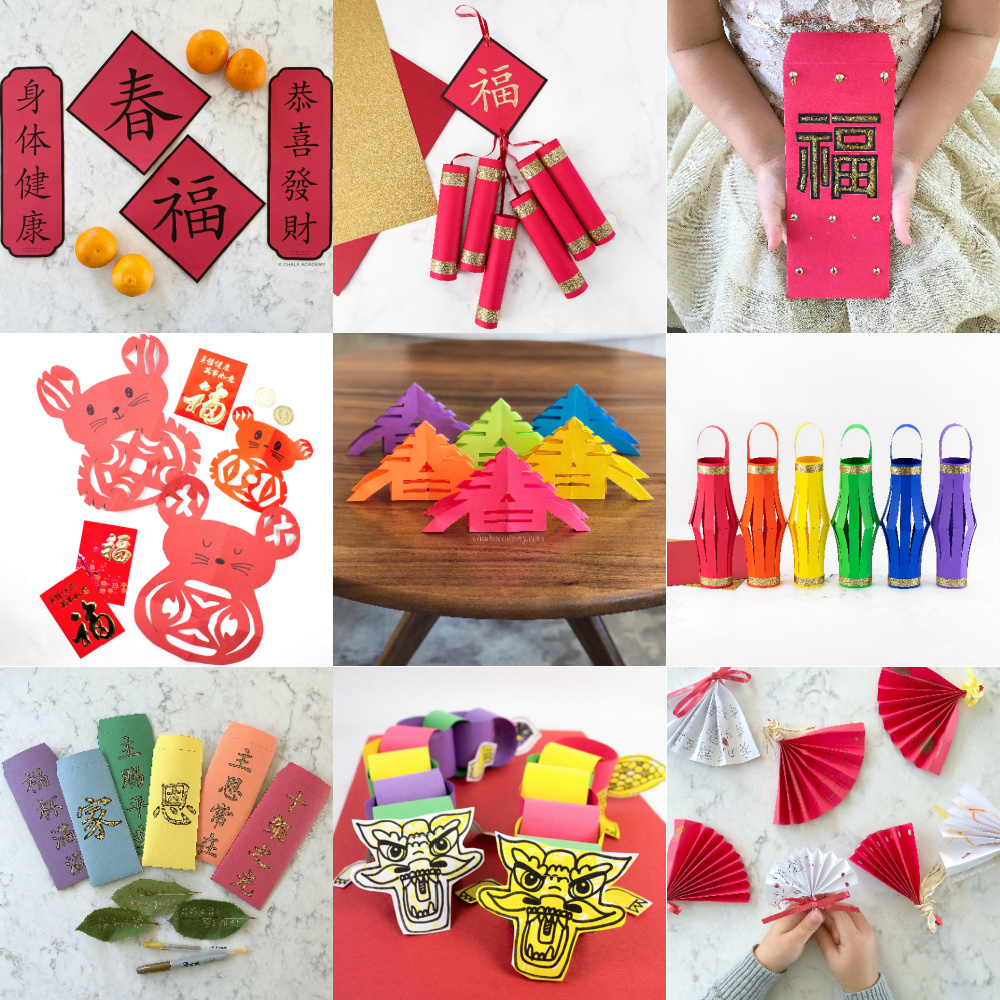 For more festive fun, check out our printable Chinese Lunar New Year activities for kids!
Happy playful learning, friends!