Best 20 Chinese New Year Activities and Crafts for Home and School!
To celebrate Lunar New Year, my kids and I are having fun with Chinese New Year crafts and activities! Lunar New Year is the most important holiday in China, Hong Kong, Taiwan, Korea, Singapore, Malaysia, Korea, Vietnam, and other Asian countries.
My children and I have been learning Chinese together, and Chinese New Year crafts and activities have been a fun way to celebrate our family's Chinese heritage! I put together a list of ideas that we've enjoyed plus a few from other creators.
Although the internet is saturated with many lists of Chinese New Year activities, this post mostly features Asian creators and excludes activities that could be offensive to our culture (eg, rice sensory bin).
Please note: Lunar New Year traditions vary from culture to culture. You can read about Korean Lunar New Year crafts and activities here, but this post features activities related to Chinese traditions. Since these activities may not reflect other Asian cultural traditions, I'm afraid I would be misrepresenting if I used the broader Lunar New Year term for the title of this post.
This post was original published in January 2018 and has since been updated with new information.
How do you celebrate Chinese New Year?
Traditionally, for a fresh start to Chinese New Year, houses are cleaned and decorated with lucky colors, red and gold. In addition, Chinese lanterns and banners have messages of fortune, happiness, wealth, and longevity!
To celebrate Chinese New Year, we read Chinese New Year books as a family and have shared some stories with classmates. The Chinese New Year activities and crafts in this post are also fun for home or school!
This post may have some affiliate links. If you click an affiliate link and make a purchase, I earn a small commission which supports my blog and free printables at no additional cost to you. Please see the disclosure policy for details.
Hands-on Chinese New Year crafts and activities for kids
To celebrate Chinese New Year, children of all ages can have fun with engaging Chinese New Year crafts and activities.
Depending on your child's fine motor skills, some Chinese activities may require help from adults, such as with cutting, gluing, taping, or using art supplies.
If you are thinking about preparing activities for a Chinese New Year celebration at your child's school, consider the children's ages and number of available assistants.
Many of these activities are featured in our cardboard Chinese market!
Menu of fun, educational Chinese New Year activities!
The following activities are organized as follows:
Chinese culture: red envelopes, banners, lanterns, paper fans, and more!
Chinese literacy: word puzzles, word-matching and coloring, calligraphy
Chinese zodiac animals – printable animal activities and crafts
Chinese New Year crafts about cultural traditions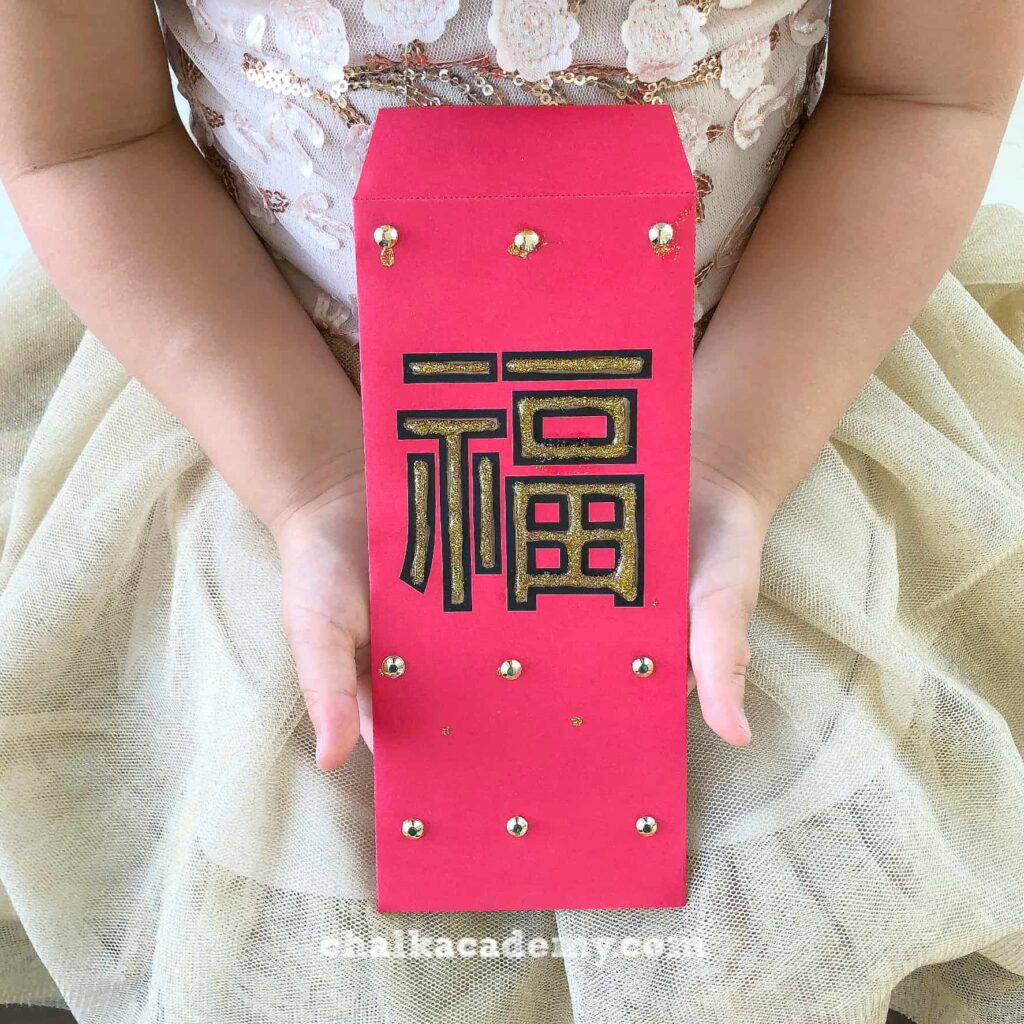 1. Chinese New Year red envelope – free printable
Red envelopes 红包 (also known as red packets) are extremely important for Chinese New Year! Our free printables feature Chinese characters including 福, 囍, 寿 or 壽, 家, 春, 好, 恩 plus Christian phrases. Download the free printable Chinese red envelopes and decorate with glitter glue and rhinestone stickers (full list of Chinese words and phrases in that post).
2. Chinese New Year banners
Pairs of red Chinese banners (couplets) are popular decorations for Lunar New Year! Download free printable Chinese banners here in simplified and traditional Chinese!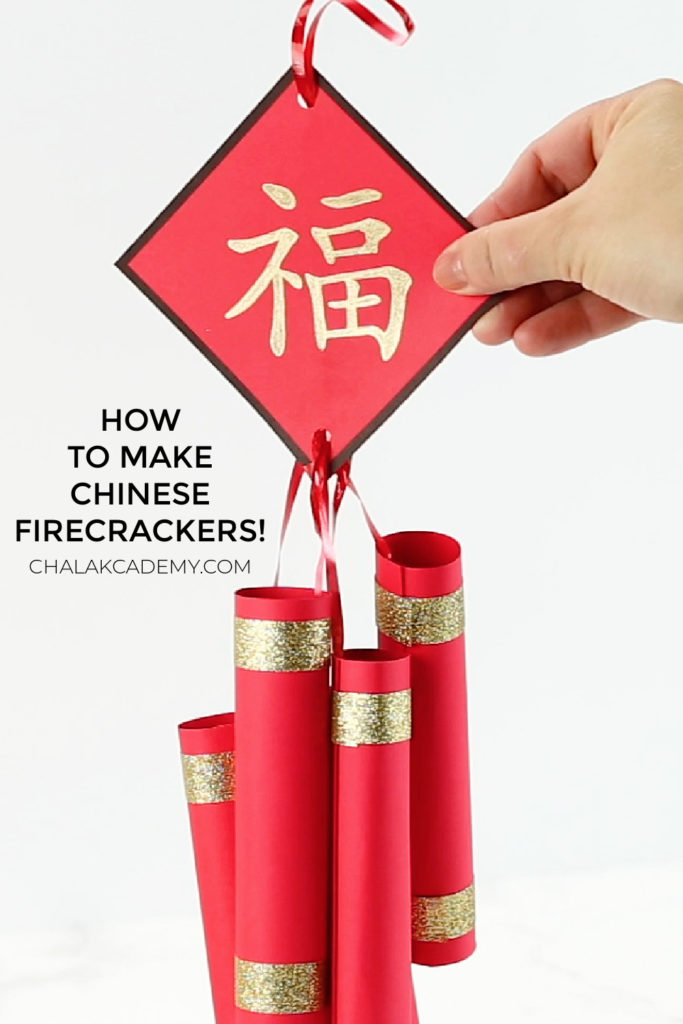 3. Chinese firecrackers Lunar New Year craft
With red paper and gold tape, you can make your own lucky Chinese Firecrackers for Lunar New Year! Learn how to make the Chinese firecrackers craft here!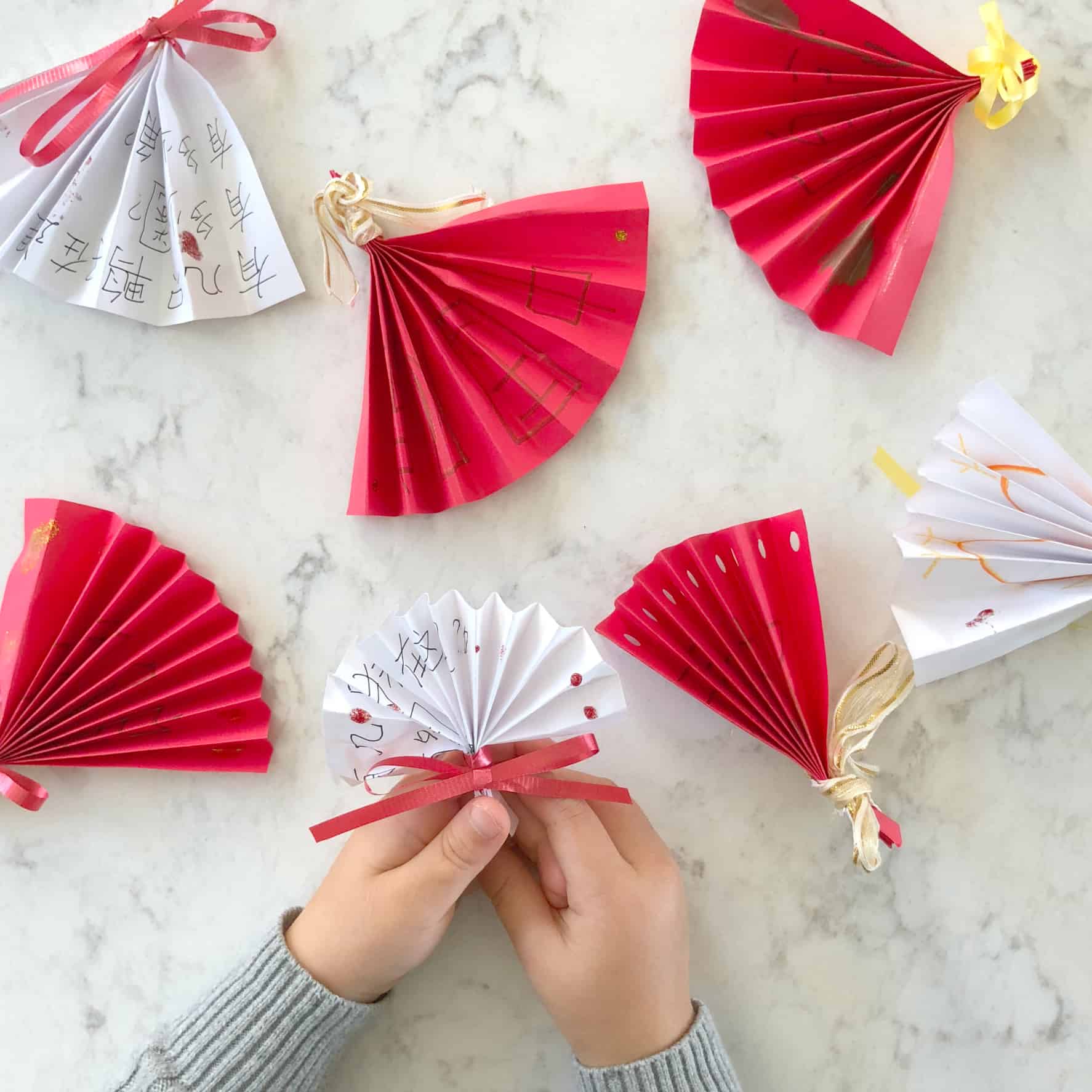 4. Chinese paper folding fans
Want to make the easiest Chinese paper fans with your kids? Click here to learn how to make Chinese paper fans!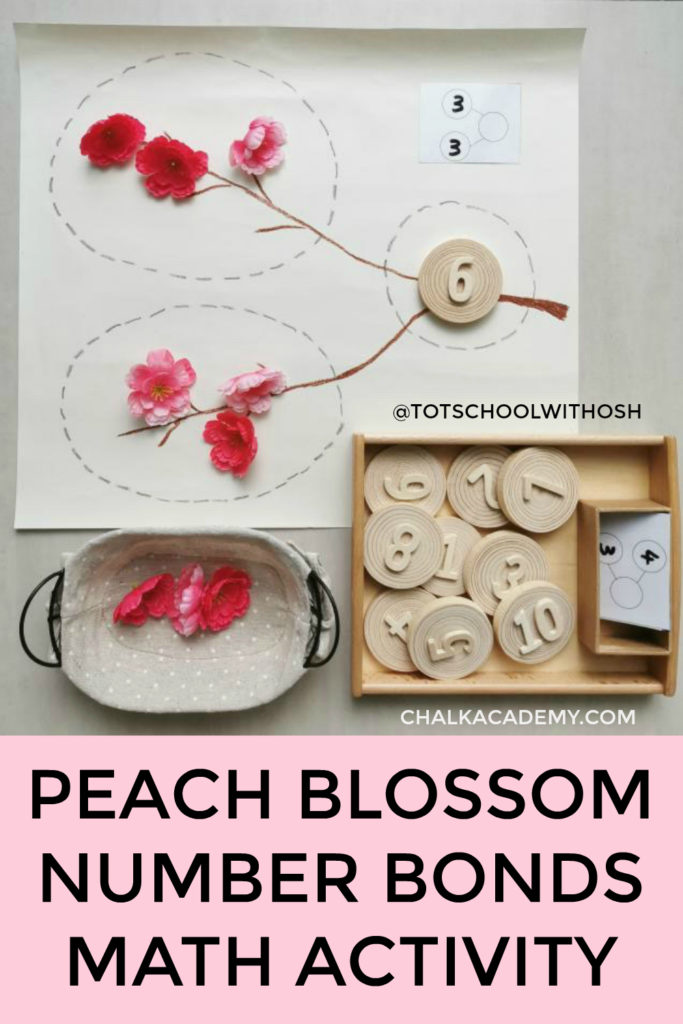 5. Chinese peach blossom number bonds
I love this hands-on math activity from Tot School with OSH! Learn number bonds with Chinese peach blossom flowers! Check out more Chinese New Year activities that her child is doing on Instagram!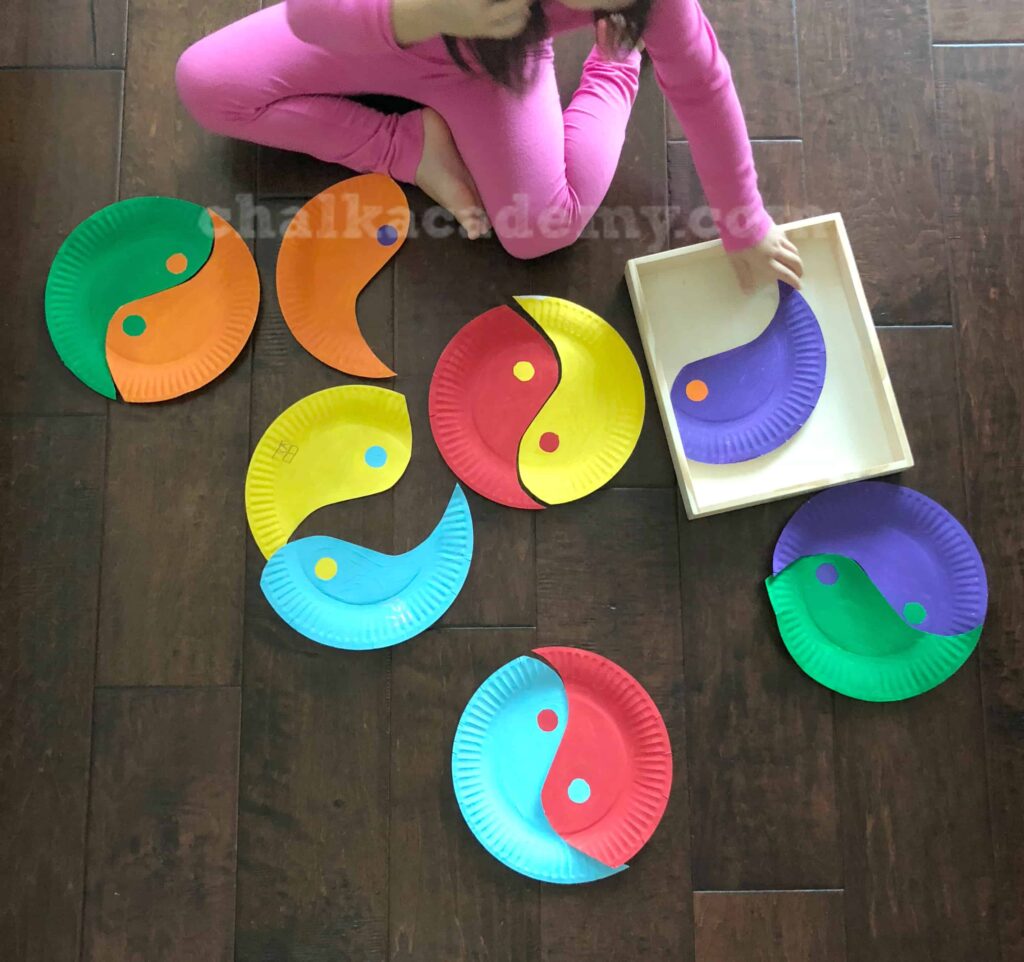 6. Yin Yang paper plate puzzle
The famous Yin Yang symbol represents harmony and balance in Chinese colors. This paper plate puzzle is a creative way to learn about yin yang! This can be fun for Chinese New Year or any time of the year!
7. Paper plate Chinese drum for Chinese New Year
Ring in Lunar New Year with a fun and easy paper plate Chinese Drum craft! Learn how to make a paper plate Chinese drum at Gift of Curiosity.
8. Rainbow paper fortune cookies
Although fortune cookies are not traditional Chinese food, they are a common staple of Western Chinese restaurants and filled with special messages on the inside! Learn how to DIY paper fortune cookies with colorful printer paper!
9. Printable Chinese lanterns for Lunar New Year
We love making these easy Chinese paper lanterns with free printable templates. These lanterns take less than 1 minute to make (just 4 steps!)
Fortune Cookie Mom also has beautiful rounded lantern printables that you can make with your family! Click here to see DIY instructions on her bilingual homeschooling website!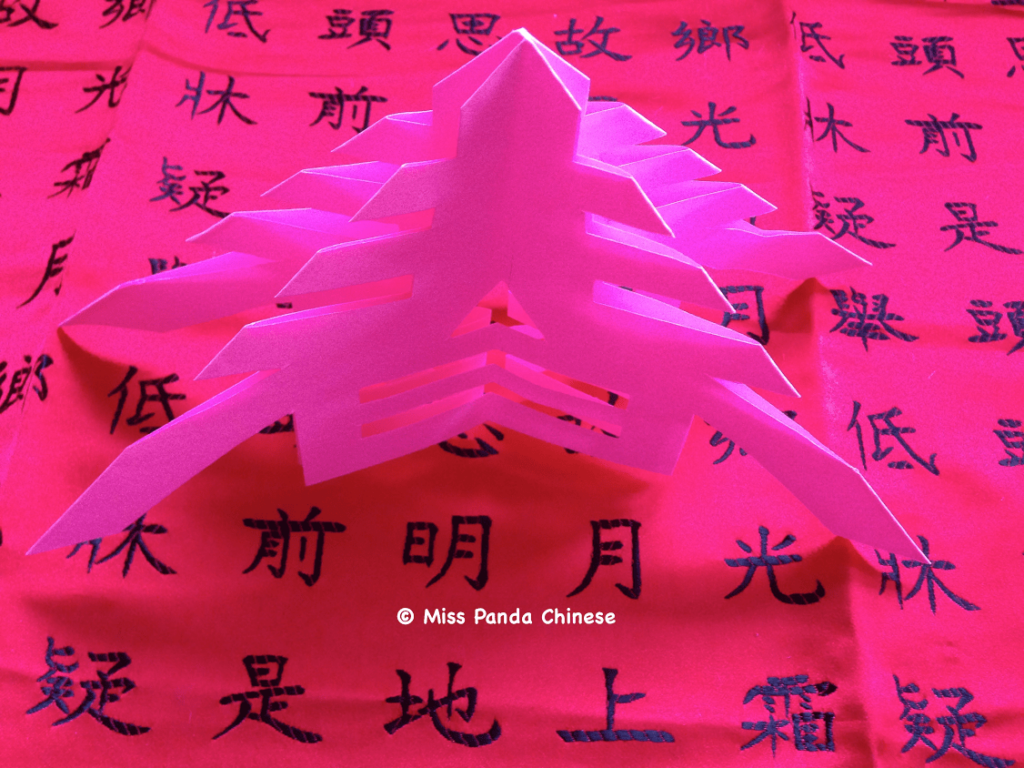 10. 3-dimensional Chinese paper cutting 春 craft for Chinese New Year
Miss Panda Chinese has a free printable that you can cut and use to decorate your home for good luck! In Chinese, Lunar New Year marks the start of 春 (Chūn / Spring). Therefore, Lunar New Year is also known as 春節 | 春节 (Spring Festival) in Chinese. Click here to visit her website for the free download!
11. Chinese paper cutting for Lunar New Year
Pink Stripey Socks has a simple yet clever way of cutting red paper in interesting designs for the year of the rat! Her kid-friendly tutorial is in this link!
12. Chinese Lunar New Year mystery box
Spot of Sunshine shares an interactive "Mystery Box" with important cultural elements: red envelopes, orange, dumpling, firecracker, and banner. She explains the activity in this post!
Chinese literacy activities for Chinese New Year
1. Chinese water calligraphy for Chinese New Year
Chinese calligraphy is a beautiful and artistic form of writing that is highly respected in Chinese culture. My kids always have fun with magic water calligraphy, a reusable and eco-friendly way to practice writing!
Kids and adults alike can use this calligraphy mat. See examples of how we used the magic writing cloth for Chinese writing practice here.
Related: Bilin Academy: Art, Games, Calligraphy Classes in Chinese and English
2. Chinese New Year craft Stick puzzle for kids
Learn the important Chinese New Year Greeting "恭喜发财" with this craft stick puzzle from CHALK Academy! You can also adapt this puzzle to other words!
3. Happy New Year coloring sheets in Chinese!
Free printable Happy New Year coloring sheets in simplified Chinese and traditional Chinese! Please note that these have been updated for 2021, but the photo above is from last year. You can download Chinese New Year coloring sheets in this post.
Chinese zodiac activities for Lunar New Year
1. Chinese zodiac wheel – learn about the 12 animals
To learn the Chinese zodiac, this interactive wheel shows you which animals correspond to which year. The printable wheel is available in simplified Chinese, traditional Chinese, and English. Click here to learn more about the printable Chinese zodiac wheel!
2. Chinese zodiac animal crafts
DailyNoodles Chinese Activity book includes simple crafts for all 12 Chinese Zodiac Animals! Buy the book on Amazon in this link!
3. Chinese zodiac animal matching
Happy Tot Shelf is one of the most creative and original moms I have met! One of her many clever Chinese New Year activities includes this Chinese Zodiac animal matching activity with egg cartons! Click here to visit to see details of each activity!
4. Whirling paper plate Chinese dragon for Chinese New Year
Chinese Dragon crafts just got more fun with this bouncy, whirling paper plate dragon craft from Red Ted Art!
5. Dancing paper roll Chinese New Year dragon craft
Vibrant dragon craft made from upcycled materials and colored with acrylic paint! Save all of your toilet paper rolls, because longer dragons = more fortune! This is one of the many wonderful ideas from Oh Creative Day!
6. Paper chain Chinese dragon puppet
This is a cute DIY Chinese dragon craft made easy with the free printable from Pink Stripey Socks!
Save these Chinese crafts for Lunar New Year on Pinterest!
新年快乐,

恭喜发财! / 新年快樂, 恭喜發財!

Happy New Year! May you have a prosperous new year!
More Chinese New Year resources for children
Happy playful learning, friends!