Yin-Yang Paper Plate Puzzle – A Fun Chinese Activity for Kids!
Yin-Yang 阴 (yīn / dark) and 阳 (yáng / light, sunny): two opposing yet complementary and interdependent forces of nature! Together with my daughter, we made a Yin-Yang Paper Plate Puzzle to learn more about the important symbol in Chinese culture!
What is Yin and Yang?
Since my daughter is still young, I kept the lesson fairly simple.
We discussed how opposites depend on each other to make a whole, such as day and night, man and woman, hot and cold.
For example, we previously learned the Chinese characters 阴阳 in the context of weather with sun and cloud stickers.
Today, we delved into the symbolism of 阴阳 and how it represents opposites.
We also painted paper plates and used yin-yang to learn color patterns!
In the future, we'll discuss other examples of yin-yang, such as masculine versus feminine, positive versus negative, etc.
DIY Yin Yang puzzle craft: What you need
Paint – I used acrylic paint because the color is vibrant, but please note that the smell is a bit strong when the paint is wet.
White paper plates – we bought from Amazon, but you can also find these inexpensive ones at the dollar store!
Pencil
How to make yin-yang puzzles:
Draw edge of yin-yang semi-circles on paper plate. Tip: As shown in the above photo, I used the cut edge of one plate to trace lines on other plates.
Use pencil to trace circles on plate
Cut plate with scissors
Paint each paper plate with 2 colors. For example: paint one half blue with a red dot; paint the other half red with a blue dot.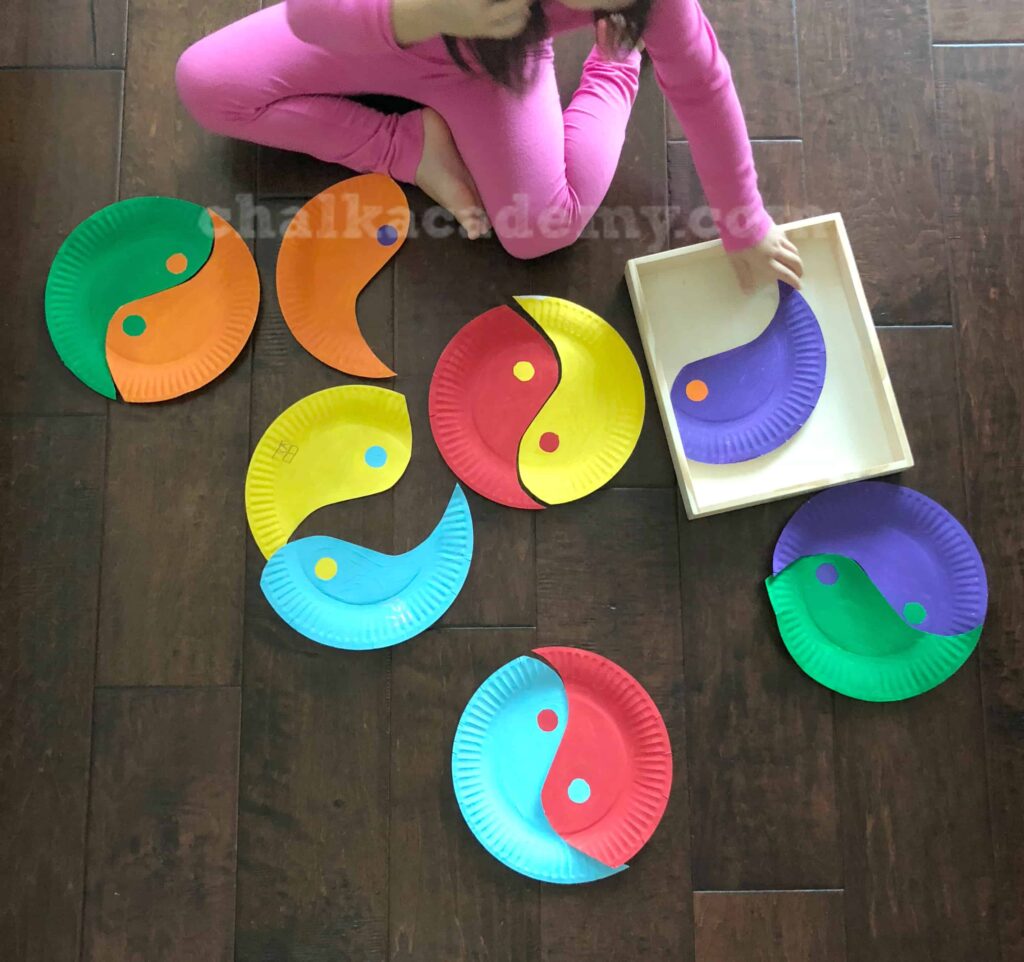 In the photos here, I decided to make 3 paper plates with primary colors and 3 paper plates with secondary colors.
Then, I mixed up the pieces and put it a tray to keep the pieces organized and easily accessible.
My daughter was very curious about this new puzzle! It was so fun to see her figure out the pattern and complete each puzzle!
Have you tried making this Yin Yang Paper Plate puzzle?
If you try this activity, please let us know in the comments below! What age(s) are your kid(s), and how did it go? We'd love to hear about your learning experience!
More Chinese culture and language activities for kids
Click here if you're looking for more Chinese cultural activities!
Happy learning, friends!