DIY Cardboard Chinese Lunar New Year Market for Kids
My kids have been begging me to make a cardboard Chinese Lunar New Year market, and I finally finished it!
Cardboard boxes have always been magical to my children, especially big ones!
Before recycling leftover packaging, I always leave a few boxes in our garage "just in case."
This post may have some affiliate links. If you click an affiliate link and make a purchase, I earn a small commission which supports our educational tips at no additional cost to you. Please see the disclosure policy for details.
Creating a fun Chinese learning environment at home with cardboard boxes!
Whenever we get packages, my children are excited not only to see what's inside, but they want to use the cardboard box for imaginative play!
We've used cardboard boxes for many smaller projects, such as a cardboard car ramp, book diorama, dinosaur, Christmas trees, and other recycled activities.
I knew that making a cardboard Chinese market for Lunar New Year would be extra special and also useful for many reasons:
Since we don't get to experience much Chinese culture in our small American town, we try to create a fun Chinese learning environment at home!
Chinese houses made of cardboard boxes
Before I show the details of our cardboard house, I wanted to highlight 3 inspiring sources that motivated us to join the fun!
Big thanks to these parents for sharing and letting me feature their amazing creations here!!!
1. 年宵花市 (Nián xiāo huāshì / Chinese New Year Flower Market) from Karen Cheong
Karen is a trilingual mother who shared this clever and creative 年宵花市 Chinese New Year Flower Market!
The handwritten Chinese labels are a natural way to create a print-rich environment.
I also love her Chinese calligraphy couplets, and I'm inspired by the cardboard cash register!
2. DIY Cardboard Chinese Lunar New Year market from Irene Chang
Irene and her husband are teaching 3 languages to their kids: English, Mandarin, and Korean, similar to our family!
Together with her children, they put together this cardboard Chinese market.
The roof was made of cardboard rolls, and the fancy walls and countertops were covered with marble contact paper!
3. DIY Cardboard Chinese house from @chinese_with_kids
Here's another inspiring cardboard Chinese house from a trilingual homeschooling family (English, Chinese, and Russian)!
They decorated their cardboard house with 3-D Chinese paper cutting decorations plus our printable auspicious Chinese banners!
I love how much fun it brings into their Chinese learning environment at home!
Details of our cardboard Chinese Lunar New Year market!
I spent about 1 day (3 hours in the morning, 2 hours at night) putting together the cardboard Chinese market with my kids!
My 6-year-old daughter and 3-year-old son helped with painting the sides of the box red.
In addition, my daughter helped with preparing the Chinese couplets, paper lanterns, red envelopes, and firecrackers craft.
Materials used:
2 or more large cardboard boxes depending on your child's height
Toilet paper rolls (we used 22 rolls cut in half to create "tiled" appearance on front roof)
Packaging tape (for assembling and securing cardboard house)
Painter's tape (for removable decorations)
Paintbrushes
Chopsticks or stick (to hang lantern and firecracker crafts)
Here's a look at the back when we transformed it into a DIY Valentine's Day Card Shop!)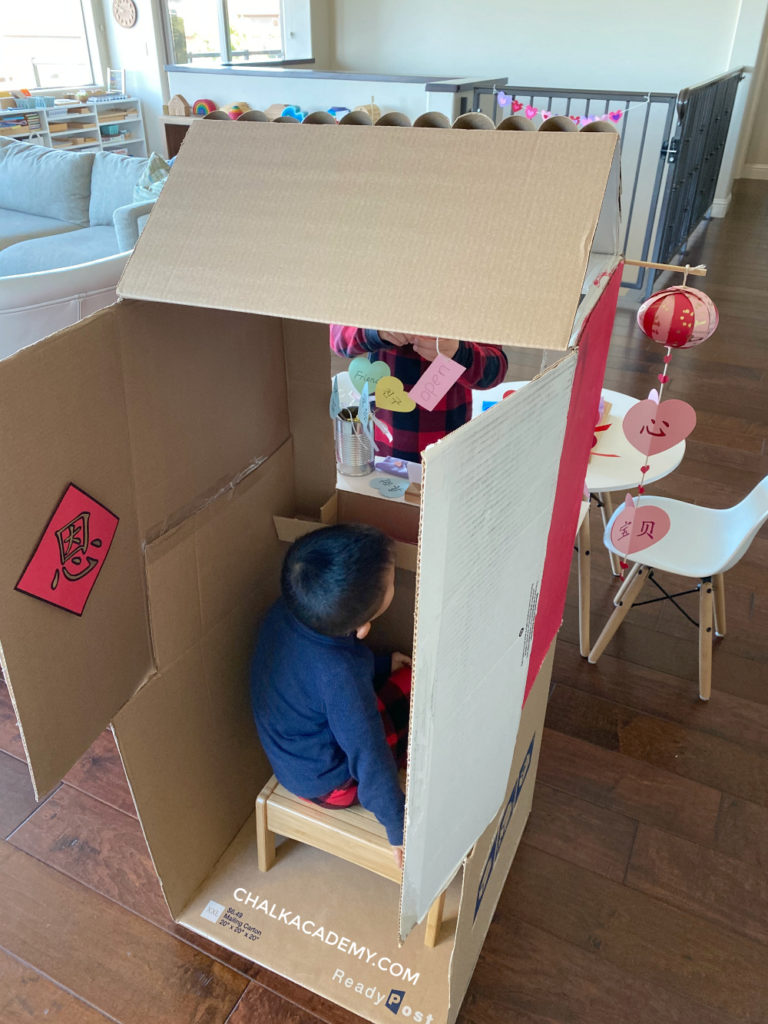 Since I was rushing to finish this project as quickly as possible before Lunar New Year, I didn't get a chance to take step-by-step photos.
However, I'll share some close up photos which I hope can give you an idea of how our cardboard shop was put together.
I also recommend the She Knows website which has a great tutorial for a collapsible cardboard house.
Here's a view from the inside of the cardboard shop where my kids like to stand and pretend to be cashiers!
And below is a close-up of the play money (similar here) that my kids love to play pretend shop with!
Play money is also a fun way to practice basic math without workbooks or homework!
In the future, we are excited to redecorate the cardboard shop and try other themes, such as Christmas!
The kids are also thinking about making this a shop for selling our printable Chinese and Korean play food!
I'll update you when we try something new!
Have you tried making a cardboard house for your kids? How about a Chinese Lunar New Year Market?
If you try this activity, please let us know in the comments below! Or email us with a photo of your cardboard house!
We'd love to see and hear about your learning experience!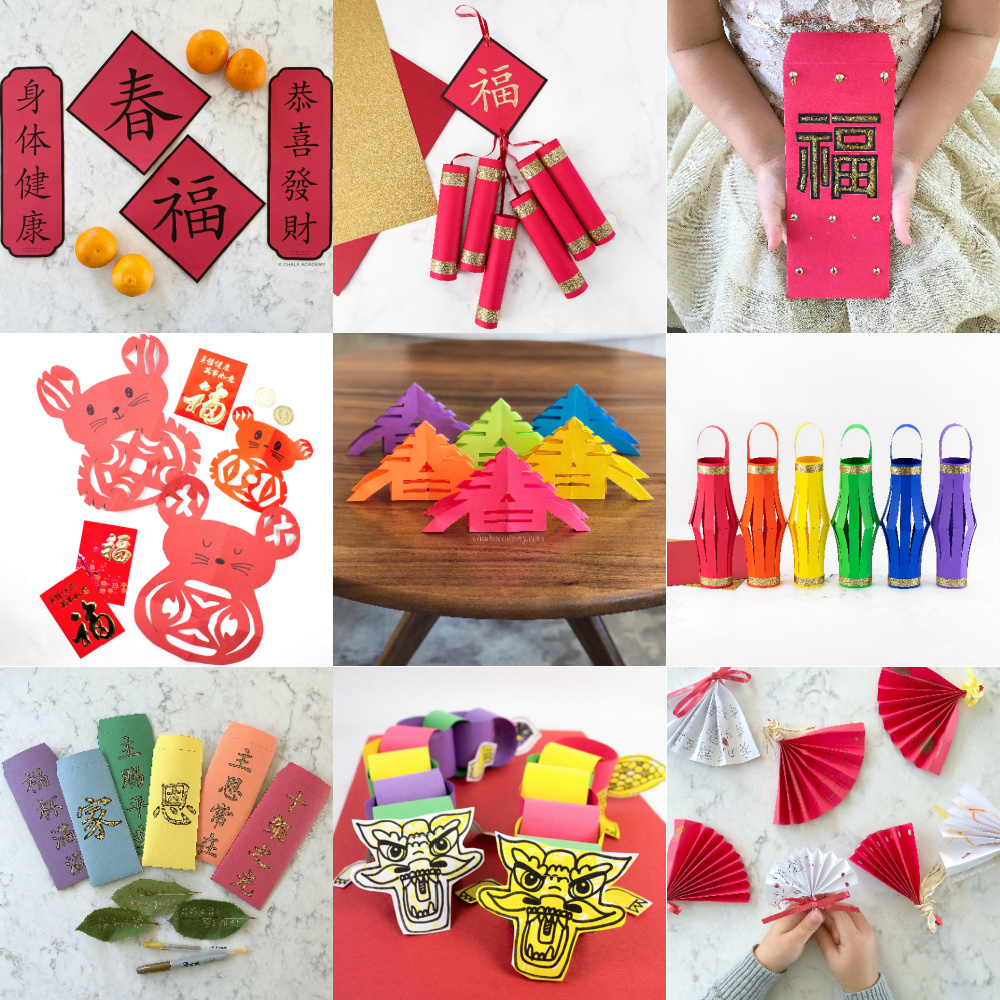 More Lunar New Year resources for children
Learning activities for every topic!
To sign up for our educational newsletter, please click the button below.
What is your child interested in today? Click below to explore activities and books that your child will love.
Happy playful learning, friends!