Chinese Calligraphy Practice: Magic Water Writing Cloth and 地书 (VIDEO)
A few years ago, one of our first "Chinese learning" purchases was a 水写布 / 水寫布 (shuǐ xiě bù / water writing cloth) water calligraphy. Our magic water calligraphy cloth set (similar here and here) has been a fun and effective way to teach Chinese characters and practice writing in any language!
Turns out, water writing has been a popular practice in China since the 1990s. The history of Chinese water calligraphy and 地书 / 地書 (dìshū / ground calligraphy) is fascinating.
I'll share a bit about what I learned followed by my review of the magic water writing cloth for Chinese calligraphy practice.
Related: Bilin Academy: Art, Games, Calligraphy Classes in Chinese and English
This post may have some affiliate links. If you click an affiliate link and make a purchase, I earn a small commission which supports our educational tips at no additional cost to you. Please see the disclosure policy for details.
History of Chinese water calligraphy 地书 /

地

書 (dìshū / ground calligraphy)
地书 / 地書 (dìshū) literally translates to ground (Earth) book, or ground calligraphy.
In China, people can be found in Chinese parks and streets practicing 地书 / 地書 (dìshū / ground calligraphy), walking around with their long foam brush, writing beautiful poems on the ground!
When we did our Water Painting Raindrops outdoor literacy activity, I had not heard of 地书 at the time!
I'm impressed by this eco-friendly and economical way to write and share the experience with the community!
This video of an adorable 5-year-old calligrapher is fascinating to watch!
In the following video, the Chinese gentleman writes "欢迎美国朋友到北京" (Huānyíng měiguó péngyǒu dào Běijīng / Welcome to Beijing, American friends!)
For those who are interested, François Chastanet wrote a documentary about 地书.
Here is an interview with Chastanet, and his Vimeo page has tons of cool videos of these amazing Chinese calligraphers!!
Anyway, back to my review about the magic water writing cloth set!
What is 水写布 / 水寫布 magic water writing cloth?
Magic water writing cloth is a special material that can be used for practicing strokes of brush calligraphy and painting.
When a wet brush meets the cloth, black lines are formed and resemble ink.
Where to buy 水写布 / 水寫布 magic water writing cloth set
I purchased our magic water calligraphy set from Amazon which included the following:
Brush
Water cup
Blank water writing cloth
Stroke order water writing cloth
Water writing cloth with grids and thick scroll frame
Calligraphy booklet
You want to make sure you choose a version with 米 (mǐ) grids and not a completely blank scroll. The following water calligraphy set is similar to what we have:
Please read the Amazon product description carefully prior to purchasing. Amazon sometimes changes the links to different products when the prior product is no longer available.
Review of magic water writing cloth 水写布 / 水寫布 for Chinese calligraphy practice
We have used the magic water writing cloth intermittently over one year, and the cloth and brush have held up quite well!
When we first got the set, my daughter traced over one stroke with a pen, not realizing there were special rules for the cloth!
Since then, we have continued to use water only.
After writing, the water gradually fades away.
Occasionally, we have had faint water stains, but according to the instruction guide, it is okay to wash it away gentle with soap and water.
Pros:
Environmentally-friendly (saves paper)!!!
Inexpensive
Can see outline of brushstrokes
Reusable (apparently up to 1000 times, but who's counting?!)
Fun!!!
Cloths may be blank or come with grids and/or stroke order.

Grids serve as a guide for character spacing and arrangement
Stroke order has arrows to indicate writing direction
Cons
Needs support to lay flat
Related: 5 Non-Academic Chinese and Korean Classes That Focus on Speaking
Benefit of a scroll frame for water calligraphy cloth
When comparing magic water cloth options, I recommend getting one with a scroll frame.
The scrolls help the cloth lay flat; our other cloths with no scroll tend to bunch up!
As new Chinese characters are written, prior characters begin to fade! Observing this interesting process can help with memorizing Chinese characters.
As you can see in this photo, my daughter was writing in random order.
Since then, I have encouraged her to develop the important habit of following an orderly progression.
We used our Montessori Chinese sandpaper stroke order cards as the writing guide, and the combination of these two gave my daughter a solid foundation in following stroke order!
I love that each stroke has varying thickness depending on the weight applied to the brush!
As for the blank magic writing cloth, my daughter used this to doodle hearts, flowers, and other random things!
In my opinion, this cloth is not necessary because you can use the blank backside of the other cloths for this purpose. Our blank cloth also has many creases.
Finally, here are my kids pretending to do 地书 with the magic calligraphy cloth!
They were inspired by the 地书 videos in this post!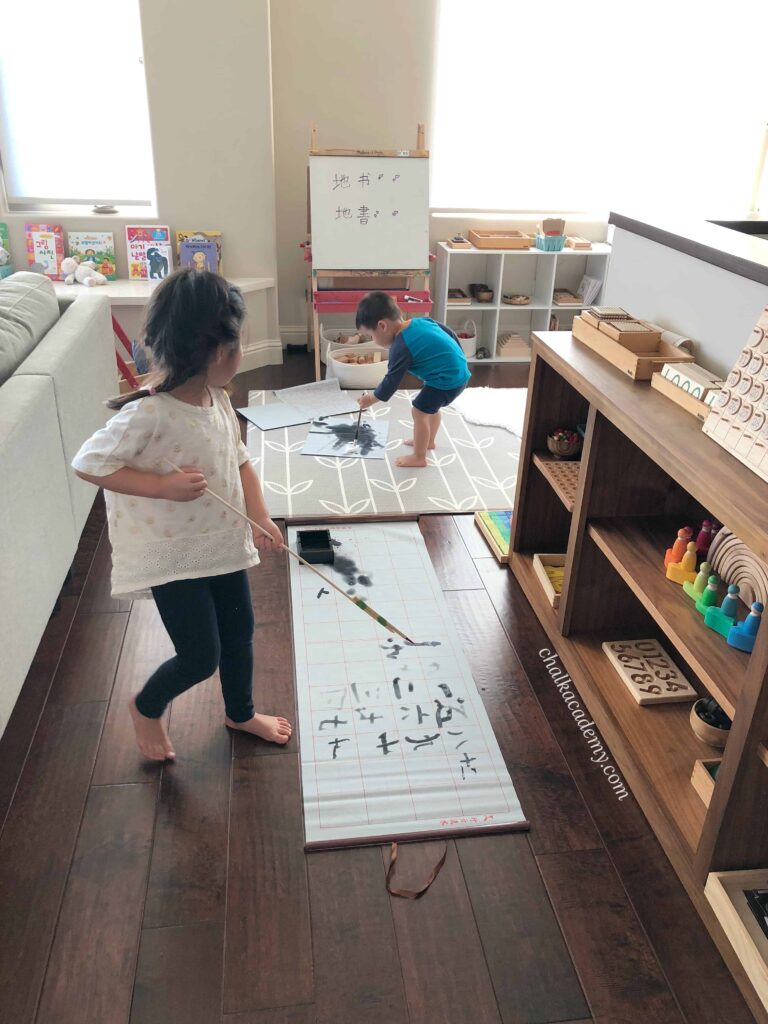 Magic water calligraphy cloth versus Buddha Board
A few years ago, we were gifted the popular original Buddha Board.
If I had to choose between the two, I would say it depends on your goals.
Benefits of water calligraphy mat versus Buddha Board
On Amazon, the cost of water calligraphy cloths typically range from about $8 to $20. They are relatively less expensive compared to the Buddha Board.
Also, because my daughter likes to write many characters at a time, the Buddha board does not give enough space for writing practice.
Benefits of Buddha Board compared to water calligraphy mat
The upside of the Buddha Board is that it is perfectly flat and can be easily oriented to provide a vertical writing surface at eye-level.
The modern, minimalist design also looks sleek and elegant on any table or desk.
Many of my friends are big fans of the Buddha Board as parents!
Regardless of these wonderful indoor resources, I am still most intrigued by 地书!
I really love the idea of exploring literacy in the great outdoors!!!
RECOMMENDED ARTICLES ABOUT HOW TO TEACH KIDS CHINESE
If you need tips on how to teach your child Chinese, these posts are for you!
Happy learning, friends!