DIY Cardboard Valentine's Day Card Shop!
"Learning with love" is the theme of our kids' DIY cardboard Valentine's Day card shop! I always emphasize the importance of making new memories and creating a print-rich environment with minority languages. This cardboard play shop has become a special bonding project for my family!
Last month, we took 2 large cardboard boxes and created a cardboard Chinese Lunar New Year market! The design was inspired by my friend, Irene, who's also raising trilingual children.
The kids loved it so much and were excited to transform the cardboard house into a Valentine's Day theme! We decorated the cardboard shop with our Valentine's Day printables, and it's been a wonderful learning experience for my children!
In case you're thinking about making similar decorations or a cardboard house, I'll share what my children have learned from this project!
This post may have some affiliate links. If you click an affiliate link and make a purchase, I earn a small commission which supports our educational tips at no additional cost to you. Please see the disclosure policy for details.
Materials needed for cardboard Valentine's Day card shop
Cardboard boxes are really magical to all children, and I love that we can recycle anything into fun learning toys!
Here's an overview of what we used to make the cardboard Valentine's Day shop!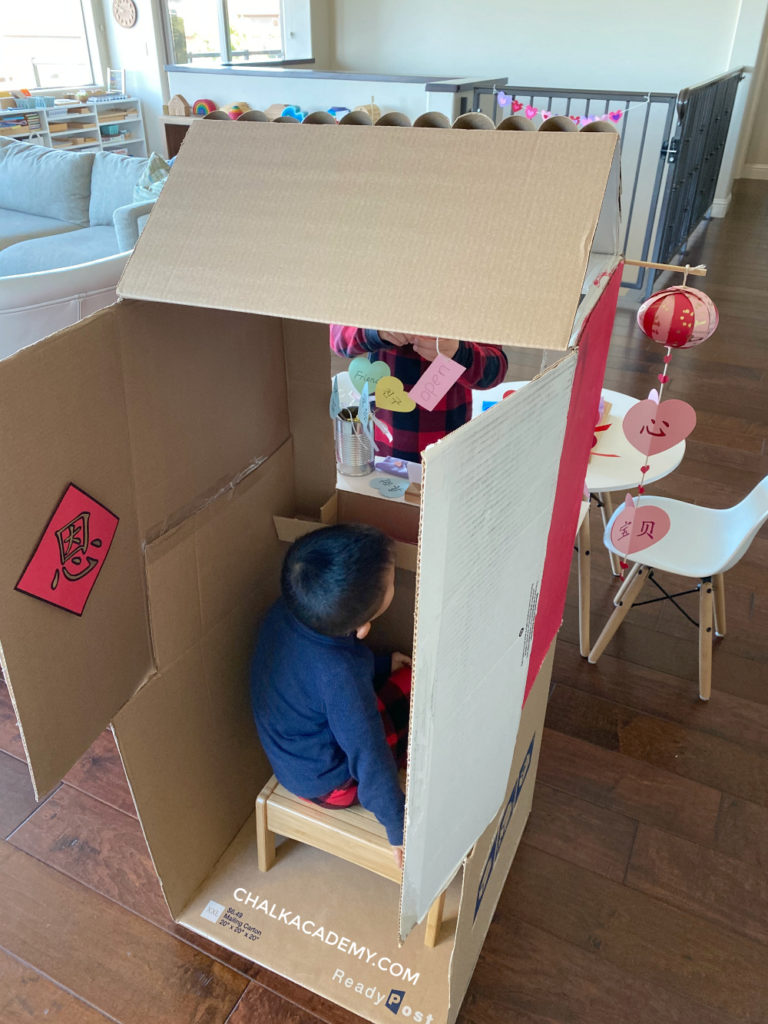 Materials used for the cardboard shop:
2 or more large cardboard boxes depending on your child's height
Toilet paper rolls (we used 22 rolls cut in half to "roof tiles")
Packaging tape (for assembling and securing cardboard house)
Painter's tape (for removable decorations)
Paintbrushes
Chopsticks or twigs (to hang lanterns, garland, mobiles)
Encouraging minority languages with our cardboard Valentine's Day card shop
Since my children speak Chinese and Korean at home, I made this cardboard shop to encourage learning through play.
I'll highlight special parts of this cardboard shop that encourage my kids to think positively about Chinese and Korean language!
1. Print-rich environment in minority languages
Since most of my kids' life is filled with English, I try to create a print-rich environment featuring their minority languages at home.
Chinese and Korean words serves as a visual trigger to think and speak the minority languages!
The sign of the shop says 贺卡店 / 賀卡店 (Hèkǎ diàn / greeting card shop) in Chinese, the main language that I speak with my kids.
Other decorations feature Korean and English as well.
2. Chinese lanterns for 元宵节 / 元宵節
In many parts of Asia, 元宵节 / 元宵節 (Yuánxiāo jié / Lantern Festival) is considered the equivalent of Valentine's Day.
Lantern Festival is the 15th and last day of Chinese Lunar New Year, and we wanted to include this part of Chinese culture at home!
I made a round Chinese lantern using My Hong Kong ABC's tutorial and connected it to a 3-D heart garland.
The 3-D heart garland was also very easy to make. Using our printable Chinese heart valentines, we folded 3 hearts in half, strung cotton twine string through the center creases, and glued the hearts together with glue stick.
My daughter made the pretty pink paper lanterns based off of our Chinese lantern tutorial.
As you can see in the above photo, we hung these under the shop window!
3. Heart wands in Korean, Chinese, and English
In the above photo, the silver can is holding our printable trilingual heart wand with sweet messages!
This past year, my 3-year-old began to realize that words for each language looks different.
Previously, I would try to separate the languages to help him learn to associate the written and spoken words.
Now that he can read over 100 Chinese characters and recognize some English and Korean alphabet letters, we can mix these heart wands together without confusing him.
It's so cute to hear him ask specifically what something says in a certain language!
4. DIY Heart mobile for Valentine's Day
With the same heart templates used in the aforementioned heart wands, I made a Valentine's day mobile with 2 twigs and cotton string!
After putting the twigs in "X" formation, I tied multiple knots to secure the center. Then I tied strings to the ends of each stick to serve as a hook for the mobile!
For the hanging hearts, 2 hearts were affixed together around the string with glue stick.
To connect my children's languages, I glued matching words together, eg, 朋友 (péngyǒu) with 친구 or friend.
5. Handmade cards for reading and writing practice
Although I've created printable valentines for convenience, my kids really take pride in handmade cards!
I've mentioned before that my 6-year-old daughter is like a Hallmark factory when it comes to making greeting cards!
Card-making has been a self-motivating strategy for writing practice while connecting with people she cares about!
Now this cardboard Valentine's Day shop is the perfect place to "sell" greeting cards and practice negotiations during pretend play with little brother!
6. Wood toy mailbox
I bought this wood toy mailbox from Joann Fabrics last year, and my daughter loves to leave messages for me in the mailbox!
Meanwhile, my 3-year-old son is excited about "hiding his scribbles" in the mailbox, too!
Mailboxes are so fun because of the surprise of receiving 特别专送 / 特別專送(tèbié zhuān sòng / special delivery)!
7. DIY Envelopes
My kids love to use their Chinese red envelopes to "pay the bills" at their pretend play shop!
They also like to put messages and stickers in these mini felt envelopes that I made a while back!
I attempted sewing one of these felt envelopes, but since I am terrible at this, it took me over 1 hour to make the first envelope.
Then I found this easy no-sew felt envelope tutorial on YouTube, and made a few more in much less time!
However, if you really want to minimize crafting, you can get felt envelopes from Target or even the Dollar Store!
Have you tried any of the activities from our cardboard Valentine's Day card shop?
If you try this activity, please let us know in the comments below! What age(s) are your kid(s) and how did it go? We'd love to hear about your learning experience!
Learning activities for every topic!
To sign up for our educational newsletter, please click the button below!
What is your child interested in today? Click below to explore activities and books that your child will love!
Happy playful learning, friends!