How to Make Paper Chinese Firecrackers for Lunar New Year (Template + Video)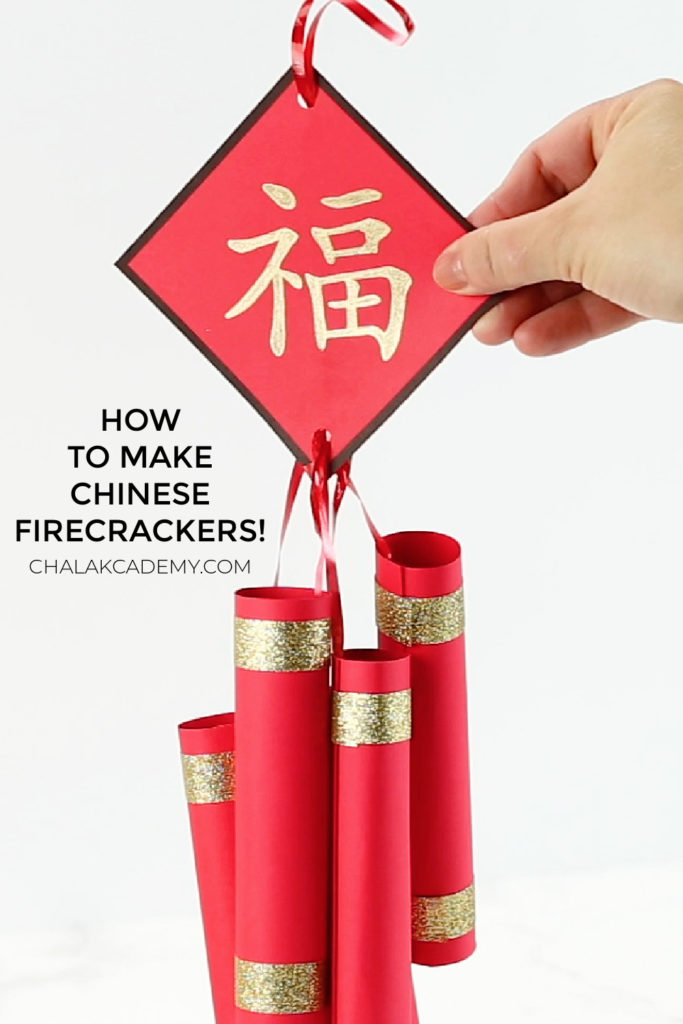 Pop! Crackle! Bang! Firecrackers are a sparkly delight at Chinese New Year celebrations, and making a paper firecrackers craft is pretty fun, too. Because firecrackers and fireworks were invented in China, this activity is a great way to introduce Chinese history and culture. With our printable template and video tutorial, kids can make Chinese firecrackers at home or school!
This post may have some affiliate links. If you click an affiliate link and make a purchase, I earn a small commission which supports our educational tips at no additional cost to you. Please see the disclosure policy for details.
When were fireworks and firecrackers invented?
The history of firecrackers goes as far back as the Tang Dynasty (618 to 906 BC). During the Tang Dynasty, firecrackers were accidentally discovered by tossing bamboo stalks into a fire. Due to the heat, the hollow bamboo stalks would explode with a bang due!
Sometime around the Song Dynasty (960-1276 AD), an alchemist accidentally invented gunpowder by mixing sulfur, charcoal, and potassium nitrate. By packing the flaky gunpowder into the bamboo stalks and lighting the stalks on fire, fireworks were created!
Eventually, bamboo stalks were replaced by cardboard or thick paper tubes.
Why are Chinese firecrackers and fireworks important for Lunar New Year?
Historically, firecrackers were used to scare away the legendary Nian Monster and other evil spirits. On New Year's Eve, the Nian monster would threaten to eat the villagers and destroy their homes. Then an old man discovered that the explosive "Pop! Crackle, Bang!" of firecrackers scared away the Nian monster.
Since then, firecrackers have been an important part of Chinese New Year festivities. They are even used as decorations around doorways, streets, restaurants, and more!
However, due to concerns about pollution and dangerous accidents, many Chinese cities have implemented firecracker bans.
No matter where you are though, you can safely enjoy Lunar New Year with these paper firecracker crafts!
Many people recycle Chinese red envelopes or toilet paper rolls to make Chinese firecrackers. We were first inspired by Chinese American Family to try this craft, and my kids thought it was so cool!
Because the other tutorials that we saw were too complicated for my young children, I tried to simplify the process with our printable template and video tutorial. Keep reading for tips on how to make your own Chinese firecrackers!
Supplies for making Chinese firecrackers for Lunar New Year
Red construction paper, printer paper, or leftover red envelopes
Tape
Scissors
Ribbon or string
Optional: printable Chinese red envelopes or Chinese banners
How to make a Chinese firecrackers craft
Fold paper into quarters
Cut along creases to create 4 rectangles

Note: If using red envelopes, can cut apart packet to create 2 rectangles

Roll paper into tube shape (firecracker). We rolled the longer ends so the tubes would have a narrow appearance.
Tape both ends
Decorate with gold tape, stickers, or paint as desired
Repeat steps 2-5 until you have at least 3 pairs of firecracker tubes. Continue if you prefer a long chain of firecrackers
Cut ribbon into into 3 inch strip. Tape each end of ribbon inside firecracker tubes. Repeat for each pair of firecrackers.
Arrange firecrackers in desired shape
Cut long pieces of ribbon (a few inches longer than group of firecrackers) and tie it to each pair of firecrackers
Optional: tape firecrackers to Chinese red envelopes or 福 Chinese banner
Video tutorial: how to make Chinese firecrackers
If you're a visual person like me, watch this video while using our template! Tying the knots between firecrackers was tricky for my kids, so I hope this can help your family and students!
Get the printable firecrackers template here
Did you make Chinese firecrackers with your kids or students?
If you try this activity, please let us know in the comments below! What age(s) are your kid(s) and how did it go? We'd love to hear about your learning experience!
More Chinese New Year resources for kids
Learning activities for every topic!
To sign up for our educational newsletter, please click the button below.
What is your child interested in today? Click below to explore activities and books that your child will love.
新年快乐, 恭喜发财!! 新年快樂, 恭喜發財!!
Happy New Year! May you have a prosperous new year!