10 Best Korean Lunar New Year Books for Kids
Although my kids live far from their Korean grandparents and other relatives, we hope that they can learn about Korean culture and a little language, too. This month, we are doing a few Korean crafts and activities and reading books about Korean Lunar New Year (설날 Seollal).
I'll give a brief overview about Korean Lunar New Year and then review these great books! In addition to reading with your family, they are also wonderful to share with schools! I highly recommend donating a few of these books to encourage schools to include Korean culture as part of their Lunar New Year Lesson Plan.
These books would be great Korean gifts for preschoolers, kindergartners, and lower-elementary school-aged kids. Since American bookstores offer few books about Korean heritage, I recommend getting as many of these books as you can! You can also borrow many of these books from the library.
This post may have some affiliate links. If you click an affiliate link and make a purchase, I earn a small commission which supports this educational website at no additional cost to you. Please see the disclosure policy for details.
What is Korean New Year (설날 Seollal)?
Korean Lunar New Year, also known as 설날 Seollal, is one of the most important holidays in Korean culture. Traditionally, the holiday is celebrated for 3 days and involves wearing a 한복 hanbok, feasting on delicious food, playing games, and performing a bow called 세배 sebae.
Like other Asian countries that celebrate Lunar New Year, 설날 Seollal follows the lunar calendar. This year, 설날 Seollal falls on Monday, January 23, 2023.
Try this: Fun Ways to Teach Kids Korean with Hangul Letter Toys
Picture books about Korean Lunar New Year in English
Here are our favorite books about Korean New Year and popular family traditions!
Tomorrow Is New Year's Day: Seollal, a Korean Celebration of the Lunar New Year
Flip to the first page, and you'll recognize the scene – a child rolling around the ground, refusing to wear something his parents picked out! It's Lunar New Year (Seollal), and everyone in this Korean American family is dressing up in traditional hanboks.
I love this relatable story of a family finding a way to celebrate Lunar New Year, not only at home, but also at their children's school. The teacher and friends are so welcoming and excited to learn about how Lunar New Year is celebrated in Korean culture, including customs like bowing, games, and special foods. An origami activity and bilingual glossary is also included.
Book information:
Author/Illustrator: Aram Kim
Publisher: Mamillan Kids
ISBN: 9780374389284
Korean Celebrations: Festivals, Holidays, Traditions
Written by Korean-American author, Tina Cho, this book gives an overview of Korean culture firsthand through detailed explanations and beautiful illustrations of games, crafts, stories, and food.
In addition to Lunar New Year, special holidays such as Dano (end of planting season), Children's Day, Pepero Day, Hangeul Day, and 100 Days Birthday are included. Activities include:
DIY 윳놀이 yut-nori game for 설날 Seollal
Recipe for 송편 songpyeon for 추석 Chuseok (Korean Harvest Festival)
How to make a paper fan
Make a paper carnation for 어버이 날 Parent's Day
Book information:
Author: Tina Cho
Illustrator: Farida Zaman
Publisher: Tuttle
ISBN: 9780804846943
Listen to this: 100+ Popular Korean Children's Songs and Nursery Rhymes
All About Korea: Stories, Songs, Crafts and Games for Kids
All About Korean is written by Ann Martin Bowler, an educator and mother of 2 adopted Korean children. Like the above book by Tina Cho, this book also gives an overview of Korean cultural traditions on Lunar New Year and other important games, crafts, songs, stories, and recipes. Activities include:
Play jegi (Korean hacky-sack), 공기 gongi (Korean jacks), 윳놀이 yut nori
Sing 아리랑 Arirang, Head Shoulders Knees and Toes, and other popular Korean children's songs
Say a few common Korean words/phrases
Read short Korean stories (eg, Taming a Tiger, Two Foolish Green Frogs)
Make yummy recipes like 김밥 kimbap and 송편 songpyeon
Book information:
Author: Ann Martin Bowler
Illustrator: Soosoonam Barg
Publisher: Tuttle
ISBN: 9780804849388
Read this: Best Korean Picture Dictionaries for Kids and Parents!
Lunar New Year story: Dumpling Soup
This Lunar New Year story is one of my children's absolute favorite stories, and the realistic illustrations are beautiful!! A little girl, Marisa, shares about her diverse family in Hawaii. In addition to their Korean heritage, her family also has a blend of Japanese, Chinese, and Hawaiian-American culture.
As the family cooks and prepares the New Year's meal together, we learn about special meals, such as 만두국 (mandugug / dumpling soup).
Book information:
Author: Jama Kim Rattigan
Illustrator: Lillian Hsu
Publisher: Little, Brown Books for Young Readers
ISBN: 978031673047
Related: Where to Buy Korean Books for Kids in the United States
All Year for One Day
Author Tiffanie Lee self-published a gorgeous book about Lunar New Year and common traditions in a Korean-American Family.
Special meals like rice oval soup are highlighted, and the big, familiar box of Korean pears in the illustrations did not go unnoticed!
While most of the book is in English, the Korean greeting 새해 복 많이 받으세요 (saehae bog manh-i bad-euseyo / Happy New Year!) is included during the bowing tradition.
Book information:
Author and Illustrator: Tiffanie Lee
Publisher: City at Sea
Where to buy: Author's website
Try this: Teach Your Child a Second Language at Home with 5 Key Steps
Bilingual picture book about Korean Lunar New Year in Korean and English
할머니와의 슈퍼 설날 Super Korean New Years with Grandma
Written by a Korean-American author in both Korean and English, this picture book is about the special grandmotherly bond through cultural traditions. The illustrations are cute! We have the English version of the book which includes a few romanized Korean words like "mandu" and "dduk gook". I do wish that Korean Hangul letters were included in the English version next to the romanization.
Book information:
Author: Mary Chi-Whi Kim
Illustrator: Eunjoo Feaster
Where to buy:
Picture books about Korean New Year in Korean
설빔 New Clothes for New Year's Day
This picture book by Hyun-joo Bae shows how to wear Korean hanboks and style hair for Lunar New Year. The book was originally published in Korean and later translated to English. One version of the book focuses on traditional girl's clothing while the other version features boy's attire. Unfortunately, the English version of the book is out-of-print, but keep an eye out for used copies on Ebay and Thrift Books.
Good news: the Korean version of the "boy book" has been narrated on YouTube! In the videos of each book, you'll see the differences between the little brother and big sister's clothing, their developmental level, and personalities. The girl dresses herself with ease, while the boy playfully struggles and proud when he figures it out.
Book information:
Author: Hyun-joo Bae
Publisher: Kane/Miller Book Pub
Where to buy:
Video narration:
설날 Seollal
So thankful that a lovely mom, Rebecca, recommended this bilingual book! According to the publisher's description, a young boy named 요한은 learns about Lunar New Year blessings and making a noble wish for the new year. The book appears to have realistic illustrations, which is really important for representation. As this book is available only in Korean, we won't be getting this book since we don't have anyone to read this language to our kids currently. But I hope that your family can enjoy it!
Book information:
Author: 정인철 저
ISBN: 9788984889316
Where to buy:
떡국의마음
떡국의마음 is another book that was just recommended to me. According to the product description, this story reveals the ingredients and steps for making 떡국 (rice cake soup)! Illustrations are detailed and realistic!
Book information:
Author: 천미진
ISBN: 9791164631254
Where to buy:
Korean chapter book about Lunar New Year in English
Mindy Kim and the Lunar New Year Parade
My daughter LOVES the Mindy Kim series! This chapter book is about an 8-year old Korean-American girl who recently moves to a new state with her dad after her mom passes away. She learns to make new traditions for Lunar New Year with her dad and new friends.
Book information:
Author: Lyla Lee
Illustrator: Dung Ho
Publisher: Aladdin
Ages/ Level: 6-9 years / Grades 1-4
ISBN: 9781534440104
Chinese Lunar New Year books
Since my children are part Chinese through me, we are also learning about Lunar New Year celebrations in Chinese culture and how they compare and contrast with Korean culture! If you're curious, check out our favorite Chinese Lunar New Year picture books!
What are your favorite Korean New Year books for kids?
Which books about Korean New Year did your kids like? Are there other books that you recommend that we check out? Please share your thoughts in the comments. We'd love to learn from you!
More Korean learning resources for kids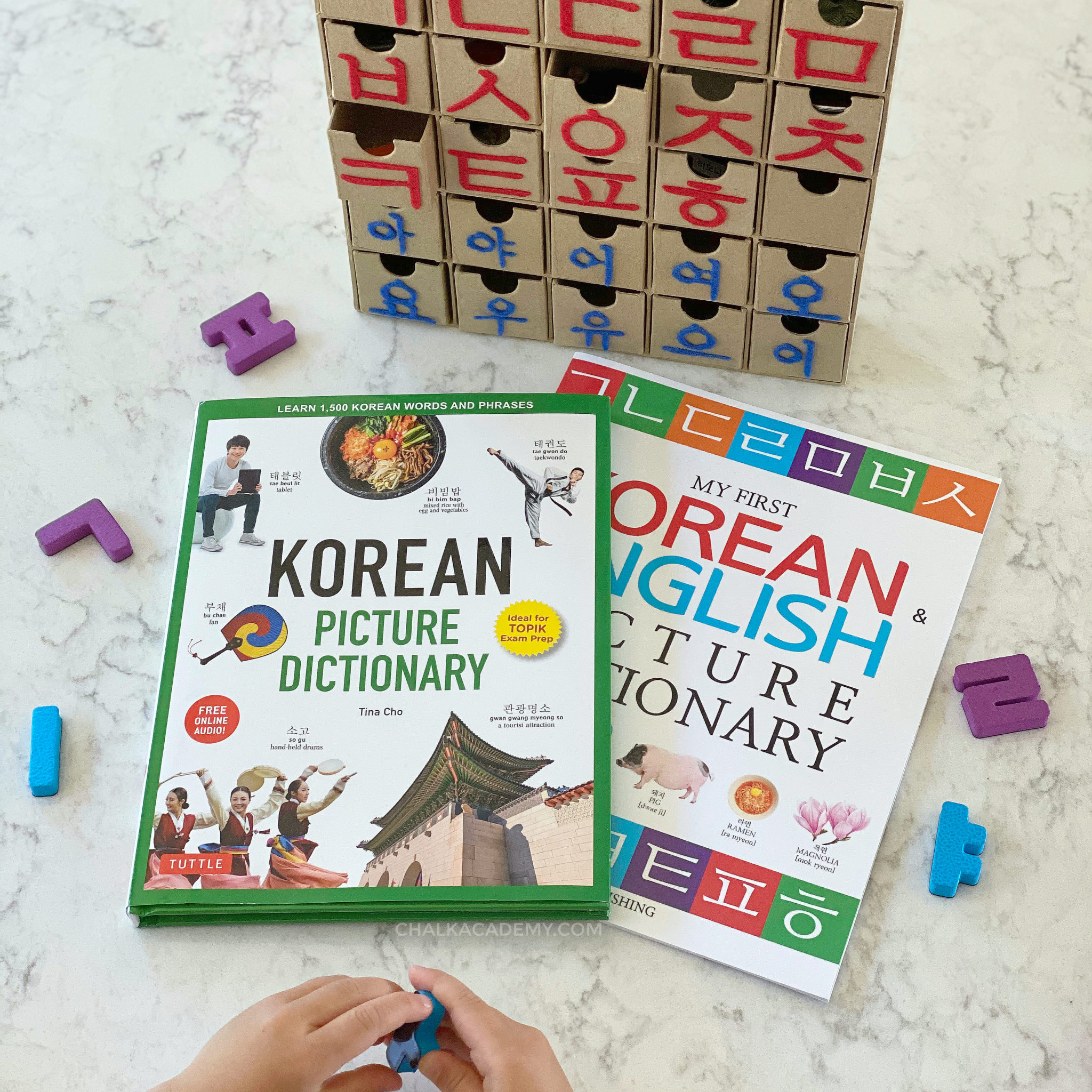 Teach kids Korean with resources on Amazon!
Click on the image below to see Korean toys, books, and other resources on Amazon!
Happy reading, friends!