Shapes Chinese Books 形状万花筒 in Simplified Chinese, Pinyin, and English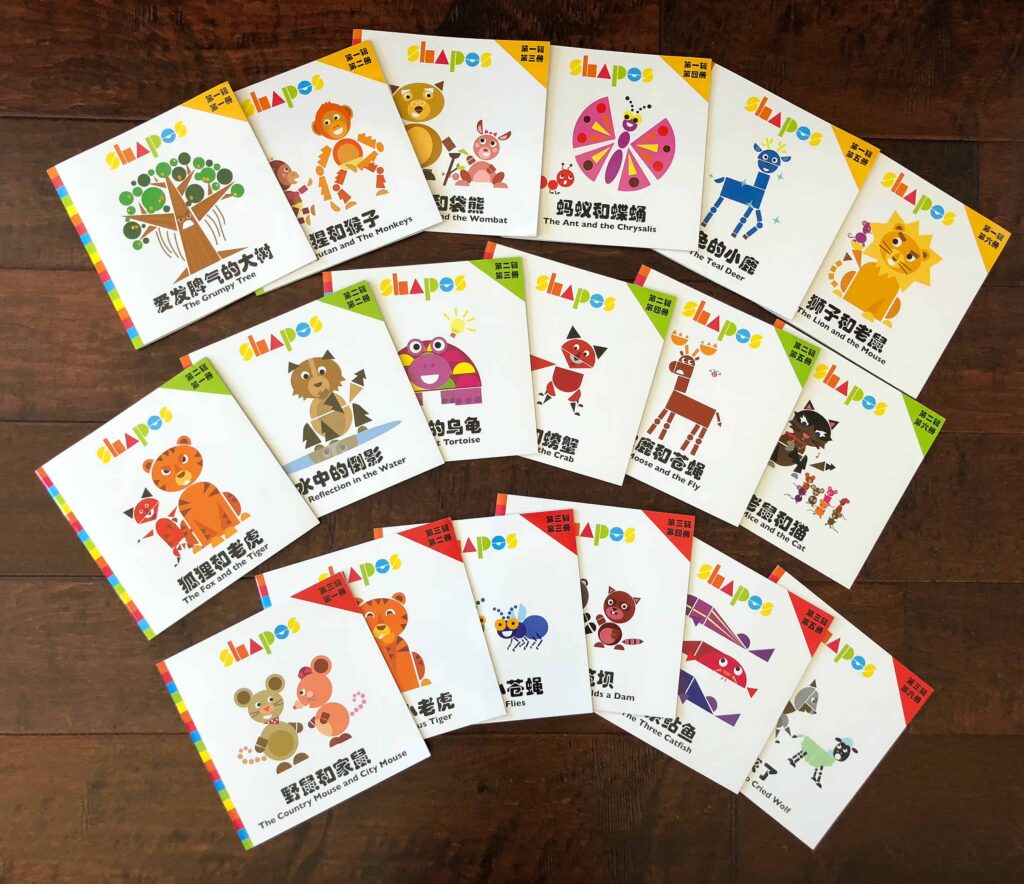 I'm updating this review of the Shapes Chinese Books 形状万花筒 because both of my children love the series.
The Shapes Chinese Books 形状万花筒 set of 18 books has large simplified Chinese text plus full English and pinyin translations in the back of each book.
When my 老大 (lǎodà / oldest child) was 4 years old, she enjoyed the seires for reading practice after Sagebooks Beginner 500, Greenfield I Can Read Series, and 四五快读.
Now, 老大 is 6 years old and still reads the stories on her own. 老二 (Lǎo èr / second child) is 3 years old and frequently asks me to read these books to him!
Let me show what Shapes Chinese Books 形状万花筒 look like on the inside and where to buy these great books!
This post may have some affiliate links. If you click an affiliate link and make a purchase, I earn a small commission which supports our educational tips at no additional cost to you. Please see the disclosure policy for details.
Shapes Chinese Books 形状万花筒 review
Title: Shapes Chinese Books 形状万花筒
ISBN:
Volume 1: 9789810867812
Volume 2: 9789810875695
Volume 3: 9789810875794
Author: Tu, Yiling. Su, Zhaorong
Publisher: Singapore 桃源媒体公司, 2010 (same publisher as the popular Taoshu series)
Type: Picture books, readers
Age: 3-7 years
Language: Simplified Chinese, Hanyu Pinyin, English
Where to buy:
Shapes Chinese Books 形状万花筒 Review
Why we love the Shapes Chinese Books 形状万花筒
Large Chinese characters – very readable
Only a few sentences per page
Occasional Hanyu Pinyin for more challenging words and idioms
Illustrations and text are on separate pages so that children and focus better on each element
Colorful, cute, and creative illustrations made of different shapes! My daughter enjoys seeing the different shapes in the pictures!
Moral at the end of each story
Full Pinyin guide and English translation at the end of the book.
Downsides
No page numbers
No system of introducing new and old Chinese characters, seems random
Poor DVD quality; DVD works on regional player only and shows 1 sample only. The publisher's YouTube channel, Peach Blossom Media, has 39 videos about these books…but they are in English and Spanish only! They do not have Chinese videos.
Unreliastic illustrations
Websites listed on the books do not work!! I also tried emailing the company, but the email bounced back to me.
While the illustrations are creative and clever, a few animals are too cartoonish and not recognizable.
For example, in one story, a beaver, racoon, and frog are pictured as gray, brown, and orange-colored animals, respectively.
Since I was not previously familiar with their Chinese names, I kept getting the beaver and the racoon mixed up due to their inaccurate color. In another story, egret birds are depicted in various pastel colors despite being white in real life.
I had to find photographs from other books and even Google to teach my daughter what these animals really look like!
However, both of my kids, including when my son was 18 months old, were able to name most of the animals.
Shapes Chinese Books 形状万花筒 Reading level
Although the 3 volumes are labeled as different levels, the 3rd volume was not significantly more difficult than the 1st and 2nd volumes.
However, we did learn new phrases and idioms that we don't use in our everyday language!
I'm learning to read Chinese with my children, and I was able to understand most of the text without checking the translations in the back of each book.
For my daughter, most of the books had only a few unfamiliar or forgotten Chinese characters, so she felt confident about reading independently.
Because the Chinese characters are very large, my daughter was not intimidated to try reading these books when she was learning to read Chinese.
In addition, the stories are cute and interesting. Each story begins with a dilemma and concludes with an inspiring quote.
Shapes Chinese Books 形状万花筒 Book Titles
Volume 1 – Friendship and Kindness 友爱互助
The Grumpy Tree 爱发脾气的大树
The Orangutan and the Monkeys 猩猩和猴子
The Kangaroo and Wombat 袋鼠和袋熊
The Ant and the Chrysalis 蚂蚁和蝶=蛹
The Teal Deer 蓝色的小鹿
The Lion and the Mouse 狮子和老鼠
Volume 2 – Use Your Intelligence 多动脑筋
The Fox and the Tiger 狐狸和老鼠
The Reflection 水中的倒影
The Clever Tortoise 聪明的乌龟
The Fox and the Crab 狐狸和螃蟹
The Moose and the Fly 驼鹿和苍蝇
The Cat and the Mouse 老鼠和猫
Volume 3 – Look Before You Leap 三思而行
Barn Mouse and Country Mouse 野鼠和家鼠
The Mischievous Tiger 顽皮的小老虎
The Playful Flies 贪玩的小苍蝇
The Beaver's Dam 河狸筑坝
The Moose and the Fly 三条鲶鱼
The Cat and the Mouse 狼来了
Photos inside Shapes Chinese Books 形状万花筒
Below are pictures of the inside of the book.
For comparison, the top book is volume 1 and the bottom is volume 3.
Note that the text is very large and on a separate page from the illustration.
Below is an example of the moral of the story and the English translation reference page.
The last two pages of the books have simplified Chinese with full pinyin support.
This last page is great practice for me to make sure my tones are accurate.
My daughter has not yet learned pinyin, so she does not use this page.
In summary, I highly recommend Shapes Chinese Books 形状万花筒 for children!
Have you read these books with your children or students?
We'd love to hear about your experience!
Please leave comment below this article!
FREE CHINESE AUDIOBOOKS
Many websites and apps offer FREE multilingual books for kids!
Ximalaya FM is our favorite, and I highly recommend their free Chinese audiobooks for all kids!
Since the entire website and app is in Chinese, please refer to this guide on How to Use Ximalaya if you cannot read Chinese.
Tips for boosting Chinese skills
Happy reading, friends!