DIY Birthday Cards: Cupcake Sight Word Matching Activity!
On the morning of my birthday, my art-loving daughter surprised me with a cute, handmade, 3-D birthday cupcake card! The birthday cupcake card was so adorable and original, and my daughter wanted to make more with me! Inspired by my daughter's birthday card, I adapted and integrated reading practice into our handmade cupcake cards. I'll share the simple DIY steps and how to sneak in a little dose of meaningful literacy, too!
More educational birthday crafts and activities for kids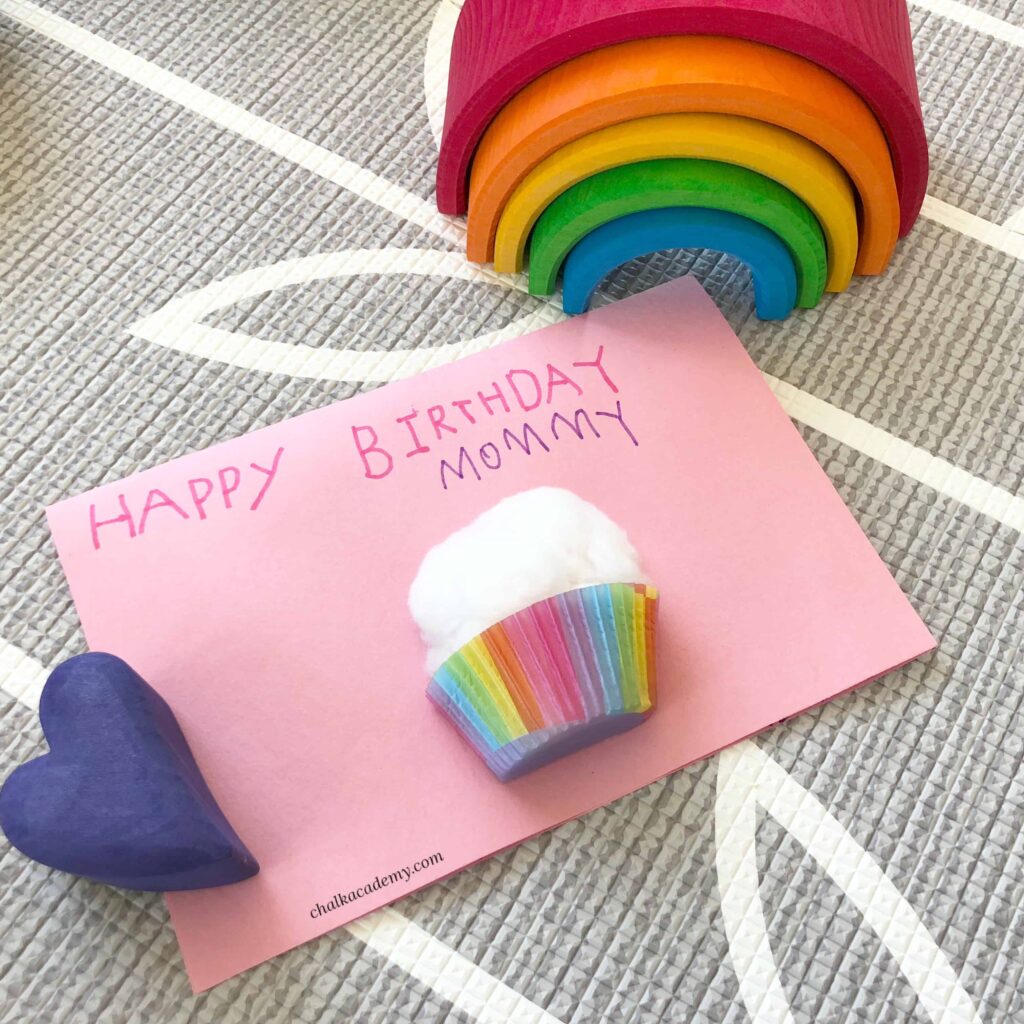 Educational, cute, and easy-to-make birthday cupcake cards
My daughter loves to make cards for other people, so I follow her interest and try to integrate reading and writing practice with arts and crafts!
Although our family speaks multiple languages, Chinese is a minority language for our area, so we try to make it extra fun. Since Chinese characters are like complicated sight words, frequent exposure with matching games has been a fun way to help with memorizing Chinese characters.
Please note that you can substitute Chinese characters for letters or numbers – whatever fits your child's learning level and interests!
More importantly, handmade cards are also simply the best thing to get from a child! We rarely buy cards from the store, and my daughter and I are having a blast creating together.
Important vocabulary about birthdays in Chinese and English
In case you're learning Chinese with your kids like me, here are translations in simplifed Chinese, traditional Chinese, Hanyu Pinyin, and English.
纸杯蛋糕 /

紙杯蛋糕 (

Zhǐbēi dàngāo / Cupcake)
蜡烛 / 蠟燭 (Làzhú / Candle)
点火 / 點火 (Diǎnhuǒ / Light fire)
火柴 (Huǒchái / Matches)
生日 (Shēngrì / Birthday)
生日快乐 / 生日快樂 (Shēngrì kuàilè / Happy Birthday)
祝你生日快乐 / 祝你生日快樂 (Zhù nǐ shēngrì kuàilè / I wish you a happy birthday)
This post may have some affiliate links. If you click an affiliate link and make a purchase, I earn a small commission which supports our educational tips at no additional cost to you. Please see the disclosure policy for details.
How to make cupcake cards into a sight word matching activity
Here are easy-to-DIY instructions for these adorable birthday cards and how to make it educational!
Suggested materials for birthday cupcake cards
Cardboard or cardstock – I prefer cardboard because it is thick, sturdy, and a great way to upcycle
Cotton balls
Cupcake liners – We used these rainbow cupcake liners (same as shown in this flower activity)
Glue
Pen
Ruler – We love the Twist-It flexible rulers!
Toothpicks
Construction paper
Double-sided tape
How to make birthday cupcake cards
Measure desired size of cards. Mark with pen and ruler; cut along line.
Fold cupcake liners in half and tuck in so the edge forms a C-shape
Squeeze glue on cardboard
Pull apart cotton balls and affix to cardboard
Squeeze glue on inside of cupcake liner. Place over cotton balls.
Insert toothpick. This is the candlestick!
Write words above toothpick candlestick
Cut out candle flames from yellow paper
Write matching words on candle flames
Affix double-sided tape on back of candle flames
Putting together the birthday cupcake
Here's a close-up of where I applied glue to the cupcake liners.
After tucking in the cupcake liner into a "C" shape, I put Elmer's glue on the side and inside (purple) edge.
This helped the cupcake liner stick to the cotton, and the result is a fun 3-dimensional pop-up cupcake!
Cutting the birthday candle flame
Here's how I folded the yellow paper so that the flame cut-outs are the same size.
I drew the flame too small the first few times, but third time was the charm!
I recommend making the flame large so that the writing is large and easy-to-read!
Birthday cupcake cards: Teaching ideas
Match words (or letters or numbers) on candle flame to card
Mix up the order of the cards and have your child arrange them in the correct order
Sing 祝你生日快乐!
Related: 100+ Popular Chinese Songs for Kids
Birthday cupcake cards: sight word matching
Initially, I planned to teach her the traditional Chinese version of the simplified characters that she has learned. However, until preparing the activity, I did not realize that 樂 was the only character that is different in traditional Chinese. Also, she already learned 樂 from her Qiaohu workbooks. 樂 is one of her favorite Chinese characters in traditional form because of all of the beautiful strokes!
Next time, I will be more mindful of writing new Chinese words! Regardless, it was still a fun activity!
My daughter wanted to add these cute mini angel stickers!
DIY Birthday cupcake cards: Save this activity on Pinterest!
Here's the final result!
祝你生日快乐! 祝你生日快樂 (Zhù nǐ shēngrì kuàilè / Happy Birthday!)
Have you made these birthday cupcake cards?
If you try this activity, please let us know in the comments below! What age(s) are your kid(s) and how did it go? We'd love to hear about your learning experience!
Free printable birthday banners and cupcake toppers
Learning activities for every topic!
To sign up for our educational newsletter, please click the button below.
What is your child interested in today? Click below to explore activities and books that your child will love.
Happy crafting and learning, friends!