20 Fun and Easy Chinese Reading Games and Activities for Kids
I've seen firsthand that fun Chinese reading games can make kids love learning Chinese! Both of my kids started to read Chinese at age 3 through the following key strategies:
My son and daughter have enjoyed the process and have rarely resisted learning Chinese characters, despite this being a minority language in our area.
This post focuses on low-prep, hands-on, play-based strategies that have helped my kids memorize Chinese characters! You can try these ideas in other languages, too!
This post may have some affiliate links. If you click an affiliate link and make a purchase, I earn a small commission which supports this educational website at no additional cost to you. Please see the disclosure policy for details.
Easy Chinese reading games and activities for kids
These Chinese reading games take only a few minutes to set up! Busy parents can spend a weekend or the night before preparing different activities. However, they are simple enough to whip up in the spur-of-the-moment!
1. Post-It Note Chinese word matching
Most of us have post-it notes at home, and these sticky gems can be easily turned into word-matching games! In the above photo, we used heart-shaped Post-It notes for Chinese heart radical words.
2. Dot sticker Chinese word matching
Dot stickers are so versatile, and they can be turned into Chinese character matching activities. See 25+ Chinese Dot Sticker Learning Activities for more examples and printable templates!
3. Trace Chinese characters with small objects
For kids ages 3+ who are past the mouthing stage, small objects can be used for tracing Chinese characters! Use anything you have at home, such as scrap paper, leaves, seeds, pom poms, mini stickers, and small rocks. You can even use Cheerios, beans, and macaroni which can later turn into their snack!
To create these giant Chinese characters, type or copy/paste the focus word into Pages or Microsoft word. Change the font to KaiTi, and increase the size as large as possible (eg, 460pt).
4. DIY tactile Chinese characters
To encourage kids to interact with each Chinese character stroke, make tactile Chinese characters with puffy paint or glue! Once dry, the texture is interesting to touch and can therefore help with remembering the Chinese word!
5. Flashlight word scavenger hunt
Turn off the lights and search for Chinese words with a flashlight! For kids who are not yet reading, you can adjust this in to a speaking game by shining a light on objects that you identify!
6. Fishing Chinese flashcards game
Fish for Chinese words by putting paper clips on flashcards and create a fishing rod with a stick, string, and magnet!
7. Swat-the-Chinese word
Get some energy out by hitting some Chinese words with hands or a fly swatter!
8. Jump on Chinese words
Another fun way to get moving while learning! Use flashcards or Chinese words on post-it notes and have kids race to the Chinese word!
9. Post-It Note Tic-Tac-Toe
We love Post-It Notes, and you can also turn it into a Chinese tic-tac-toe game!
10. Scratch-off secret Chinese word
Create a secret surprise by covering Chinese words with these 1″ round scratch off stickers!
11. Chinese hopscotch and other sidewalk chalk activities
If you have a driveway or patio, write out the words your kids are writing and have them jump or spray water on it! Here are 12 fun ways to play and learn Chinese with sidewalk chalk!
12. Sight word soccer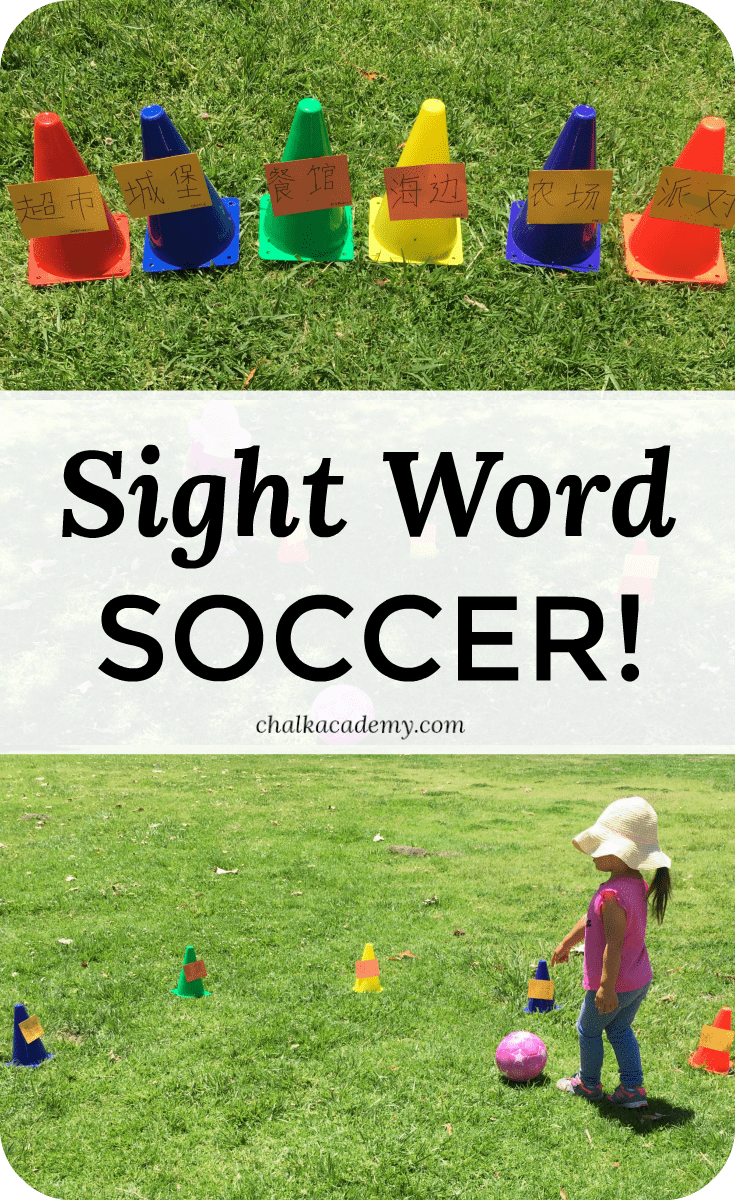 Do you you have a backyard or live near a field? Try Chinese sight word soccer! Tape Chinese words to cones or trees and have fun kicking balls to each word!
13. Radicals wheel with toilet paper
Inspired by a brilliant mom, Cathy, we made spinning radical wheels with cardboard toilet paper rolls!
14. Envelope with Chinese sentence strips
For extra spaced repetition reading practice, I have written sentences for my kids to review Chinese characters in different contexts.
Cut the sentences into strips so they can focus on one sentence at a time and not get overwhelmed by a full page of words! Then I put them in an envelope so that they can enjoy a surprise!
15. Lego word matching activity
Since many parents have Legos, Duplo, and Megablocks at home, you can quickly repurpose them into word matching activities! You can also challenge older kids to build Legos into shapes of Chinese characters!
16. Build words with blocks or Legos
If your kids are into building with blocks, Legos, or Magnetic tiles, use those to create Chinese words!
17. Chinese character golf game
DIY Golf is the original activity that my husband created on a whim! In 5 minutes, he made a golf club with cardboard tubes while I quickly cut out mountains from green paper! For more ideas, please read 3 Fun Ways to Teach Chinese Characters 高山 with DIY Mountains (Printable).
18. Make Chinese characters with playdough
Playdough is a must-have for hands-on learning, and it's easy to make at home! Here are 7 fun ways to teach Chinese characters with play dough!
19. DIY object puzzle
Trace around objects with a pencil. Then retrace pencil with black marker. Write the Chinese character at the center so your child can see it while matching the object!
20. Paint resist activities with wax, white crayon, or tape
Kids love seeing words magically appear after painting over wax or white crayon and how the paint literally rolls away from the wax! Read these tips for fun wax resist painting.
You can also try this with washi or painter's tape! If you prefer to avoid paint, try using a marker.
Have you tried these Chinese reading games with your kids or students?
I hope that your kids and students can have fun with these Chinese reading games! If you try any of these activities, please let us know in the comments below! We'd love to hear about your learning experience!
Learning activities for every topic!
To sign up for our educational newsletter, please click the button below.
What is your child interested in today? Click below to explore activities and books that your child will love.
Happy playful learning, friends!