7 Beautiful Chinese Mother's Day Songs (Lyrics and Videos)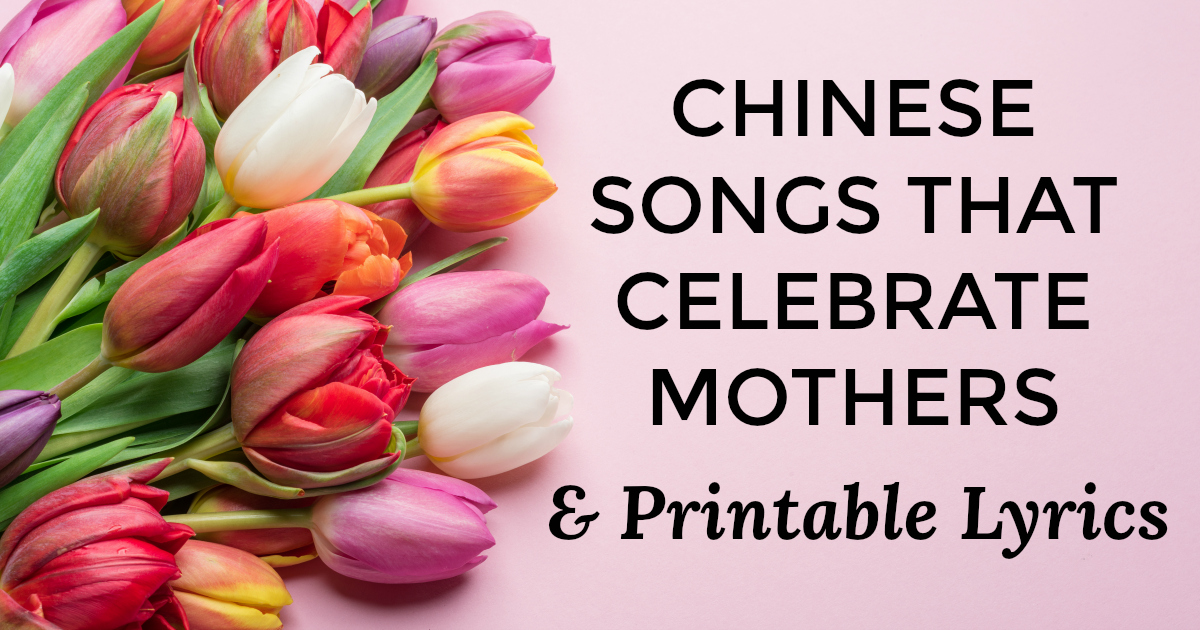 It's 3am, and I'm crying my eyes out on the couch, trying to learn a few new Chinese Mother's Day songs while typing this run-on sentence. Many years ago, my parents both coincidentally passed away on Mother's Day weekend. Listening to music in their native language, Chinese, brings comfort as well as bittersweet nostalgia.
But it's time to finish typing and share these beautiful Mother's Day songs and lyrics. My kids are going to wake up in a few hours! In the morning, 弟弟 (dìdì / little brother) and 姐姐 (jiějiě / big sister) are planning on singing and dancing to Chinese Mother's Day songs for mommy.
Gradually, hope washes over my grief. I look forward to listening to these Chinese songs about mothers with my children and your families, too.
Beautiful Chinese songs to celebrate Happy Mother's Day
I've compiled a list of the best Mandarin Chinese songs about mothers for various ages! These "Chinese mom songs" include nursery rhymes, modern rhythm and blues (R&B), and rap music.

Although they range in length and difficulty, each song celebrates a mother's love and sacrifice for her family.
Chinese Mother's Day music videos
Since many of you have children who are learning Mandarin Chinese like my family, I have included Chinese YouTube videos of these Mother's Day songs. The YouTube videos feature live music performances or realistic animation. They also have clear pronunciation and visuals to help you understand the Chinese songs about mothers. If the singing is too fast, you can slow the playback speed on YouTube. I hope your family can enjoy the music!
Chinese Mother's Day songs for kids and families
These sweet Chinese songs about mothers are loving for all ages. Just a warning that some older kids and tweens might think the music is too babyish and cringey!
世上只有妈妈好 / 世上只有媽媽好 In This World, Only Mama Is Good
世上只有妈妈好 is one of the first Chinese songs I learned with my daughter. This timeless song has been around forever, and I remember my late mother singing it to me when I was a child. The video above features a little Chinese girl singing this sweet song with subtitles in simplified Chinese.
妈妈宝贝 / 媽媽寶貝 by Kim Hsieh 谢欣芷
Kim Hsieh 谢欣芷 has so many wonderful Chinese songs about every day life that are relatable to young children and parents. The 妈妈宝贝 / 媽媽寶貝 song is a little more straightforward for little kids to learn. This endearing song is about how the world is beautiful with mother and child hand-in-hand. Subtitles are in traditional Chinese.
我的好妈妈 / 我的好媽媽
I appreciate this adorable Chinese nursery rhyme because it features a working mother! The child acknowledges that the mother has had a hard day at work and wants her to have a seat and drink tea! Wow, sounds like a dream right? Let's have our spouses and children act out these song lyrics right away haha. Video subtitles in this video are in simplified Chinese.
妈妈的眼睛 / 媽媽的眼睛
This loving Mother's Day song is about a child who notices her mother's beautiful eyes which are filled with stories for the next generation. In this music video, 小臭臭 is an adorable and talented little girl! My kids were inspired by her performance. Video subtitles are in simplified Chinese.
妈妈!加油! / 媽媽!加油! by Kim Hsieh 谢欣芷
Oh my heart! I had to include another song by by Kim Hsieh 谢欣芷 because it makes me tear up. The dialogue in this song features a relatable conversation between a mother and her baby. The mother works so hard to take care of the baby and wishes she could say so many things to her child. She wishes she and the baby could talk to each other.
But the baby responds reassuringly. The child understands, loves mom, and they'll learn together! Video subtitles are in traditional Chinese.
Chinese Mother's Day songs for tweens and teens
Older kids and teens often prefer modern music. Here are a few songs about mothers.
Listen to Mom 聽媽媽的話 by Jay Chou 周杰倫
If you grew up with strict parents, you're going to find yourself nodding in agreement to this song by Taiwanese musician, Jay Chou 周杰倫. Listen to Mom 聽媽媽的話 begins from the perspective of a younger child who doesn't understand why he or she has to play piano and study while others are enjoying comics.
Fast forward to adulthood, now we understand our mom and honor her; we don't want to hurt her heart. (Okay now I'm crying again!). Video subtitles are in Traditional Chinese.
Mother 老母 by Namewee 黃明志和他媽
Although Malaysian rapper, Namewee 黃明志, has stirred up controversy in the past, his song 老母 featuring his own mother is heartwarming. This Mother's Day song, 老母, is a story about Namewee's relationship and reconciliation with his mother. His lyrics are sung in Mandarin while hers are in Taiwanese, and they have often performed live together!
Please note that he mentions being hit and yelled at by his mother in the past, so you may want to consider whether this song is appropriate for your children.
Video subtitles are in traditional Chinese.
Printable lyrics for Chinese Mother's Day songs
To help you learn these Chinese songs about mothers, I've typed up the lyrics! Choose your preferred language – simplified Chinese with Pinyin or traditional Chinese with Pinyin or Zhuyin.
You can use the Youdao Dictionary Pen to scan and narrate the simplified and traditional Chinese characters!
母亲节快乐! 母親節快樂! Happy Mother's Day!
Happy Mother's Day to all of the hardworking mamas out there! These Chinese Mother's Day songs and printable lyrics are dedicated to you!
More Chinese music for kids and mothers