Moon Phases Glue Resist Watercolor Painting Activity!
Moon phases glue resist watercolor painting is an educational and artful activity that the whole family can enjoy together!
This is one of my daughter's favorite hands-on moon learning activities, and it's easy to create! Glue and paint are the magical ingredients for this tactile way to review moon phases.
This post may have some affiliate links. If you click an affiliate link and make a purchase, I earn a small commission which supports our educational tips at no additional cost to you. Please see the disclosure policy for details.
Learning about the moon bilingually with my children
Since Chinese is one of my children's minority languages, we chatted and read about the moon in Chinese so that they can have fun learning while appreciating the language.
We also talked about the moon in English, our family's main language.
Appropriate age for the tactile moon activity
My daughter has been going through a major moon obsession phase! She has been fascinated by seeing the moon change in shape and location in the sky.
Although my daughter is still in preschool, I think this activity would be enjoyed by Kindergartners and elementary school kids.
Even if a child has learned about the moon before, there are always different details that your child will pick up at different stages of life.
In addition, a child's way of creatively expressing their knowledge changes with age and experience. This could be a fun activity to repeat year after year and see your child's progress!
Important moon vocabulary
Below are translations for moon phases in simplified Chinese, traditional Chinese, Hanyu Pinyin, and English.
月球 (Yuèqiú / Moon)
月相 (Yuè xiàng / Phases of the Moon)
新月 (Xīn yuè / New Moon)
眉月 (Méi yuè / Waxing Crescent) – Right side 1-49%
上弦月 (Shàngxián yuè / First Quarter) – Right side 50%
盈凸月 (Yíng tū yuè / Waxing gibbous) – Right side 51-99%
滿月 /

满月 (M

ǎnyuè / Full moon) – 100%
虧凸月 / 亏凸月 (Kuī tū yuè / Waning gibbous) – Left side 51-99%
下弦月 (Xiàxián yuè / Last quarter) – Left side 50%
殘月 / 残月 (Cányuè / Waning crescent) – Left side 1-49%
We used the Moon Book by Gail Gibbons and Guavarama's Moon Unit Study for nomenclature reference.
What you need for the Moon Phases Glue Resist Watercolor Painting Activity
Pencil
Circle stencil (We love the Learning Resources Primary Shapes Template)
How to prepare the Moon Phases Glue Resist Watercolor Painting Activity
Cut watercolor paper into rectangles
Draw circles and moon phase outlines
Write moon phase names
Trace moon phase words with white puffy paint

***TIP: Elongate the tip with a piece of tape to slow the paint flow. This will allow for more writing control and precision.

Fill in moon phases with white glue
Paint with black watercolor paint
If white glue (moon) becomes too dark from the black watercolor paint, use a wet towel to wipe off excess paint. Moon should appear whiter and brighter!
Let dry
When dry, child can enjoy feeling the texture of the bumpy (crater-filled) moon and words!
Learning about moon phases in a child-led way
My daughter loved the activity so much that she wanted to redo the Moon Phases Glue Resist Watercolor Painting activity!
She was motivated to copy all of the moon phase names in Chinese!
These activities motivate her to want to learn how to write – she doesn't even realize that she is practicing because she is having so much fun!
Instead of tracing the moon phase vocabulary puffy paint, my daughter darkened each word with a silver Sharpie!
Montessori moon phase 3-part cards
We paired these tactile cards with our Montessori moon phase 3-part cards. Montessori 3-part cards are a wonderful way to encourage independent matching and word recognition!
Bookmark this idea on Pinterest!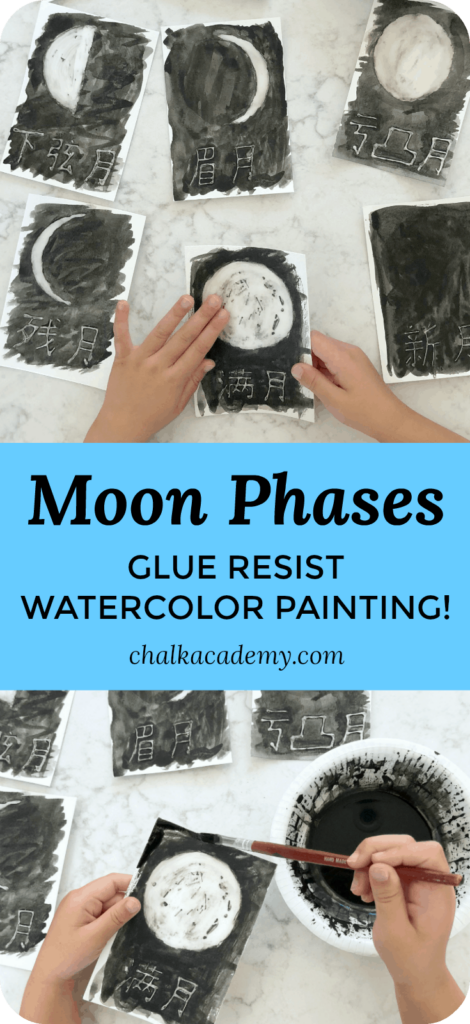 Have you tried the Moon Phases Glue Resist Activity?
If you try Moon Phases Glue Resist Watercolor Painting, let us know in the comments below.
We hope your family has fun with the moon activity, and we would hear how it went!
More solar system learning activities
Chinese solar system activities
Educational Solar system toys
Learning activities for every topic!
To sign up for our educational newsletter, please click the button below!
What is your child interested in today? Click below to explore activities and books that your child will love!
Happy learning, friends!