Paper Airplanes: Reading Practice Games for Kids!
Last winter, when we were learning about transportation, we had a blast practicing reading while flying paper airplanes!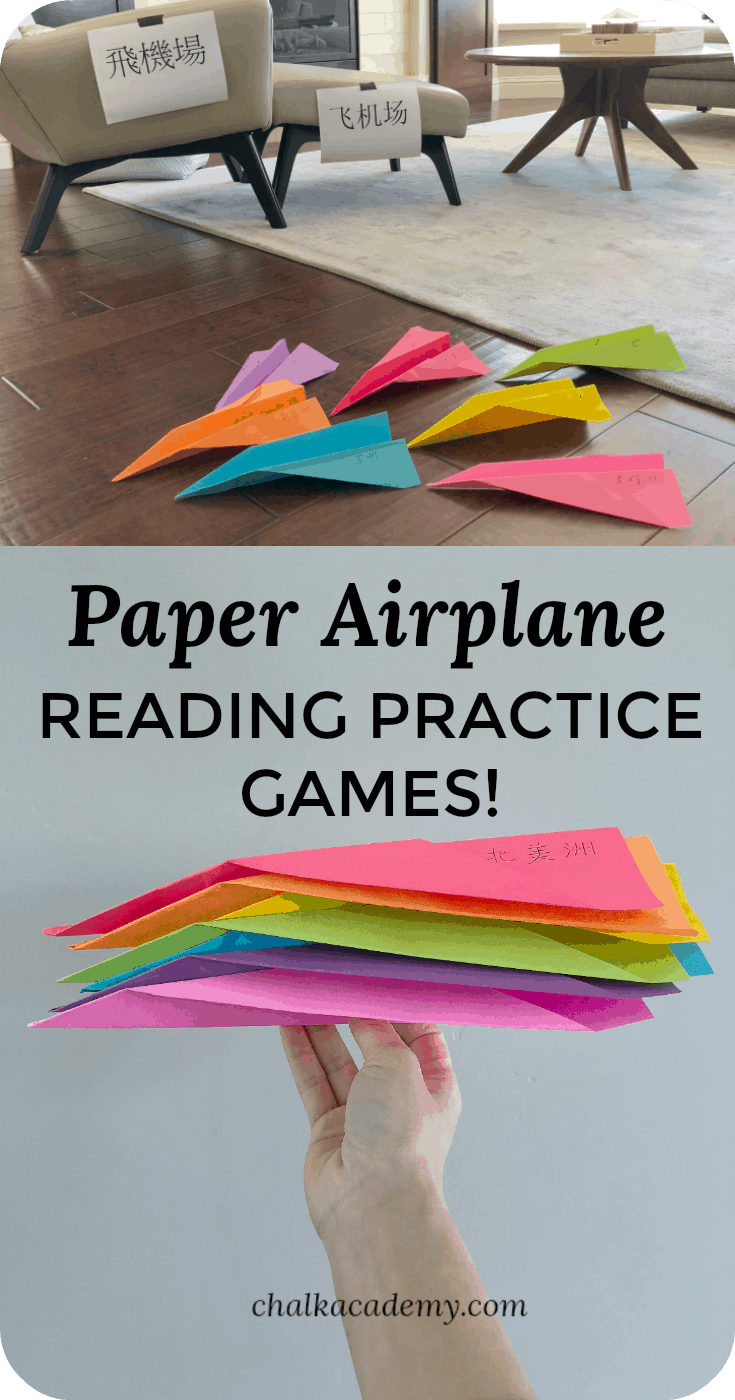 Paper Airplane Reading Game: Learning goals
Through this Paper Airplane Reading Practice Game, my daughter learned how to read several new and relevant words in 3 languages!
English is our family's language, while Chinese and Korean are the minority heritage languages. Since we don't know many people who speak Chinese and Korean, we try to make those languages as fun as possible and prioritize it with English!
As with all of our activities, you can do this game in any language and tailor it to your child's learning level.
Who can play the Paper Airplane Reading Game?
The paper airplane activity would be fun for a range of ages including preschool, elementary school, middle school, and high school!
Even my husband and I had fun with the kids!
Important airplane vocabulary:
Since my children and I are learning Chinese together, and this website is our language learning diary, I highlight a few key words that were important to learn.
Here are airplane-related words in simplified Chinese, traditional Chinese, Hanyu Pinyin, and English!
飞机 / 飛機 (fēi jī /airplane)

飞机场 /

飛機場

(fēijī chǎng / airport)

飞机票 / 飛機票 (fēijī piào / airplane ticket)

飞行员 / 飛行員 (f

ēixíngyuán / pilot)
How we played the Paper Airplane Reading Game
My husband folded a bunch of paper airplanes for the kids, and I wrote the names of the 7 continents in Chinese, Korean, and English.
Then the kids flew the airplanes into 2 pretend airports:
飞机场 (simplified Chinese)

飛機場 (traditional Chinese)
We also focused on continent names since we did this activity before transitioning to our trilingual geography activities!
From this reading practice game, my daughter learned how to read a bunch of new words through this without even realizing it, and my son was happy because he got to participate!
Learning activities can be simple but effective during regular play!
What you need for Paper Airplanes Reading Practice Game:
Now for the materials list, this is what you need….
Paper. That's it! 🙂
Gotta love low-prep activities!
How to fold a paper airplane:
This YouTube video is in Mandarin Chinese and shows how to fold an paper airplane (纸飞机).
How to play Paper Airplanes Reading Practice Game:
Here are 2 ways to learn with paper airplanes:
Write or print Chinese words in large font and hang over the "airport". Race to see who can fly the airplanes to the airport, first!
Make a few "airports" and write different words on each of them. Then write matching words on the airplanes. Ask the child to fly each airplane to the matching word!
This is how we set up the "airport!"
Next is a video of my kids throwing and playing with the paper airplanes!
They had sooooo much fun!
Other ways to play and learn with paper airplanes
Another way to stay on the airplane theme is to teach action-related words such as 跑道、起飞、降落、出发、到达, etc.
On the other hand, if your child is learning numbers, colors, or the English alphabet, you can apply those terms to this activity!
Transportation themed learning area for kids
Lastly, this is how our transportation themed kids' area looked like for the month!
Can you spot our road tape literacy activity as well as the matching activity on our easel?
Click here if you want to try the road tape literacy activity next!
Have you tried this Paper Airplane Reading Practice Game?
If you try this Paper Airplane Reading Practice Game, please let us know!
We love to see other children having fun with learning activities, and it motivates us to keep sharing!
More learning fun with transportation!
For more hands-on transportation activities, check out:
HOW TO RAISE MULTILINGUAL CHILDREN
Happy playful learning, friends!