Make-A-Sentence Post-It Note Train Literacy Activity!
Here's a theme-based, Chinese sentence-building activity that I made last year when we were learning about trains!
The goal was to broaden our vocabulary and knowledge about trains and understand how to make a sentence. This literacy activity is reusable for building a variety of sentences!
Last year, I made this Chinese Sentence Train when my daughter could read a few hundred Chinese words.
At that time, this exercise was too hard and uninteresting for her. Realizing that she was not ready, I put the activity away.
Now, after a year of reading and understanding sentence order, she enjoys sentence building!
This post may have some affiliate links. If you click an affiliate link and make a purchase, I earn a small commission which supports our educational tips at no additional cost to you. Please see the disclosure policy for details.
Sentence-Building Train Activity: What you need
Index cards (You can use regular paper for this and cut rectangles, but index cards will save time)
Scissors
Pen
Glue or double-sided tape
Free printable Train Coloring Sheet in simplified and traditional Chinese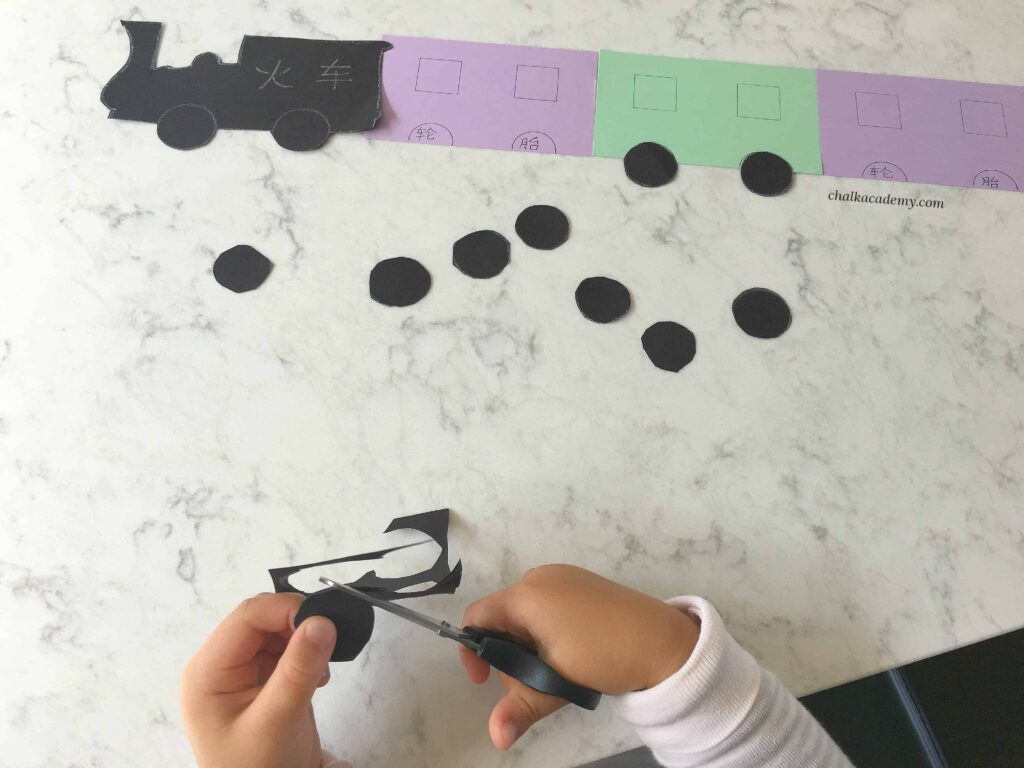 How to set up the Make-A-Sentence Train activity
Draw/trace and cut out train template
Select desired number of index cards. For beginner readers, would start with 1-2 index cards.
Trace two squares on each index card. These are the windows. Optional: you can label them "

窗戶" (same characters for simplified and traditional Chinese)

.
Trace half circles on the bottom of each index card. Optional: you can label it "

轮胎" (simplified Chinese) or "

輪胎" (traditional Chinese)

.
Trace and cut circles for the wheels and have your child cut them out.
Cut Post-It notes and write desired words on the train
Affix tires to bottom of each index card.
How we used the Make-A-Sentence Train activity
I wrote sentences on Post-It notes and divided them into different stacks. My daughter selected a stack and put the words on the table to visualize the options.
During the first round, I began with reading a sentence. For example:
火车有多少个车轮?(Huǒchē yǒu duōshǎo gè chēlún? / How many wheels does the train have?)
While listening to my sentence, my daughter would find the word and posted it to the window.
Then we would discuss what each sentence meant, and my daughter would ask thoughtful questions like:
为什么火车有这么多轮子?(Wèishéme zhēngqì huǒchē yǒu zhème duō lúnzi? / Why do trains have so many wheels?)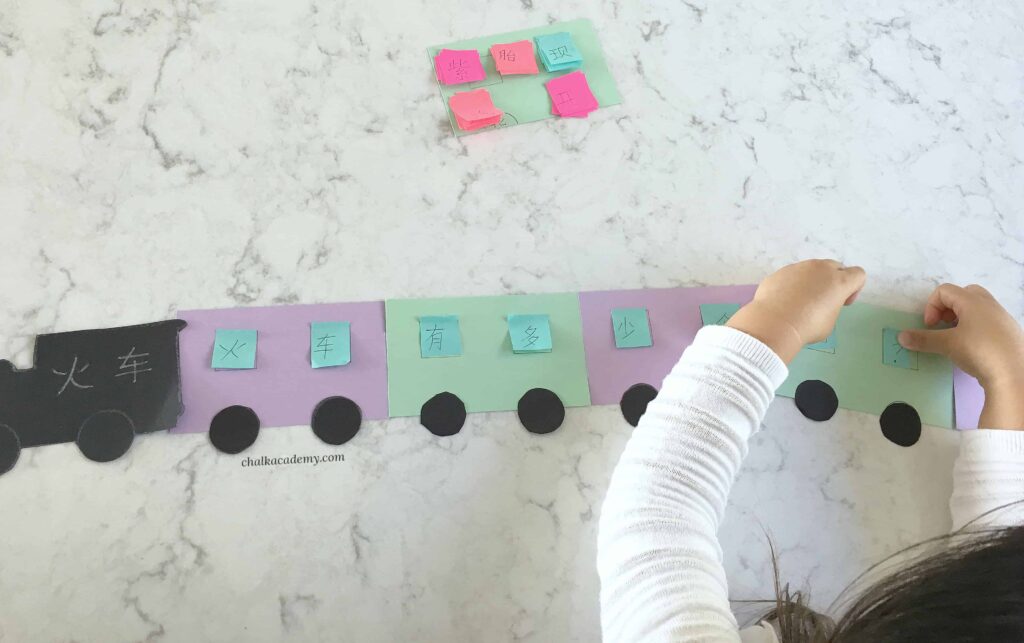 After going through each stack and learning interesting facts about trains, my daughter said she wanted to try to figure it out herself! It was fun to see her analyzing the character options and figuring out which order made most sense!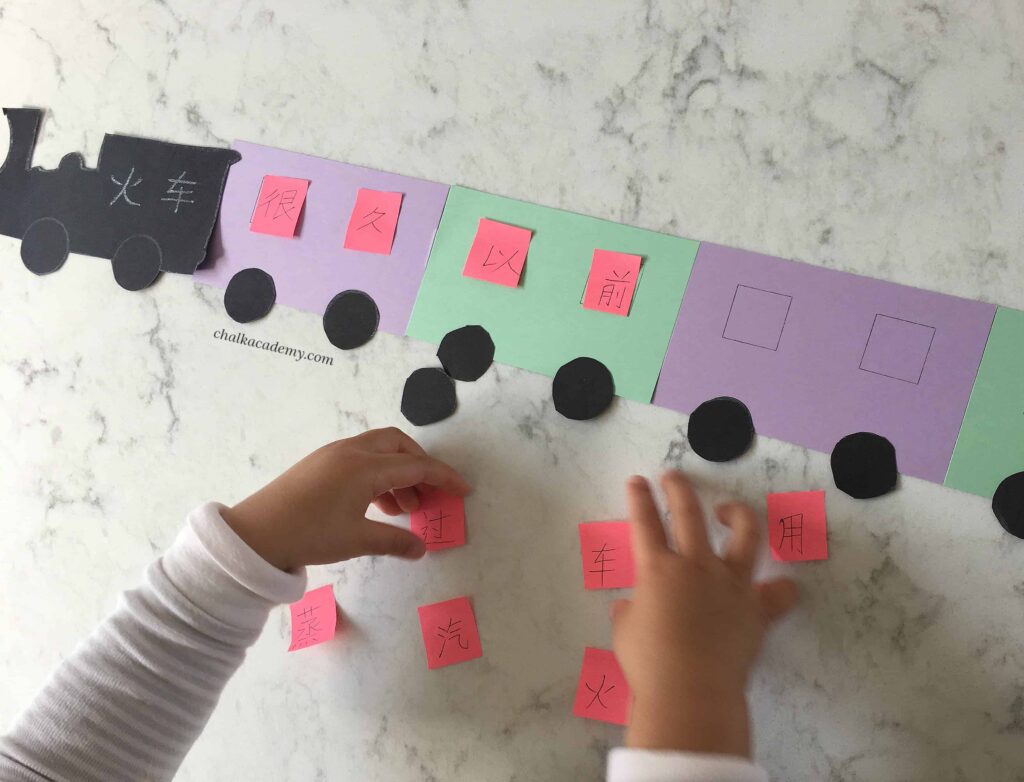 Educational Train Activity – How to adapt and teach other skills
For parents and teachers who are wondering how this activity could be adjusted, you can:
Do the activity with post-it notes alone or regular flashcards. I think train context makes the new facts more memorable, but it is not necessary.
Do the activity with numbers (practice number order and counting) and the English or Korean alphabet.
Turn this into a matching game by writing words on the windows and the Post-It notes, and then have your child match the corresponding window!
Here's a video of my daughter working on the Chinese sentence-building activity!
Have you tried this Train Sentence-Building activity?
If you do the Make-A-Sentence Post-It Note Train activity, please let us know!
My daughter likes to see what other kids are doing for their hands-on Chinese learning!
Learning activities for every topic!
To sign up for our educational newsletter, please click the button below.
What is your child interested in today? Click below to explore activities and books that your child will love.