5 Best Chinese Picture Dictionaries with Pinyin and Zhuyin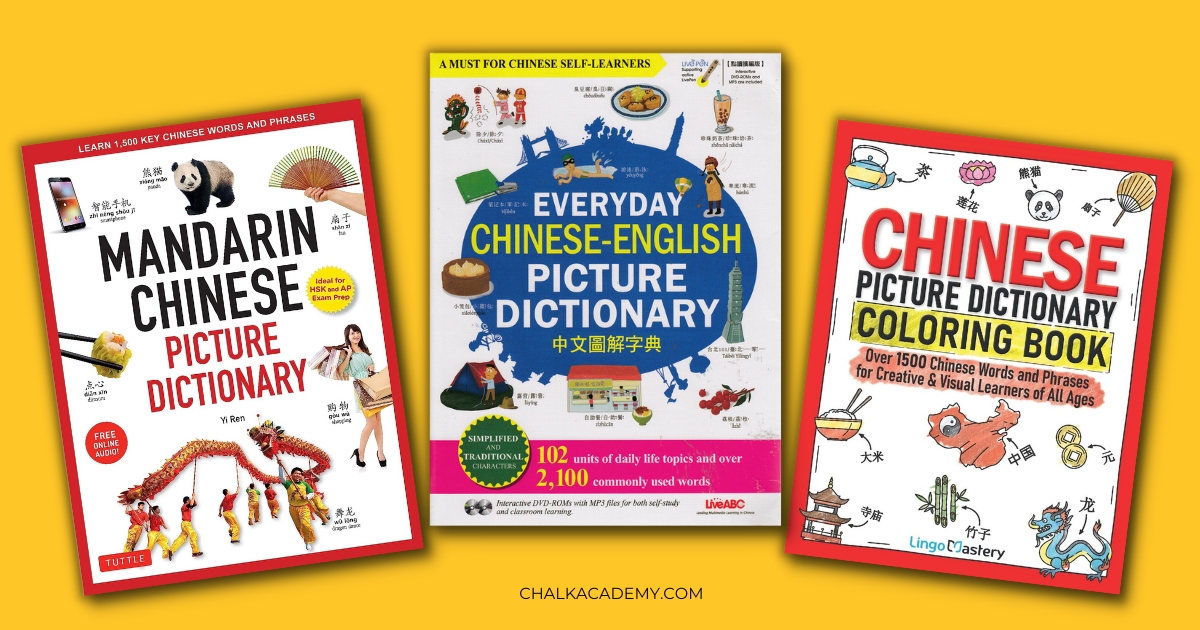 Even though I often check dictionary apps to learn Mandarin Chinese words, I try to minimize screen time with my children. Thankfully, Chinese picture dictionaries are incredibly helpful for both kids and parents to learn common Chinese characters and parenting vocabulary. Here are the best Chinese picture dictionaries in simplified Chinese with Pinyin and traditional Chinese with Zhuyin (Bopomofo).
This review of Chinese dictionaries was first published in June 2020 and has since been updated with new information.
Recommended: How I'm Learning Chinese as a Busy Parent
Best picture dictionaries in simplified Chinese and Pinyin
If your family is focusing on simplified Chinese characters, you're in luck! There are many bilingual Chinese-English dictionaries with Hanyu Pinyin phonetic guides available. Here are the top illustrated Chinese dictionaries to consider.
Chalk Academy is reader-supported. Some of the links are affiliate links. When you buy something through an affiliate link, we may earn a small commission at no additional cost to you. More details here.
Tuttle Mandarin Chinese Picture Dictionary
Tuttle is a publisher that focuses on Asian culture, and their Chinese picture dictionary is our favorite. (We also own the Tuttle Korean Picture Dictionary.)
In the front of the dictionary, they give an overview of Mandarin pronunciation and grammar.
Throughout the dictionary, 1500 Mandarin Chinese nouns, phrases, and sample sentences are labeled with large simplified Chinese, Hanyu Pinyin, and English font.
This Mandarin dictionary features 40 common topics. If you're not sure how to say the words, the publisher has free audio online.
Full-color photographs feature Asian people and cultural elements like qipaos, making learning relevant and culturally sensitive.
Lingo Mastery Chinese Picture Dictionary Coloring Book
Attention hands-on learners! This unique Mandarin dictionary is an interactive way to learn new words.
As you or your child colors the cute illustrations, you can learn 1500 Mandarin words from the simplified Chinese and Pinyin labels. English translations are also provided.
For bonus learning, there are short quizzes at the end of each section, including matching and fill-in-the-blank questions.
DK Mandarin Chinese English Bilingual Visual Dictionary
We have had our Mandarin Chinese-English Bilingual Visual Dictionary for over 5 years, and I have a love-hate relationship with it…
First, the good news: It's jam-packed with 6000 Mandarin Chinese nouns, phrases, and sentences in simplified Chinese, Pinyin, and English.
It also has full-color photographs accompanying a large variety of topics.
Because the DK Chinese dictionary is small, you can conveniently bring it in your handbag or backpack.
However, there are a few problems to consider:
Miniature font: This is the main problem. If you're nearsighted like me, the Chinese characters and Pinyin tone marks are hard to read.
Awkward translations: Some phrases are not used in spoken Chinese language. For example, a trashcan is labeled 废纸篓 (fèi zhǐ lǒu / wastebasket) rather than the standard 垃圾桶 (lājītŏng / trash can).
Lack of diversity: Photos feature Caucasian models, similar to other DK bilingual visual dictionaries.
Overall, I'm grateful that the DK Chinese picture dictionary covers way more topics and words compared to others. Both of my children have enjoyed flipping through the whole book.
Since this dictionary is relatively comprehensive, it also includes human anatomy diagrams including bilingual names of sexual organs. However, it's never too early for children to learn the real names of private parts for safety.
Best picture dictionaries in Traditional Chinese and Zhuyin
If you're looking for bilingual traditional Chinese dictionaries with Zhuyin (bopomofo), here's an amazing option.
Try this: Teach Your Child a Second Language at Home with 5 Key Steps
Everyday Chinese-English Picture Dictionary 中文圖解字典
This visual Chinese dictionary is a rare gem!
It actually includes simplified Chinese, traditional Chinese, Pinyin, Zhuyin, AND English translations. Yes! All in one book.
Speaking of comprehensiveness, it features 15 themes, 102 topics, and 2,100 words and phrases. The included audio files also help with learning how to say Chinese words.
Why the best Chinese-English dictionaries have real pictures
Did you notice that all of the best Chinese picture dictionaries have photos or realistic illustrations?
The best way to learn new Chinese words is by interacting with actual people, places, and things.
When that's not possible, the next best option for building vocabulary is by pairing words with photos (or realistic pictures) of people, places, and things.
Kids love to look at pictures and ask questions! When pictures have more details, there's more to talk about. Plus, detailed images are more interesting for a wider age range.
In the past, we tried dictionaries with Chinese cartoon pictures. But the silly pictures were too abstract and required extra thinking and decoding time. That's why cartoon dictionaries aren't the best for new learners.
Best bilingual Chinese parenting phrasebook
If you're ready to learn practical everyday parenting phrases, there's a Chinese dictionary for that, too!
Best bilingual Chinese dictionary pens and robots for kids and parents
If you want your child to learn Mandarin Chinese, I highly recommend these modern gadgets.
The 3 best options that kids can use independently are:
For parents who are not fluent in Chinese, bilingual reading pens and robots give kids extra Mandarin exposure.
More fun ways to learn Chinese language