Best Chinese Picture Dictionaries for Kids and Parents!
While I'm heavily reliant on online dictionary apps to help me learn Mandarin Chinese words throughout the day, I try to minimize screen-time around my children. Chinese picture dictionaries are the perfect solution for looking up translations and parenting vocabulary in a kid-friendly way.
In this post, we'll compare Chinese picture dictionaries in simplified and traditional Chinese characters.
Debating between simplified & traditional Chinese characters?
Chinese dictionaries with realistic pictures versus cartoons
Our favorite Chinese picture dictionaries either have photos or realistic illustrations.
Since the best way to learn new vocabulary is by interacting with real objects or experiences, real or realistic 2-dimensional images are the next best option for teaching purposes.
Try this: How to Make the Switch from Dominant to Minority Language
My children enjoy looking at the pictures and asking questions! Images with more detail means that there is more to discuss, and they also appeal to a much wider age range.
We have had picture dictionaries with cartoons, but I don't recommend them as they can often be too abstract and require extra decoding for new learners.
This post may have some affiliate links. If you click an affiliate link and make a purchase, I earn a small commission which supports our educational tips at no additional cost to you. Please see the disclosure policy for details.
Favorite picture dictionaries in simplified Chinese
This is hands-down the best Chinese Picture dictionary that we have owned! Tuttle Publishing is focused on books rooted in Asian culture, language and history.
Benefits of this Chinese picture dictionary:
Introduction to Mandarin pronunciation and grammar
1,500 Mandarin Chinese nouns, phrases, and example sentences
Simplified Chinese script with Hanyu Pinyin and English
Full-color photographed objects and scenes
40 different topics: everyday life, home, office, healthcare, music, nature, food, animals, world, social media, WiFi
Online audio recordings by native Mandarin speakers of all vocabulary and sentences
Detailed index for instant reference
Large font, easy-to-read Chinese characters and Pinyin tone marks
Downsides:
No traditional Chinese version
I really appreciate that many of the people featured in this book appear Asian, although many of the same images used in Tuttle's Korean Picture Dictionary. However, Tuttle does make an effort in incorporating cultural elements, such as qipaos in this Chinese version and hanboks in the Korean version.
In other languages such as Indonesian, Thai, and Tagalog, Tuttle features different people in their family tree examples.
We have had our Mandarin Chinese-English Bilingual Visual Dictionary for over 5 years, and I honestly have a love-hate relationship with it!
When I first started learning Chinese, I used DK's Chinese dictionary frequently. Over the years, I no longer use it, but now my 6-year-old refers to it from time to time.
Benefits of DK's Chinese picture dictionary:
6000 Mandarin Chinese nouns, phrases, and example sentences
Full-color photographed objects and scenes
Topics: everyday life, home, office, healthcare, music, nature, food, animals, world
Detailed index for instant reference
Simplified Chinese script with Hanyu Pinyin and English
Small size convenient for putting in handbag or backpack
Downsides:
Very small font, hard to see the Chinese characters and Pinyin tone marks; magnifying glass recommended if you are nearsighted like me! This is the main problem with this dictionary.
Some translations are awkward (same problem with Google Translate) and not used in spoken Chinese language. For example: a picture of a trashcan is labeled 废纸篓 (Fèi zhǐ lǒu / wastebasket) rather than the more common 垃圾桶 (lājītŏng / trash can).
No traditional Chinese version
Please note that the human anatomy diagrams are 3D representations and include names of sexual organs which some parents might not be comfortable with.
As a pediatrician, I believe it's important to teach our kids real anatomic names of their body parts for accuracy and safety reasons.
Picture dictionaries in Traditional Chinese
If you're learning simplified Chinese, you'll be set with the above dictionaries.
For those who are looking for traditional Chinese options, here are two that I found.
Try this: Teach Your Child a Second Language at Home with 5 Key Steps
1. Everyday Chinese – English Picture Dictionary 中文圖解字典
This Chinese picture dictionary has simplified Chinese, traditional Chinese, Pinyin, Zhuyin, AND English translations!
Through preview images, the illustrations appear detailed with explainations about Chinese culture. This dictionary covers 15 themes, 102 topics and 2,100 words and phrases.
You can find this dictionary in the following Chinese bookstores:
If you're looking for a resource with traditional Chinese characters and Zhuyin (Bopomofo), this brand is popular with Taiwanese-American families.
This particular set includes 605 vocabulary words with 25 categories that inlcude animals, food, and transportation. However, it doesn't teach sentences or phrases.
We've also had other Food Superman sound books, and the quality was inconsistent. Some have lasted over the years while others broke.
Popular discontinued Chinese dictionaries
Since the following Chinese picture dictionaries are popular, I thought I'd share in case you find them secondhand or at the library!
This visual Chinese dictionary has limited inventory on Amazon. It's a shame that it is out of print since it's been popular among many parents!
The illustrations are gorgeous and realistic, and the simplified Chinese words were accompanied by Hanyu Pinyin and English.
This sound book comes with 4 double-sided sheets with pictures of objects, simplified Chinese text with Pinyin and English.
I have mixed feelings about this Usborne book because it's geared toward a younger age who may not be able to use it independently.
My 3-year-old has trouble inserting the sheets and pressing the buttons consistently, but my 6-year-old can manage this easily.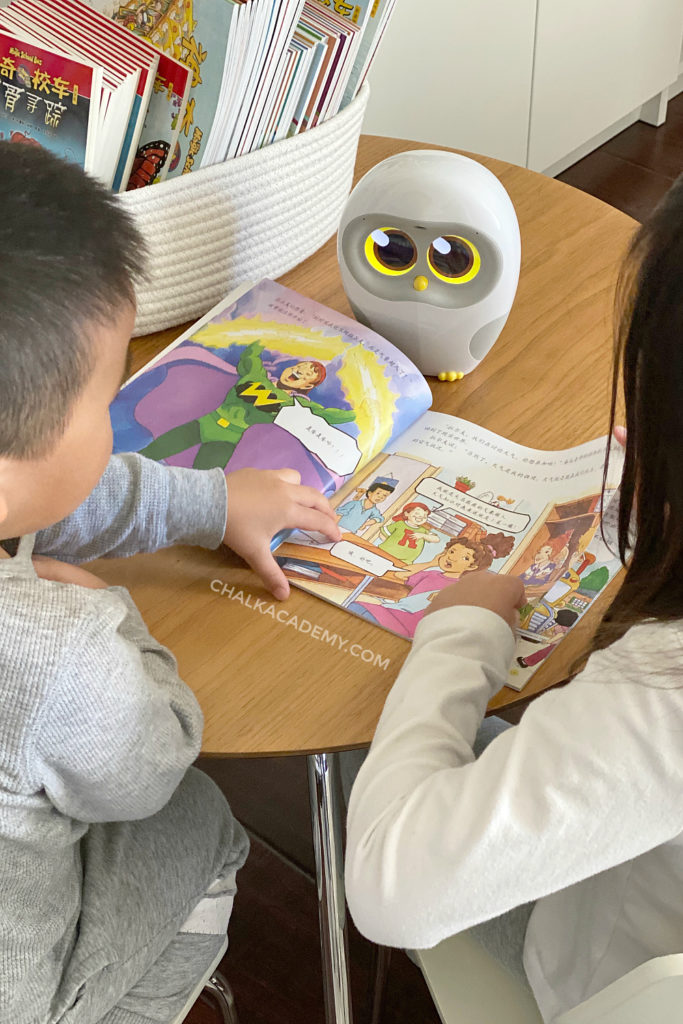 The 3 best audio resources for kids and parents learning Chinese
If you're looking for Mandarin audio resources that kids can use independently, the 3 best options are:
Click on the links above to learn details about each product and why I strongly recommend investing in LeLe, Luka, and Youdao! These are especially helpful for non-fluent families who need more immersive support at home!
We're also blessed with many websites and apps with FREE Chinese books for kids and adult learners. Be sure to check out these resources!
What other Chinese resources should I buy for my family?
Since the goal is to develop a love of learning Chinese, building a collection of Chinese picture books that cover various topics is important.
If your a busy parent trying to learn parenting and daily routine vocabulary with your kids, studying your children's books is one of the best strategies.
Chinese resources for kids on Amazon
Check out these Chinese learning tools and cultural toys here!
Happy learning, friends!