Chinese Mother's Day Cards – Free Printable in Simplified and Traditional Chinese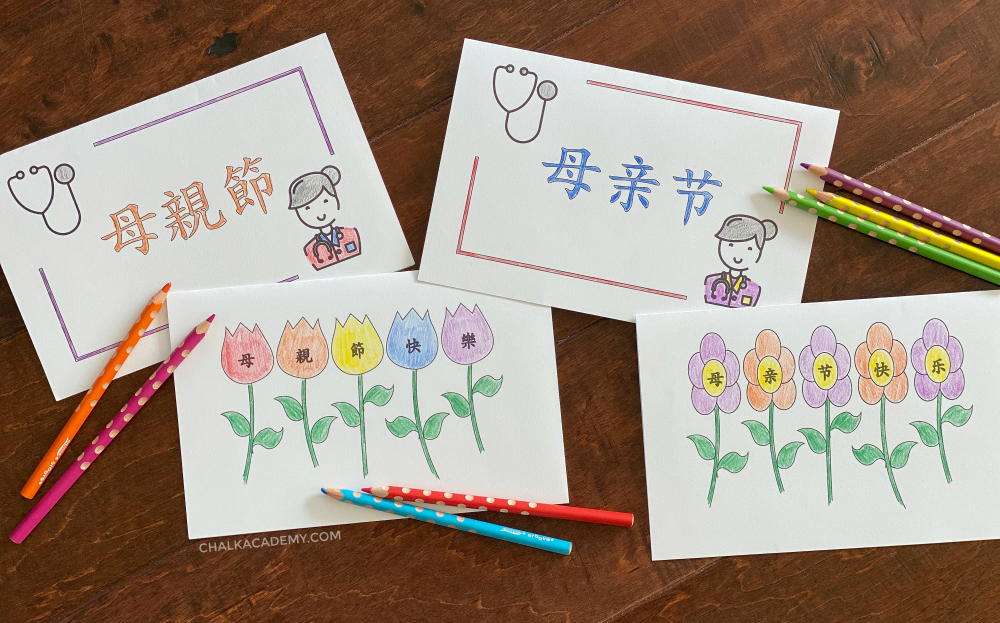 We've all been there – busy with the daily grind – and, before you know it, Mother's Day has arrived and we forgot to prepare a Chinese Mother's Day card. No worries!
Although my daughter and I love to craft 贺卡 / 賀卡 (hè kǎ / greeting cards) together, I wanted to share printable Mother's Day cards.
Printable Chinese Mother's day cards are perfect for those who cannot write Chinese or don't have time to make a card for relatives and friends!
This post may have some affiliate links. If you click an affiliate link and make a purchase, I earn a small commission which supports my blog and free printables at no additional cost to you. Please see the disclosure policy for details.
As always, our printables are in simplified and traditional Chinese, and we are happy to share them with everybody!
I also hope that these printable greeting cards can help families learn Chinese vocabulary related to Mother's Day!
Related: Chinese Song for Mother's Day – Printable Lyrics in Simplified and Traditional Chinese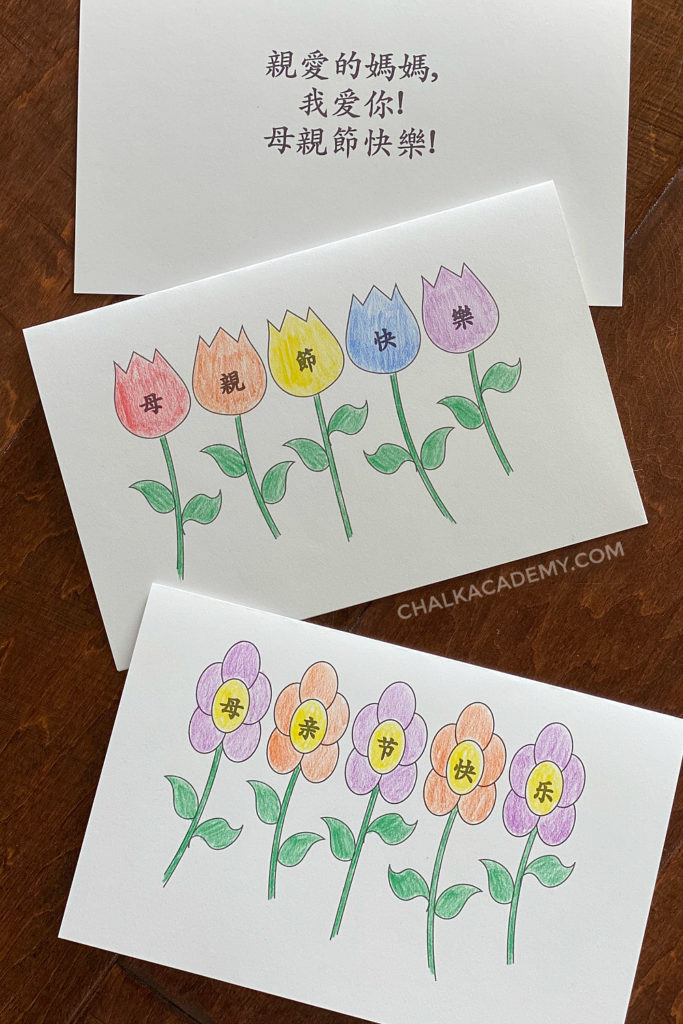 Chinese Mother's Day: Important vocabulary
If you're learning Chinese with your kids like me, here are relevant terms in simplified Chinese, traditional Chinese, and Hanyu Pinyin.
妈妈 / 媽媽 (Māmā / Mom)
母亲 / 母親 (Mǔqīn / Mother)
奶奶 (Nǎinai / Paternal grandmother)
外婆 (Wàipó), 姥姥 (Lǎolao / Maternal grandmother)
母亲节 /

母親節 (

Mǔqīn jié / Mother's Day)

母亲节快乐

/ 母親節快樂 (Mǔqīn jié kuàilè / Happy Mother's Day)
亲爱的妈妈 / 親愛的媽媽 (Qīn'ài de māmā / Dear Mom)
我爱你 / 我愛你 (Wǒ ài nǐ / I love you)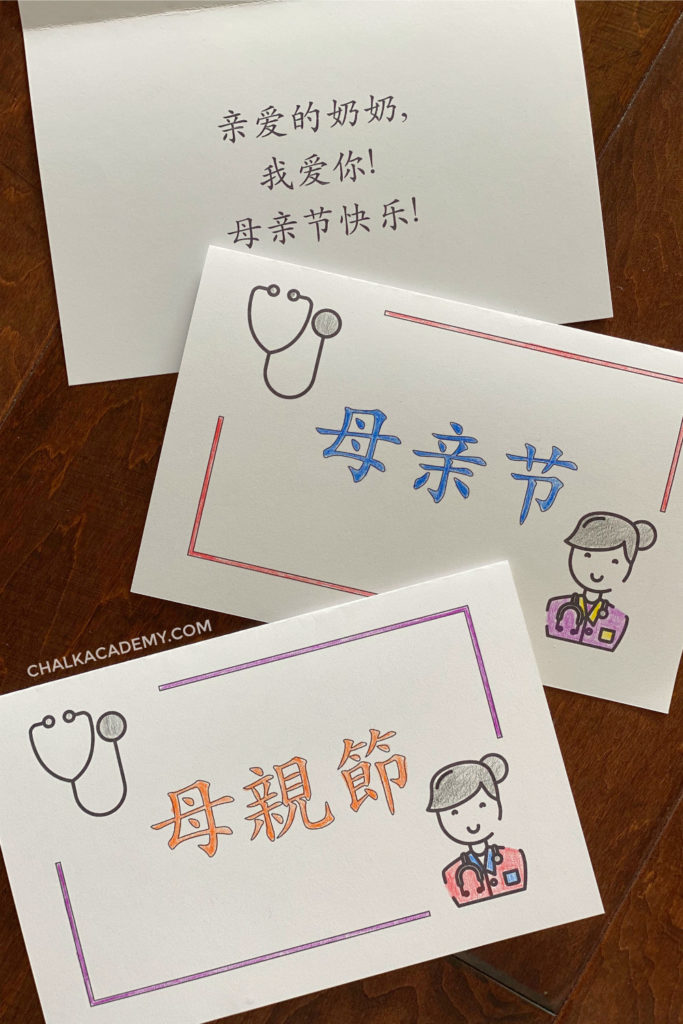 Chinese Mother's Day Cards: What you need
Please review the Terms & Conditions before downloading any materials.  © CHALK ACADEMY. Do not share any files without permission from chalkacademy.com. Only this website link may be shared.
Free printable Mother's Day Cards templates: Mix & match your favorite design and message! Please let me know if you would like additional versions of "grandma" in Chinese!

Outside design

Simplified Chinese

Traditional Chinese

Inside message:

Simplified Chinese: 亲爱的______, 我爱你! 母亲节快乐!

Traditional Chinese: 親愛的______, 我愛你! 母親節快樂!

Printer (the one we have is no longer sold, but this printer and this printer have high reviews)
Related: Redefining Mother's Day with My Parents' Language
Chinese Mother's Day Cards: How to prepare the printable
Print out desired outside design of the template in portrait orientation
Follow the instructions of your printer for double-sided printing; print inside message on the reverse side of the paper
Fold the paper in half
Color and decorate the cards!
Chinese Mother's Day cards and Korean Parents' Day cards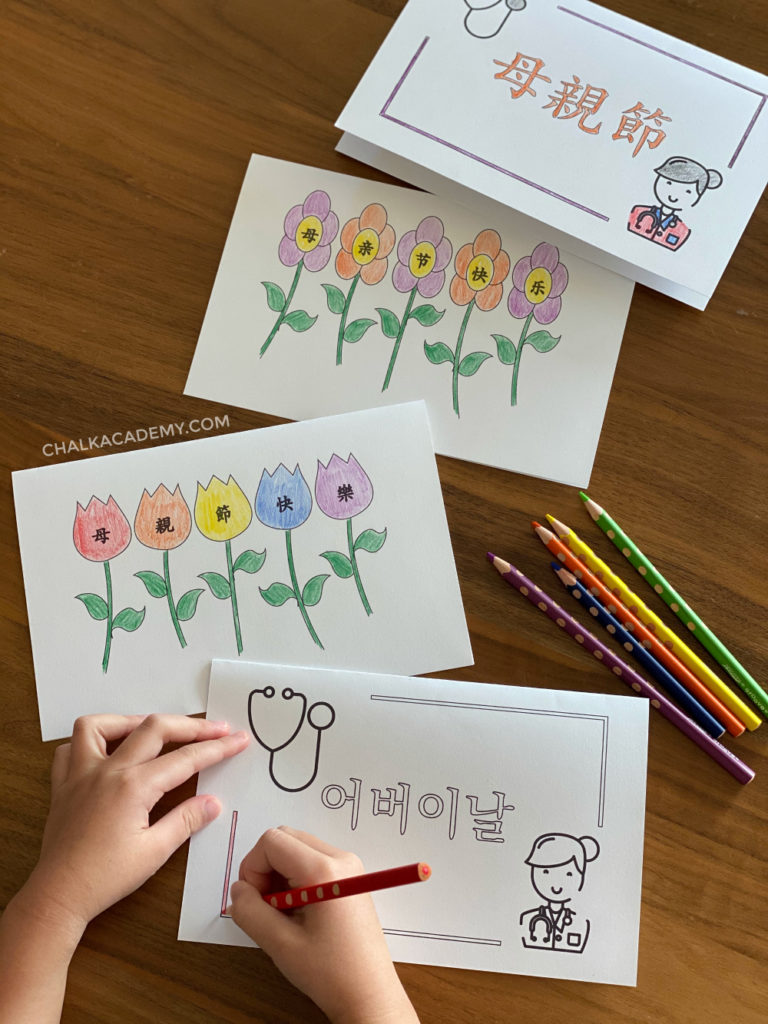 Here's a snapshot of my daughter coloring these greeting cards in her 2 minority languages, Chinese and Korean!
Click here for information about Korean Parents' Day cards!
母亲节快乐

/ 母親節快樂! Happy Mother's Day!

Happy Mother's Day to all the amazing, hard-working, intelligent, and dedicated mothers out there!
More hands-on Chinese learning activities for children
Learning activities for every topic!
To sign up for our educational newsletter plus convenient access to our Free Printables Library, please click the button below!
What is your child interested in today? Click below to explore activities and books that your child will love!
Happy learning, friends!