Rainstick Sensory Bottles – A Musical Activity for Kids! (VIDEO)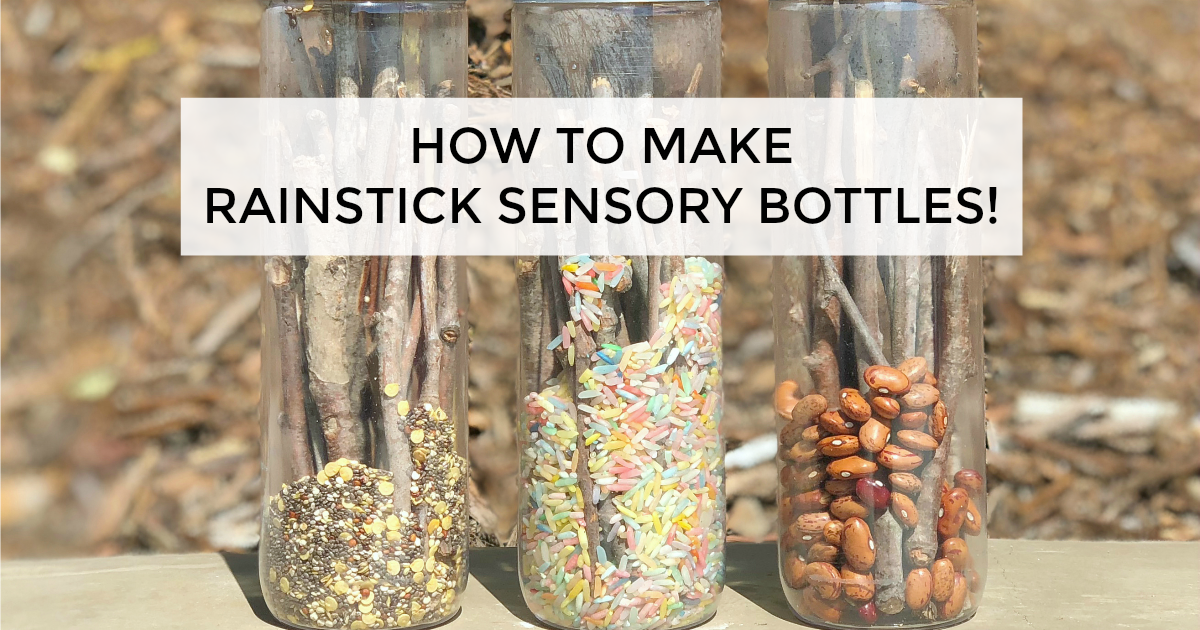 Rainstick sensory bottles are fun and easy to make with children of all ages!
My 4-year-old daughter and I enjoyed coming up with musical "ingredients" together.
In addition, she and her 20-month-old brother enjoyed the tactile, auditory, and visual entertainment from touching, shaking, and watching the rainsticks in action!
I'll show you how we made this, and you can hear how they sound in the video at the end of the post!
Wishing for rain
For the past week, my children and I have been reading about rain and worked on rain learning activities.
Although rainfall has been low in California due to the drought, my children get so excited about the few rainy days of the year!
Today, my daughter talked about a big rainstorm from a few weeks ago as if it just happened! She and her brother loved wearing their rain jackets and rain boots and jumping in puddles!
In addition, they loved to sit by the window and watch and listen to the raindrops tap loudly on our windows.
Therefore, these rainstick sensory bottles were a big hit for exploring different "pitter patter" sounds!
This post may have some affiliate links. If you click an affiliate link and make a purchase, I earn a small commission which supports our educational tips at no additional cost to you. Please see the disclosure policy for details.
Important vocabulary:
Since my children and I are learning Chinese together, I like to take notes on new vocabulary related to activities that we are creating.
Here is a list of words that describe rain sounds in Chinese, Pinyin, and English!
雨 (

Yǔ / rain)
敲 (Qiāo / knock)
落 (Luò / fall)
浇灌 (Jiāoguàn / pour)
滴答 (Dīdā / tick-tock)
簌 (Sù / rustle)
Related: Water Painting Chalk Raindrops – Sight Word Activity
Rainstick sensory bottle inspiration
One of my earliest memories of elementary school music class involved making rainsticks with upcycled cardboard rolls.
When I was brainstorming ways to create the rainstick bottle, I browsed Pinterest and saw these musical rainstick sensory bottles on Rhythms of Play. Instead of cardboard rolls, she used recycled clear water bottles.
I instantly knew my children would love seeing action through the transparent water bottle!
Related: Educational Activities Made from Recycled Materials!
What you need to make a rain stick sensory bottle:
Voss water bottles – they are so pretty, and the label peels off easily compared to other bottles!
Branches
Rice, beans (eg, pinto, garbanzo, lentil), seeds, sprinkles, sand, salt, sugar, rocks, etc.
Tray (ours are similar to this one)
Optional: Adhesive remover – there was very little sticky residue on our bottles, so we skipped this step that was suggested by Rhythms of Play.
However, for other plastic bottles with sticky residue, the adhesive remover was very effective.
How to make a rainstick sensory bottle:
Remove labels from bottle; wash and dry bottle
Set up everything in the tray
Insert branches
Scoop and pour desired elements (This is currently my 20-month-old son's favorite activity!)
Close lid tightly
Let your child explore!
Related: Favorite Nature Learning Activities for Kids!
Thoughts on avoiding food waste when making rain stick bottles
Our favorite musical sound is the bottle with the bell pepper/chia seed mix. This seed mix was left over from a Chinese activity about 子 from last year!
The rice and beans were expired, and these are items that we store in our sensory bin drawer.
I do not want to encourage food waste, so please do not buy large bags of rice and beans just for this activity!
Instead, see what you have at home, and before throwing out expired food, see what you can repurpose for educational play!
I have seen other parents and teachers use plastic straws in their rainstick bottles.
However, I kindly suggest using natural elements and minimizing plastic whenever possible.
Our kids can have fun learning while being mindful of our environment!
Video of rainstick sensory bottles
Have you tried making rainstick sensory bottles with your child?
If you make Rainstick Sensory Bottles, please let us know in the comments! We'd love to know what your family or school thought of this activity!
More nature activities for children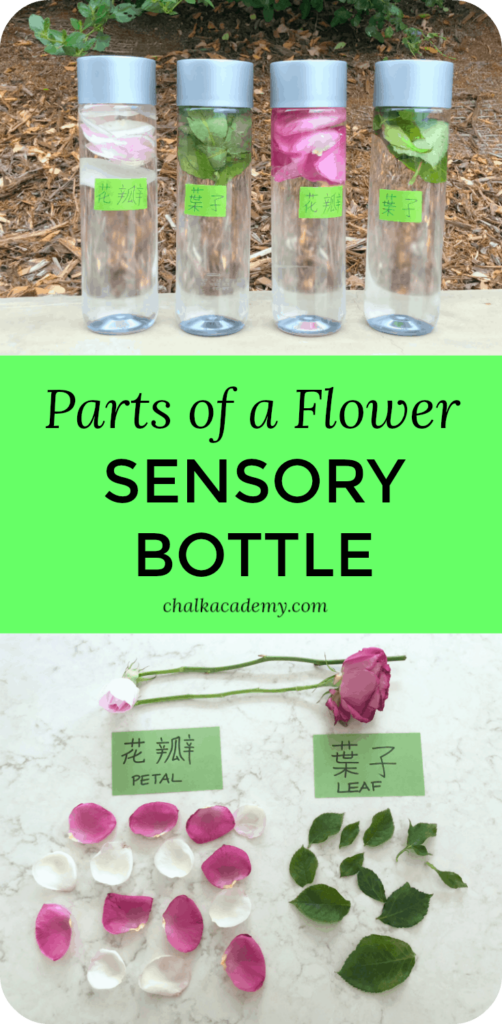 Learning activities for every topic!
To sign up for our educational newsletter, please click the button below.
What is your child interested in today? Click below to explore activities and books that your child will love.
Happy learning, friends!