Very Hungry Caterpillar Story Stones Book Activity for Kids
The Very Hungry Caterpillar is one of our favorite Eric Carle books, and we got to read it in my children's 3 languages: Chinese, Korean, and English! To extend learning beyond the book, our nanny and I created Very Hungry Caterpillar Story Stones for my children to enjoy playful learning. I can't wait to show you the fun activities that you can try with Eric Carle's timeless story!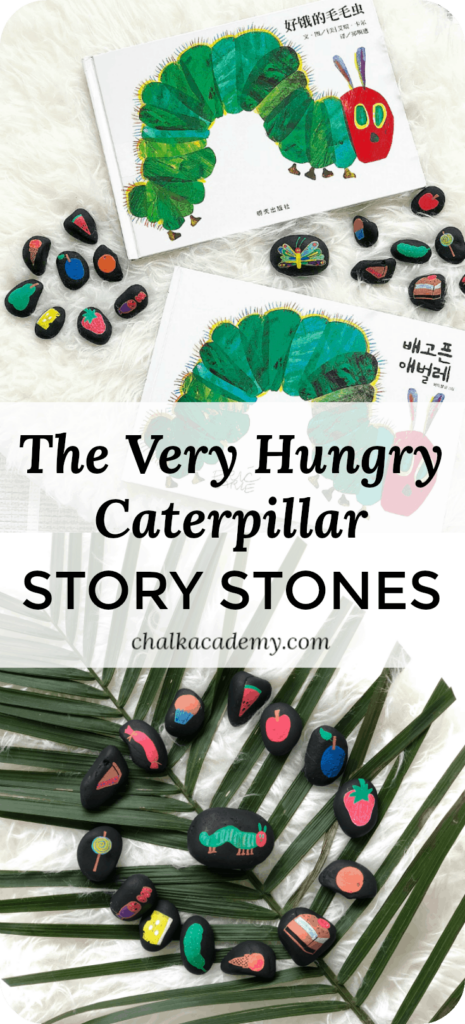 We were excited to make Hungry Caterpillar story stones after seeing them on Color Made Happy, because we're all about rocks and versatile, hands-on learning!
Bridging American, Chinese, and Korean language and culture with The Very Hungry Caterpillar
I first read this classic story in English during my childhood, and I'm so excited to share the experience with my children. Since my childhood, the Very Hungry Caterpillar has been translated into many languages, including Chinese and Korean.
We're raising trilingual children through the One Parent One Language method, and Chinese and Korean are my children's minority languages. I am teaching my kids Chinese, and our nanny is teaching them Korean.
We are so grateful that Eric Carle's books are available in multiple languages! This allows my kids to learn their heritage languages while connecting to monolingual American friends and classmates.
The Very Hungry Caterpillar in Chinese and English
Title: The Very Hungry Caterpillar / 好饿的毛毛虫 / 배고픈 애벌레
Author: Eric Carle
Age level: 3-6 years
Where to buy Very Hungry Caterpillar:

English (ISBN: 9780399226908 )
Simplified Chinese (ISBN: 9787533256739)
Traditional Chinese (ISBN: 9577620981)

Korean (ISBN: 9788970983554)
The Very Hungry Caterpillar / 好饿的毛毛虫 (Chinese) / 배고픈 애벌레 (Korean) Book Review
The Very Hungry Caterpillar is an engaging book with imaginative, colorful pictures and interactive holes and flaps. Kids learn how to count, names the days of the week, and follow the life cycle of the butterfly.
Eric Carle adopts the concept of metamorphosis with a hungry newborn caterpillar who snacks on each page, leaving behind a hole through each food!
Fictional elements include the caterpillar eating human junk food, but the story concludes with the caterpillar feeling satisfied with a fresh green leaf and transforming into a beautiful butterfly!
Here's a peek at how I set up the Hungry Caterpillar books and story stones on the shelf in my kids' Montessori-inspired play area!
I placed these in a clearly visible area to encourage my kids to read.
Very Hungry Caterpillar story stones: What you Need
Alternative materials for creating the Very Hungry Caterpillar story telling activity:
You can try to use Very Hungry Caterpillar stickers or print-outs of the illustrations instead of painting.
However, I had no luck in getting the stickers to stay onto our rocks despite several coats of ModPodge sealer Plus, they did not look very appealing!
For those who don't have access to rocks, you can also use blank circle labels like this clever mom, Rona.
You can use any material that is readily available around your home, like recycled cardboard. Rona also made a cute caterpillar out of Legos!
Very Hungry Caterpillar story stones: How to make them
Optional: Use acrylic paint to paint the stones with the desired base color. I have seen many story stones on Etsy with a white base, but we chose black to make ours a little different. Black serves as a great blackdrop for the story drawings to pop, and you don't have to worry as much about the rocks getting "dirty" like with white!
After the base paint is dry, use paint marker pens to draw desired designs. This may take a few steps as well, as you will want the paint to dry before adding more details. Examples:

For the blue and yellow lollipop, we first painted the blue swirl. After the blue paint dried, we then added the yellow swirl.
For the strawberry, we first drew the outline of the strawberry leaf and berry and filled with the respective colors. After the red and green paint dried, I stippled pink and brown paint pens for texture.

Optional: Seal the rocks with Modge Podge. This will ensure that the paint on each rock does not rub off on each other. In these photos, we did not seal the rocks yet and placed them side-by-side.
Don't worry about making mistakes, because you can paint over the rock and start over!
This was the first time our nanny and I made story stones, so there was a little trial and error! But we had fun creating a beautiful resource that can be enjoyed over and over again!
Learn Chinese, Korean, and English with the Very Hungry Caterpillar story stones
There are so many ways to learn with story stones and you can tailor it to your child's age and developmental level.
Here are some examples of learning activities that we did with our kids (almost 5-year-old daughter, almost 2-year-old son):
Handling the rocks with care and not throwing/tossing them

Learning food names

Matching story stones to the books

Color sorting

Story sequencing

Healthy food versus junk food

Imaginative play (eg pretend to feed the caterpillar or each other, food shopping and cooking)

More Eric Carle book-based fun!
If you're a fan of Eric Carle books like us, check out our Draw Me a Star Book review and Process Art Star Craft!
More fun ways to learn about animals