15 Effective Ways to Motivate Your Child to Read
Since my daughter and son love to read, parents often ask me, "How can I motivate my child to read?" Most parents know that reading is important for language development and general success. However, we've all heard our kids say, "I don't want to read. I just want to play!"
This post may have some affiliate links. If you click an affiliate link and make a purchase, I earn a small commission which supports our educational tips at no additional cost to you. Please see the disclosure policy for details.
The answer is to create an environment that inspires curiosity about words and their meaning.
15 Ways to Motivate Your Child to Read
If you can create a supportive setting, your child will be more inclined to request and reach for books. Some children will need more encouragement than others, so here are 15 strategies that encourage strong and smart reading habits!
This article is part of a series dedicated to teaching kids how to read Chinese, although many principles apply to all languages.
15 Ways to Encourage Your Child to Read
1. Simplify your home
Look around your home from the eyes of a child.
Are books visible?
An organized space will allow a child to notice books and be more attentive during story time.
Kids will have a hard time noticing books in a cluttered room, especially with talking electronic toys.
Although play is vital, and educational toys can teach various skills, children have trouble focusing with excessive options.
Explore this: How We Transformed Our Play Area / Homeschool Room – Before and After Guide
2. Turn off the TV and iPad and put away your cell phone
Books cannot compete with a TV or computer; turn off these addictive devices which can overstimulate a child.
Just as a cluttered space can distract a child from reading, screen-time is a major obstacle to reading and also has negative short and long-term effects on neurodevelopment.
This advice also applies to parents' and caregiver's mobile devices. If we spend most of our time watching YouTube and playing computer games at home, our children will be influenced by what they see.
3. Encourage reading by gifting books
When friends and relatives ask for gift suggestions, put books on the wish list! We always give books for birthday and holiday presents.
Why? The gift of books suggests that reading is special and important, and you want to share it with people you care about.
In addition, books are the best gift for multilingual kids, because quality books in minority languages can be difficult to find.
4. Read with your child everyday
Each day, make a habit of reading at least 15-20 minutes as a family. If you have older children, allocate more time for reading longer books.
According to research, reading aloud to children is the single most important activity that improves language development and promotes literacy skills.
In addition to reading aloud at random times throughout the day, story time is a standard part of the bedtime routine. Since my kids would rather do anything than sleep, I ask, "Are you ready for bed or would you like to stay up to read 2 more stories?"
Without hesitation, they choose to read over sleep! Therefore, we start bedtime routine earlier to make more time for reading.
5. Offer a variety of books to encourage reading
There's no such thing as a kid who hates reading. There are kids who love reading, and kids who are reading the wrong books.

James Patterson
Children are more likely to find a desirable book when they have options. Explore options at the library, and build a kid-friendly library at home.
In addition, variety is necessary to expose children to perspectives that they might not have personally experienced.
For example, due to the relatively homogeneous community that we live in, both of my children are exposed to diversity mainly through books.
Books by different authors also expose children to different sentence structure and styles.
Explore this: Chinese Books for Kids Organized by Type and Level
5. Turn to stories for answers and support
Starting school? Read books about going to school.
Has a loved one recently passed away? Read about how characters in books experienced grief and bereavement.
When you share relevant stories with children, books become a healthy coping mechanism for new situations and challenging emotions.
6. Display the front cover of books to entice your child to read
Make books noticeable by placing them at the eye-level with the front cover visible. The more you see of the book, the easier it is to get excited about it!
Bonus: Children can learn to read many Chinese, Korean, and English words simply by looking at book titles!
If you don't have front-facing bookshelves, you can put them in baskets for babies, on a ledge for toddlers, or atop a bookshelf for older kids.
7. Motivate your child to read by rotating books on display
Change up the displayed books on the shelf, and switch them out when your child seems bored of them.
Choose a book theme with your child or surprise them with new books on their bookcase!
Since my kids spend a lot of time in the bathroom, we have a front-facing bookcase installed across the porcelain throne.
8. Learn new stories through audiobooks
Audiobooks are a great way to introduce children to a variety of new stories.
In addition, listening to audiobooks can improve reading fluency.
Many free audiobook apps and websites, such as Ximalaya, offer stories in multiple languages.
Explore this: Luka Reading Robot is a Game Changer for Bilingual Chinese-English Families
9. Write big words and messages
Our easel is the perfect place to write big messages. Because the words are so noticeable, my children learn new words when they walk by it.
10. Leave funny notes around the house!
My husband and I leave notes around the house with silly, personalized sentences.
My daughter was amused by the note on the tissue box below which reads: "不要用你的袖子. 不要挖你的鼻子. (Bùyào yòng nǐ de xiùzi. Bùyào wā nǐ de bízi. / Do not use your sleeves. Do not pick your nose.)
In addition, lunch box notes can be a fun daily surprise!
11. Read signs, labels, and ingredients
Make reading relevant by pointing out words on street signs, clothing tags, and food ingredients.
When you run into the same signs or refer to the same recipe, re-reading these familiar words will increase a child's confidence and comprehension.
Try this: 有道 Youdao Dictionary Reading Translation Pen for Chinese-English Learners
12. Enhance pretend play with signs
Giving your child chances to read outside of books, such as through signs around the house. Put "name-tags" on toy animals, dolls, and Lego figures, and add signs to your child's pretend toy store or zoo!
In our backyard, the kids use a small chalkboard similar to this for their store sign. Indoors, we keep it simple with construction paper or cardboard signs.
13. Make cards for friends and family
Card-making is a natural way to encourage reading and writing practice!
We rarely buy cards because handmade cards are simply the best.
In addition, store-bought cards are overpriced; making cards saves money!
Related: Handmade Cards for Reading and Writing Practice (English, Chinese, and Korean)
14. Have fun with literacy activities
When kids are learning to read, simple activities and games can motivate them engage with words!
When we play outside, we use sidewalk chalk activities to practice tracing and writing, and the kids love to jump on words!
15. Brainstorm stories together!
One of my favorite things to do is come up with stories with my children. Sometimes we write stories about our day, and other times we just chat and make up stories on the fly!
If you and your child prefer something more hands-on, you can make story stones, such as these Hungry Caterpillar story stones or Chinese 石 (stone) radical words!
Create an environment that can naturally motivate your child to read!
In summary, kids will be more motivated to read when:
Parents and caregivers model good reading habits
Books are accessible, relevant, and interesting
Reading opportunities outside of books are also available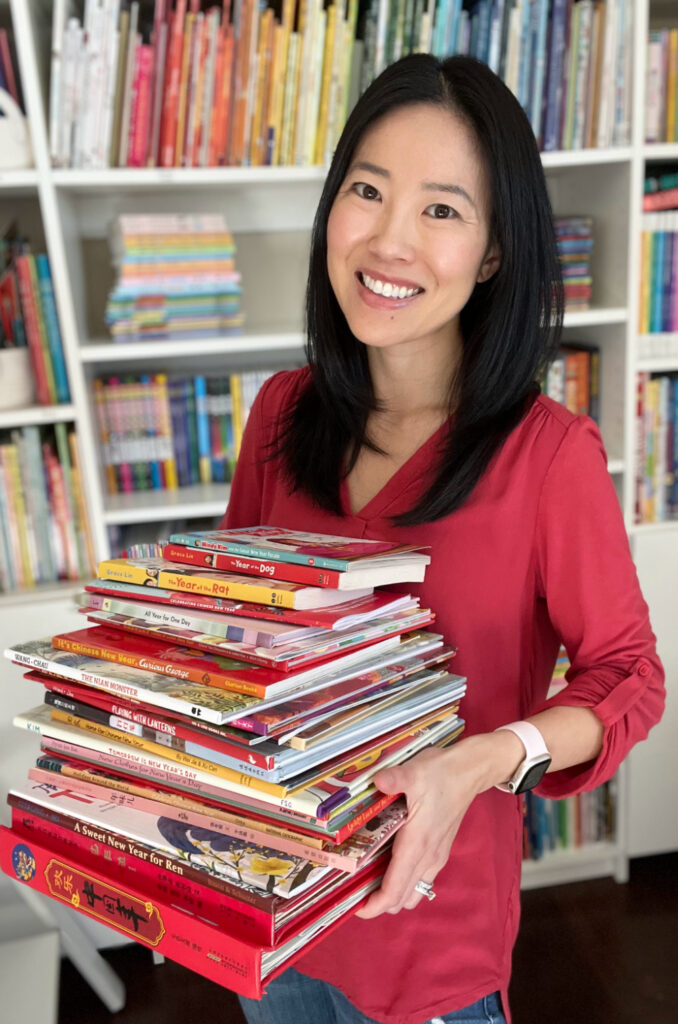 What are your favorite ways to motivate your child to read?
I'd love to hear your ideas in the comment section below!
For those who are feeling stuck, don't give up!
Habits take time to form, and I sincerely hope these ideas help spark that love of reading for your child!
TIPS ON CREATING A BILINGUAL ENVIRONMENT AT HOME
Happy reading, friends!