Playroom Before and After: 11 Decluttering Tips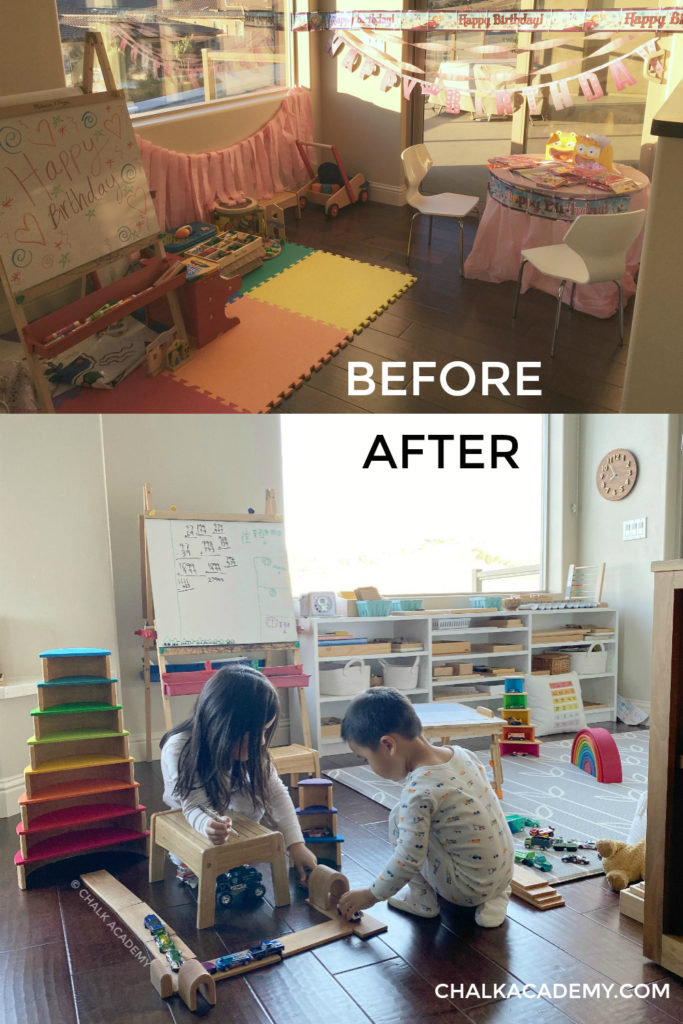 Most parents feel overwhelmed with the mess that comes with kids, myself included. Plus, if you're raising multilingual children like our family, you might have 2 or 3 times the amount of "stuff" around. Although the toys, artwork, paperwork, and gifts easily multiply, sorting the mess with kids is possible and very rewarding with these decluttering tips!
This post may have some affiliate links. If you click an affiliate link and make a purchase, I earn a small commission which supports this educational website at no additional cost to you. Please see the disclosure policy for details.
Decluttering tips are hard to implement with kids
I first need to acknowledge how hard it is to stay organized with kids. Despite our heartbreaking experience with decluttering after my mother's sudden death, we fell into similar hoarding habits when we started our own family.
With kids, it's easy to hold onto every toy, piece of artwork, and favorite outfit due to its sentimentality. As kids grow older, just about every item has a special memory attached to it!
By the time our second child was born, our house was exploding with popular toy gifts from friends. Plus, I was impulsively buying every Chinese and Korean product, desperately hoping to boost my kids' minority languages.
My daughter was starting to learn three languages when we had toys shoved under and piled up in random places. Of course, kids can learn in the thick of clutter, so is change really needed?
I grew up in a messy house and am a fairly successful adult! However, like many of you, we noticed that our kids seemed distracted and frustrated from searching through excessive options. I also get cranky when I trip over toys and can't find what I need!
Furthermore, in order for our children's minority languages (Chinese and Korean) to stand out against the dominant English, we needed to make drastic changes.
Benefits of learning how to declutter with kids
In our experience, decluttering has made our days more peaceful and productive with our kids. We have seen the following benefits:
More independence
Less frustration
Better concentration
Greater creativity
Increased efficiency
More time to teach minority languages
Declutter before and after
There are few things as satisfying as a good before and after! Not only did we have too much clutter beforehand, but all of our kid's toys were disorganized.
A big part of decluttering is keeping up with the space. Once you've learned how to declutter, you now need to learn how to maintain it. For us, that meant changing our shelving and storage options.
The shelves and bins needed to become easily accessible so that our kids could grab their toys on their own for individual play.
Easy access also means easy clean-up. Your kids are more likely to put things away when they have a dedicated space that they can reach.
If you want to see how I achieved this declutter before and after, read on for the decluttering tips I used specifically for the kids and their playroom.
11 Decluttering tips to try with your kids
As with anything, the beginning was the hardest! If you're feeling overwhelmed, tackle one small bit at a time. Avoid taking on more than you can chew at once. Halfway through, you may find yourself out of energy or time and left with a bigger mess. That mess means even more stress!
So remember to start off small. Over the past few years, decluttering has gotten easier as it has become part of our family routine.
Here are 11 decluttering tips that have helped us get in the habit of staying organized with our children.
I know it can be overwhelming, but I sincerely hope these ideas can empower you to a fresh start!
1. Talk about the importance of learning how to declutter with your kids
The first step is to work on decluttering as a family.
Someone needs to take charge, but team effort will make it easier for everyone. This is something you can do with your kids even from an early age.
Brainstorm which approaches you want to take, such as Montessori and KonMari or a 30-Day Declutter Challenge.
Throughout the process, encouragement is important. My husband and I try to remember to thank each other and our kids for helping out.
We also point out consequences as they naturally arise, such as losing beloved belongings or tripping over something.
2. Be the example for your kids
This is perhaps one of the most important decluttering tips out of the bunch. Kids are little mimes to everything their parents do, so before we tackle the kid clutter, we need to set the example ourselves.
For instance, we might block out a day a month where the goal is to clean out a certain area, such as closets on Saturday and the kitchen on Sunday.
Rarely worn clothes are given to friends, local consignment stores, and thredup.com.
Extra kitchen tools and electronic gadgets are donated.
Junk mail is dumped in the recycling bin.
All of our billing is paperless, and most important documents have been scanned and saved electronically via the Genius Scan app.
In addition, our adult music and books are nearly all digital.
3. Don't organize what you can donate or discard
Before starting, the most important rules are to:
Determine what you want the space for, and
Keep only what you need
Organizing is futile when there is too much stuff. Sorting will be much more productive after you have donated or discarded unnecessary items.
If you haven't used something in a few months, you probably can live without it.
As you can see in my photos, we have had different shelves in our kids' play area, which is a corner of our living room.
Before fully de-cluttering, I made the mistake of purchasing cubed storage when rectangular shelving was better for our materials. Leaving this until the end would have stopped yet another unnecessary purchase.
4. Get rid of battery-operated toys
Despite all of the flashy advertising, kids do not need electronic toys.
While it's possible for kids to mimic letters and words heard from toys, rich dialogue and connection comes from human interaction.
From the Journal of Pediatrics:
"Electronic toys (eg, sensory-stimulating noise and light toys)… and tablet-based toys…detract from social engagement that might otherwise take place through facial expressions, gestures, and vocalizations and that may be important for social development."
Plus, plastic, battery-operated toys also have long-term devastating effects on the environment.
And in our case, English-speaking toys would sabotage our attempts at being consistent with speaking the minority languages – Chinese and Korean.
If you already have these toys at home, just take out the batteries so your family can do the fun talking and sounds!
5. Donate duplicate toys, art supplies, and clothes to other children
One part of decluttering that often goes untalked about is the waste. It's easy to put everything in trash bags and call it a day, but try to find a new home for as many items as possible.
Gather items that serve similar purposes to see what is redundant. These can be donated to other families, second-hand stores, or local organizations.
For example, since we have allergies to dust mites, we donated over 40 stuffed animals, including gigantic stuffies that cannot be washed. My kids picked their favorites to keep and chose which ones to give away.
Extra art supplies such as markers and crayons can be given to local schools and churches. Books that your family has outgrown can be donated to the library.
Things that can't be donated should be recycled if possible.
6. Put away outgrown toys
Available options should be developmentally appropriate. It's easy to hold onto items if it was once a beloved toy or for a different child to enjoy down the line. But has your child outgrown it? Maybe it's time to let it go and leave the space for age-appropriate toys.
Since my kids are three years apart, I try to organize resources at eye level into three categories:
Everyone (eg, blocks, Legos)
Appropriate for my 3-year-old son (eg, counting)
Suitable to my 6-year-old daughter (eg, elementary school materials)
If the toys are too challenging, the child will get frustrated and need parental help. So, see if you can simplify it or store it away and introduce it later.
On the other hand, if options are too easy, kids will get bored. These toys get in the way of finding relevant ones.
7. Keep open-ended toys and art supplies
Art supplies and open-ended toys promote skills that are so important for long-term success and happiness.
Wood blocks, Legos, and other building toys encourage independence, problem-solving, and eye-hand coordination.
A nice set of colored pencils or a fun water calligraphy set can encourage exploration and creativity for a wide age range.
These simple, versatile tools grow with our children. Honestly, kids probably don't need much more.
8. Limit purchases
As kids grow, shopping is still necessary for age-appropriate clothes, toys, and school supplies.
However, before carting an item, consider whether you "need" or "want" something. Encourage your children to practice asking this as well.
As a prevention strategy, some of my friends have canceled their Amazon Prime accounts to avoid regretful purchases! Amazon is my weak spot, and I can't give up free 2-day shipping!
But before entering Target or other stores, I talk to my kids about the shopping plan. They know we will not be getting anything else. When I involve them in writing and reviewing our shopping list, this reinforces our focused buying.
One other rule you can try implementing in your household is one in, one out. For every item you bring in, one item must leave. This is especially helpful with toys, clothes, books, and art supplies. Not only does it make you conscious about buying things you really want, but it also encourages you to routinely get rid of aging and unnecessary items.
9. Establish gifting guidelines for birthdays and holidays
This is one of the best decluttering tips I've come across for kids. Depending on your relationship with relatives, consider discussing limiting birthday and holiday gifts to a certain number.
For relatives who insist that presents are their love language, consider suggesting alternatives. Useful gifts include cash (eg, Chinese red envelopes), special experiences, or something on a curated wish list.
In lieu of boxed gifts at a birthday party or holidays, book exchanges celebrate literacy and are usually more useful than short-lived toys!
10. Make organization a regular habit
As I hinted at earlier, one of the best decluttering tips happens after the decluttering is done: keeping it clean and organized!
When the home gets messy as it naturally does, we expect our kids to participate in clean up.
By training them to do chores like dishes and laundry, they are learning practical life skills.
They understand that responsibilities come with the privilege of living in a home. They must do the work of life in order to be part of it.
To set our kids up for success, we make clean-up time a regular part of our children's daily schedule. kid items are kept in predictable, reachable, and visible locations. Commonly used items are often placed in open baskets.
We encourage each child to focus on one task at a time. Before starting a new activity, they should finish or put it away.
Of course, kids resist and test limits all too often. Stay positive yet firm but try to make clean up fun. For example, you can race to see who can finish the fastest!
11. Don't feel like your child is missing out with less
By following these decluttering tips, our kids have more space and opportunity to be creative and independent.
They have more time for free play inside and outside, which is incredibly important for their health and well-being.
Moreover, my husband and I can spend more quality time with each other and our kids.
Have you tried these decluttering tips?
What challenges have you experienced with organizing with kids? What solutions have helped your family minimize clutter?
Please leave a note below – I'd love to learn about your family's journey!
Creating a prepared learning environment at home
Happy decluttering, friends!