Kids Art Cart, Storage System, and Organization Tips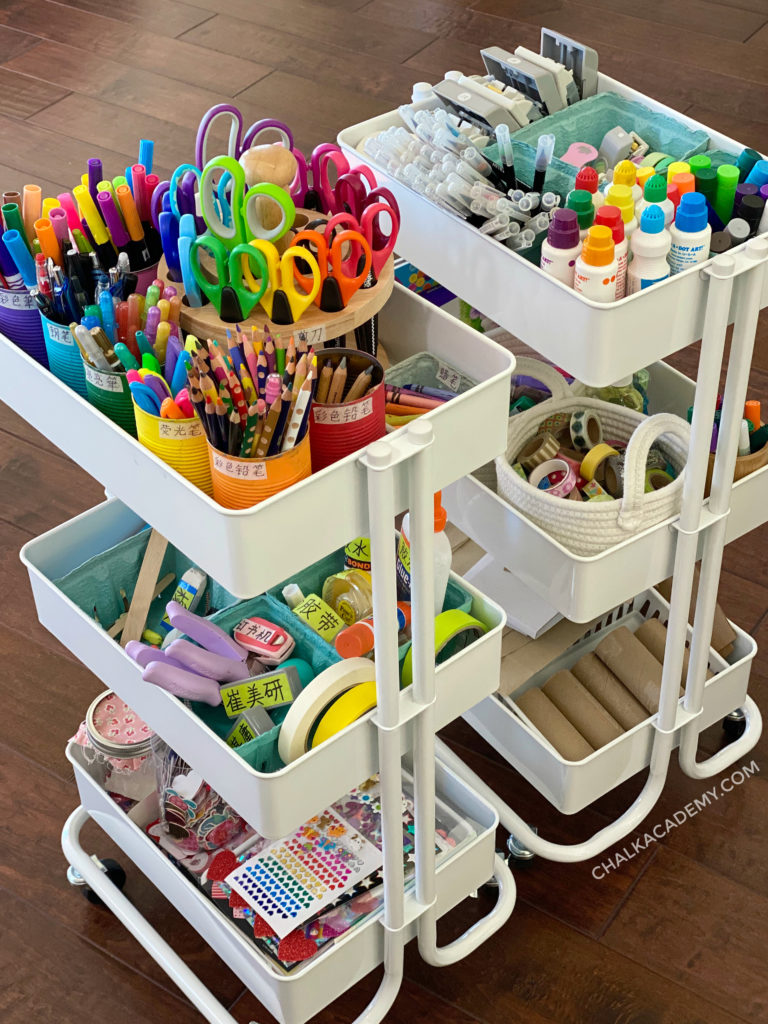 Art is amazing for kids to create and explore, but organizing art supplies can be daunting for parents and teachers. Thankfully, a rolling art cart is a simple solution! Over the past decade, we've attempted various arrangements, and art carts have the best organization system. I'll share how they give kids autonomy and tips for minimizing art clutter.
When you go through this post, please remember that it's normal for a kids' art space to be a work-in-progress. Organizing children's crafts and school supplies as they grow takes brainstorming and practice, so I hope these ideas can help!
Chalk Academy is reader-supported. Some of the links are affiliate links. When you buy something through an affiliate link, we may earn a small commission at no additional cost to you. More details here.
Benefits of an organized kids art cart and workstation
Independence: Like most busy parents, I don't want my kids to ask me to help them open or find materials 100 times each day. This is why every art supply is in an open container and has a designated spot in our art cart. The more they can do for themselves, the more they learn, and the more time we all have for other important tasks.
Creativity: Having easily accessible art supplies encourages my kids to have fun making whatever they want. They don't have to ask me for permission because I leave age-appropriate materials in their art station and reinforce where their "yes space" is for artwork.
Simplified clean-up time: My kids understand where things need to go by having consistent places to put things. Of course, they sometimes need reminders and positive reinforcement to clean up. But even at a young age, an organized art cart makes it possible to give them this responsibility.
How our kids art station changed from toddlerhood to the elementary years
Before I share our current setup, I'll show you how the area has changed over the years. Our kitchen, dining, and living rooms are part of an open-concept floor plan. We don't have space for an extra art or playroom.
Although my kids could easily leave a panoramic mess (and sometimes do), my husband and I are adamant about not letting "kid stuff" take over the house for our own sanity. Therefore, organization is the foundation of our kids art station!
Simple art baskets for toddlers
When my children were younger, we set up a little art station next to their small kids table. This was the original mini art station.
The simple setup worked well when both of my kids were under five.
By placing the basket atop a shelf, my son could not reach it when he was crawling and mouthing.
However, in hindsight, I would nix all markers so they could focus on using colored pencils or crayons. Limited options are better for younger children.
Pencils and crayons give proprioceptive feedback with use; depending on the pressure applied, kids will discover light versus dark results. This feedback teaches cause and effect and also encourages coordination and concentration.
From left to right:
Paper tray
Small baskets with handles so that little hands could carry them independently to the table
Small paper cups provided separation for some of the supplies to make them easier to find.
Basket with limited favorite drawings and crafts to minimize hoarding and clutter
Despite this designated station, my daughter carried everything back and forth between this little table and our dining table.
In addition, my older child constantly asked for more "grown-up" art supplies.
Small kids table and art cart
Then we tried moving the little table closer to the main dining table and got a rolling art cart.
The art cart was a game changer (details below), but my kids continued to prefer our dining table, which gave them more space!
So, for the past year, we've accepted that our dining table is also our kids' desk, homework, and art area.
Now, we have two art carts beside our kids' self-serve water, snack, and cleaning station.
Kids art storage essentials
Secrets to our successful dining room art center:
Kids art cart
Labeled art storage compartments
Regular de-cluttering system
Compartments are absolutely necessary for organization, and these are the bones of our art storage system!
Art cart with wheels for portability; similar here and here
Open containers for access and compartmentalization

Upcycled tin cans painted with a few coats of acrylic paint. These are perfect for holding writing and drawing utensils upright so you can easily find the necessary color
Recycled fruit baskets from the farmer's market
Our favorite cotton rope baskets!
If you don't have these recyclables on hand, here are some inexpensive solutions:

Zipper storage bags – Although we have many supplies stored in plastic Ziploc bags, we have been transitioning to these durable, reusable silicone bags
Labels – Essential for organizing and reminding my kids to speak Chinese, their minority language

DIY with painter's tape and Sharpie marker
Multilingual label maker if you prefer not to write
I'm going to show you what we have inside everything now!
However, please do not feel you need to get all these materials. Honestly, we would have far less if we completely refused all gifts from friends and family!
Inside our kids art cart
Art Cart #1: Commonly Used Kids School Supplies
Art carts are one of the best inventions because they have a small footprint, and my kids can easily wheel them to any seat on the table.
Our first art cart contains the daily supplies my kids use for homework, writing, and doodling.
Depending on your child's age and developmental level, I strongly suggest limiting options so they are not overwhelmed and have a better chance at cleaning up.
I also only include items that I can trust my children to use independently.
Therefore, Sharpie markers and paint are stored far, far away.
Until my toddler son becomes more mature, those art supplies require adult permission and supervision.
Top art shelf:
Regular scissors and a set of fun edger scissors with a spinning caddy that we received as a gift (similar here)
Prang groove triangular coloring pencils for my 6-year-old daughter
Lyra triangular coloring pencils for my 3-year-old son
Assorted markers
Rock crayons and regular crayons
Middle art shelf:
Rulers
Stamps and envelopes (eg, handmade greeting cards for writing practice and pen pals)
Multi-purpose glue, craft tacky glue, glue stick, single-sided and double-sided tape , painter's tape, white-out
Hole punchers and stapler
Bottom shelf:
Various stickers (eg, bilingual sticker learning activities)
Art Cart #2: Special Kids Craft and School Supplies
Here's a close-up look at our second art cart!
These supplies used to be stored away, but now I feel comfortable offering more materials to both children.
Top art shelf:
Various small and large shape punchers
Middle art shelf:
Cotton string
Various glitter glue
Washi tape
Puffy paint (see examples and tips for creating tactile Chinese and Korean words here as an alternative to Montessori sandpaper cards)
Here's another view of the art cart where you can see the middle shelf more clearly.
Bottom art shelf:
Recycled cardboard pieces, some cut into interesting shapes (eg, hearts, tree, cross, numbers)
Cardboard toilet paper roll in a tray
We encourage the kids to make recycled crafts and limit paper waste whenever possible.
By putting recyclables on this visible, open shelf, they are more likely to use it than new paper stored in our art cabinet.
Labeled art storage system with compartments
If you have limited space like us, a dining cabinet is a sleek way to hide art materials in an organized, functional, and stylish way.
I've moved things around a few times to figure out the most logical placement for my kids! Here's the "behind-the-scenes" of an organizing frenzy!
Inside our dining cabinet-turned-art storage system!
Here's a peek inside our art cabinet! Like our art carts, everything is labeled clearly in Chinese and sometimes English.
Left side of the cabinet
Top shelf:
Bottom shelf:
5-tier paper tray (similar here and here)

Colored construction paper
Lined paper for English writing
Grid paper for Chinese writing (printable Chinese writing worksheets here)
Chinese coloring sheets from my Chalk Academy website

Chinese character magnets
3-tier clear storage latched box

Paper clips
Buttons
Large clothespins, mini clothespins
These materials were intentionally moved to the left side of the cabinet to be closer to the art carts and dining table.
Previously, these craft and school supplies were on the opposite side of the cabinet.
After observing my kids more carefully, I realized they were wasting time walking back and forth.
The simple switch has saved time and energy and prevented complaints about something being "too far"!
Center drawers
Bottom drawer: dot stickers, googly eyes, bottle caps, baby wipe lids, and more cardboard!
My kids reuse plastic googly eyes by removing them from old crafts.
Middle drawer: Since the middle drawer is at eye level for my children, I put the most commonly used paper supplies here:
Origami paper for my daughter
Scrap paper and paint chips for both kids
Index cards
Post-It Notes
Colorful paper scraps are in a cute, heart-shaped tray to make upcycling more attractive.
Top drawer: This is filled to the brim with soft and stiff felt and felt crafts scraps. Honestly, I have a feeling that we will never finish all of these and will donate this to school someday!
My children are encouraged to check the scraps bag before cutting a new piece of felt.
Right side of the cabinet
Related: Homework Organization for Elementary Kids: Before and After Pictures!
How we organize and declutter art with the "one basket rule"
As I often mention, regular decluttering with my kids is necessary for maximizing efficiency and minimizing frustration in all spaces.
Although not perfectly, we try to minimize duplicates and remove things the kids rarely use.
One art basket rule
To teach my children how to prioritize and not hoard, they each have one art basket to store their favorite crafts. We use this cotton rope basket because it's lightweight with handles.
As the basket fills up, they must determine what to discard to make room for more crafts.
This teaches them to practice letting go of sentimental clutter.
We've had this "one basket rule" for a few years, and my daughter sorts through her art basket monthly. My son is trying, too.
Cleaning before eating
Since this table is used for everything, my kids are encouraged to clear the table before each meal by putting completed projects in appropriate baskets.
Incomplete projects can be placed on a large bowl atop the dining/art cabinet.
Occasionally, work can be left on the corner of the table, but this can become a slippery slope to clutter.
Then, we spray the table with mild dish soap mixed with water and microfiber cloths.
Stubborn Sharpie marker stains are removed with the Magic Eraser, which truly is magical!
We're still figuring out what to hang above the dining/art cabinet, and I'm open to any suggestions you might have. I've been considering framing some of my kids' art pieces or hanging family pictures, but I'm waiting for the right inspiration.
Anyway, I hope it was helpful to see the details and thought process behind our kids' art carts, storage systems, and organization tips!
Do you have a designated art station for your kids?
What does art look like in your home? What strategies have worked or flopped? I'd love to hear about your family's experience! Please feel free to share in the comments below.