Favorite School and Art Supplies for Bilingual Kids
Many have you have asked for a must-have list of school and art supplies, and I've finally put the list together! Although we probably have more craft materials than the typical family, this list includes what my kids and I use most frequently.
Related: Bilingual English / Chinese Labels for School Supplies + DIY Storage Cans
This post may have some affiliate links. If you click an affiliate link and make a purchase, I earn a small commission which supports this educational website at no additional cost to you. Please see the disclosure policy for details.
Must-Have School and Art Supplies for Bilingual Kids
This list of favorite school and art supplies is written with bilingual and multilingual families in mind. I'll highlight the star materials that we can't live without for language and general learning.
Note: You can conveniently find these materials in my Amazon Store under "Arts and Crafts".
See how we store them in this post: Kids Art Cart, Storage System, and Organization Tips
In addition to scrap paper and recycled cardboard, here's the general checklist of school and art supplies.
Graphite pencils and erasers
Colored pencils and chalk
Pens and markers
Scissors and cutters
Tape
Glue
Paper
Dot stickers and Post-It Notes
Rulers and stencils
Water calligraphy, paint, and paint brushes
Please scroll down for product photos and shopping links!
1. Graphite pencils, erasers, pencil sharpener
My 6-year-old daughter uses pencils everyday for copywork and making handmade cards, while my 3-year-old scribbles and draws lines/circles.
For little hands, you want short, triangular pencils which promote a tripod grasp and are easier to hold.
Older kids and adults may benefit from pencil grips for more ergonomic, comfortable handwriting.
2. Colored pencils and chalk
Compared to markers, pencils have the benefits of being more tactile and detailed with results dependent on the pressure (eg, dark versus light) and approach (stippling versus smooth strokes).
Since my kids are 3 and 6, we have pencils that are ergonomic for little hands.
Chalk also has the benefit of proprioceptive feedback. The kids can also be active playing outside while exploring drawing and writing.
We have fun with sidewalk chalk activities like hopscotch to review Chinese characters!
When my kids are older, I'd love to get a set of Prismacolor Premier Colored Pencils, the standard colored pencils for artists! My teenage nephews regularly use Prismacolor colored pencils for their sketches!
3. Pens and markers
Although my kids rarely use pens and Sharpie markers, I use them everyday to write notes to my kids.
In order for words to stand out and create a legible, print-rich environment, I recommend black pens and black Sharpie makers against a white or light-colored sheet of paper.
For kids in the pre-writing stage, highlighters are fun and fantastic for tracing over adult handwriting.
Other dry erase markers on our beloved easel, I don't have a favorite set of markers to recommend as they all tend to dry out in our experience.
For the reasons mentioned above, I generally try to encourage my kids to use pencils rather than markers. Older kids also tend to outgrow markers; my 3 teenage nephews stopped using them during elementary school in favor of pencil and other mediums for drawing!
4. Scissors and cutters
The opening and closing motion of cutting with scissors helps strengthen fine motor skills for cutting. Both of my children began learning to cut with scrap paper and playdough before cutting precisely on lines. Parents magazine has more tips on improving scissor skills.
Below, I've listed my favorite scissors for all ages. We also received a set of edger scissors which are not necessary but my daughter loves them!
5. Tape
Most of you probably already have transparent tape at home. We also often use painter's tape as a safe and easy way to hang up projects (like this Christmas snowman countdown) and do tape-resist word art!
6. Glue
Glue is also something you probably have at home. It's also convenient to create tactile words like this chalk eggs glue resist activity or teaching moon phases with glue resist.
We also prefer tacky glue over hot glue gun for cardboard projects. Tacky glue is thin and seems to have similar stickiness without the extra mess or danger of a hot glue gun around a toddler.
7.Paper
Because kids can easily waste paper, I recommend using scrap paper and cardboard as often as possible. Cereal and snack boxes are the easiest to cut, and we also regularly upcycle shoe boxes (like for this diorama) and larger packages.
For printable bilingual activities from my website and general use, I recommend the following brands:
8. Dot stickers and Post-It Notes
If you're going to get anything on this list for language learning, dot stickers and Post-It Notes should be in your cart.
With a black Sharpie marker and dot stickers, I can quickly set up fun sticker activities to help with memorizing Chinese characters. While we have used stickers for Korean learning activities, we actually have not done them for our dominant language, English.
With Post-It Notes, I can quickly label objects around the house, highlight new words in Chinese books, or write reminders to myself.
9. Rulers and stencils
10. Paint
Because many parents are worried about paint being too messy for home use, I've listed painting options last.
Paint won't be used as regularly as the above school and art supplies. However, they can make reading, writing, and speaking the minority language more interesting and memorable!
In addition to the aformentioned stickers and Post-It notes, our water calligraphy mat, brush pens, and puffy paint are our special writing materials.
Of course, these can be used with any language, but we try to reserve for Chinese or Korean. The goal is for minority languages to be associated with unique experiences whenever possible.
For mess-free painting:
And for parents who are more comfortable with exploring art at home, here are our favorite paint media.
Organized craft supplies in kids art cart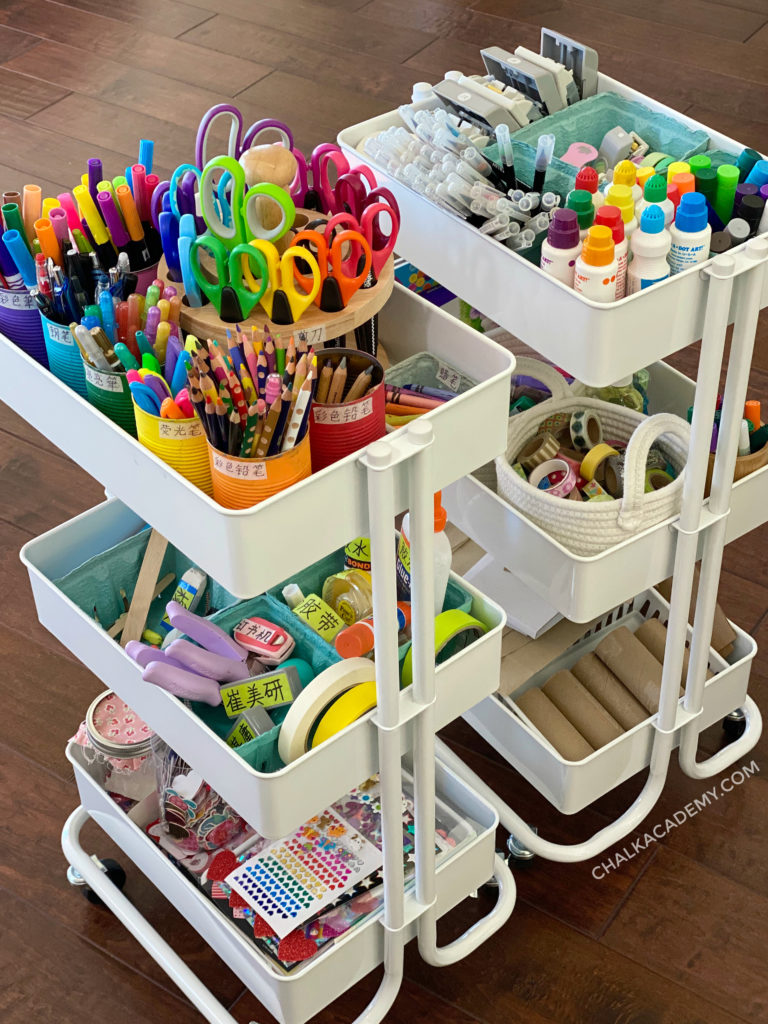 For tips on encouraging art at home, read about our kids art cart and organization tips!
What are your favorite school and art supplies?
In your home, what school and art supplies do you and your children use most frequently?
Do you have craft materials openly accessible or do you store them in a cabinet?
I'd also love to hear which CHALK Academy activities or resources have been most helpful for your family.
Please share in the comments below!
More bilingual and multilingual home learning tips
Learning activities for every topic!
To sign up for our educational newsletter, please click the button below.
What is your child interested in today? Click below to explore activities and books that your child will love.
Happy playful learning, friends!