Best Montessori Inspired Educational Toys and Homeschool Materials on Etsy
Many parents have asked for recommendations on quality Montessori toys that they have seen in our Montessori-inspired home learning environment.
I love supporting small businesses, and I'm excited to share our favorite educational Montessori toys that have been fun, useful, and durable over the last several years.
As a pediatrician and former homeschooling parent, I believe that hands-on activities have a positive, long-term impact on childhood education.
This post was originally written on June 1, 2018 and has been updated with new information. It contains Etsy and Amazon affiliate links. Please see our disclosure policy for further details. All items were purchased on my own, with the exception of the following which were gifted by the Etsy shop owner: Numbers puzzle by Treasures from Jennifer and Music Note Puzzle by Mirus Toys.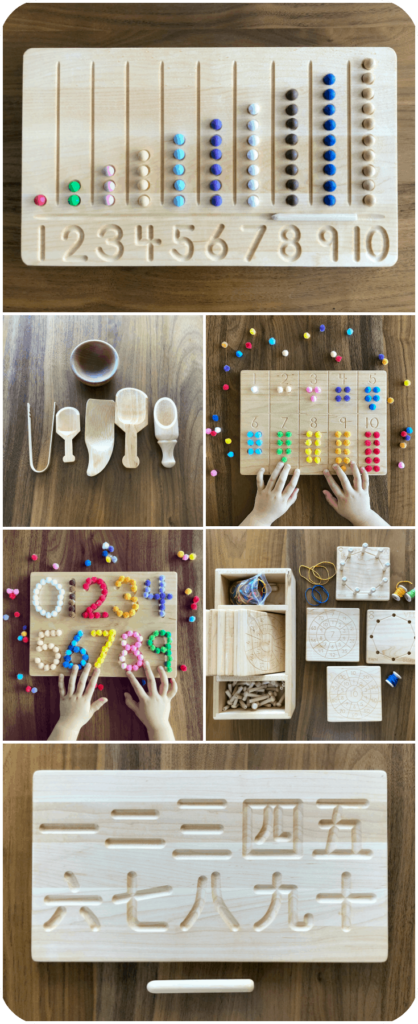 Educational Montessori toys on Etsy
Here is a list of our favorite Montessori inspired learning toys from Etsy with examples of how we have used them! Each link will take you to the relevant Etsy shop. As a believe in careful consumerism and honest reviews, I'll highlight which toys were most useful and others that have been "nice to have" but not necessary.
More educational gifts for children
The best Montessori toy for all ages
If I had to pick only one item on this list, I would choose this calendar in a heartbeat. Although we have a fun calendar printable in English and Chinese, I couldn't help but get a beautiful wooden calendar board for my daughter's birthday.
This is a quality calendar that can be passed down generations, and you can customize the language. We use it everyday and a bought another one as a gift to my daughter's Chinese teacher. I am grateful that this shop creates products in multiple languages!
Wooden math toys for toddlers and preschoolers
For toddlers and preschoolers who are mastering basic numbers, puzzles are a fun and effective way to learn how numbers look. Typically, I present the puzzle incomplete as shown above. This set up gives kids an incentive to work on the puzzle! I would say this toy is a "nice to have" but not a must have. My 4.5-year-old son began to play with this when he was around 2 years old and recently outgrew it; meanwhile my daughter learned her numbers without the puzzle.
This beautiful wood board comes with wooden balls and a wood tracing stick. The wood balls have been fun for my children to explore creating different designs, such as the hexagon shape shown below.
In addition, the beauty of this board is that you can use any loose parts for learning, including the following:
Flowers to decorate the numbers and create patterns (eg, odd and even numbers)
Fine motor counting with pom poms and practicing 1:1 correspondence. We used these colorful 0.4″ pompoms for this number board.
I would also consider this as "nice to have" but not a "must have". My daughter loved and played with this countless times while my son has used it less often.
The double-sided numbers tracing and counting board also be created in different languages. We love that we can reinforce our children's minority language, Mandarin Chinese, with educational toys like this.
Wooden math toys for elementary school
I initially was not planning on getting a Hundred Board since my daughter has learned so much from our fun printable Hundred Chart in Chinese, English, and Korean. But I'm glad I got this hands-on counting board, because both of my children have played this so many times over the years.
This wood hundred board has been a great way to strengthen fine motor skills while working on color patterns as well as counting and skip counting practice! In my opinion, this math toy has the biggest bang for the buck compared to others in this list. Check out 10 fun ways we've used the wooden hundred board here!
We really love this wood clock toy, because it is simple, focuses on the concept with no frills, and fits perfectly in our children's hands. As with other Treasures from Jennifer products, the wood is sanded smoothly and has no rough edges or sharp corners.
In contrast to the popular Melissa and Doug clock toy which has shapes and other distractions, this neutral clock toy is the one that truly helped my daughter understand how to tell time!
See Teach Kids Time with Simple, Hands-On Clock Activities for more clock learning activities!
For children in elementary school, we like this set of reversible wood geometry boards and multiplication circles. While it's actually a Waldorf tool, regardless of your school's learning pedagogy, this can be helpful for shape/pattern recognition and basic multiplication skills.
See 10+ Math Resources for Children Learning Chinese for more tools!
Montessori language toys on Etsy
Since my kids are also learning Korean, I was excited to get the Hangul Alphabet wood tracing board! We also have both versions of the gorgeous English alphabet boards: printed lower/uppercase letters and cursive lower/uppercase letters!
If your budget allows, I would consider getting the letters as separate blocks rather than combined in a big board. Separate tracing boards would allow your child to focus on one letter at at time.
The board is much more than a tracing board! You can use pom poms, beads, and beans as shown with the other tracing boards. My kids have also explored filling the letters with rice as a sensory activity! We made rainbow rice with expired rice, a few drops of food coloring, and 1/2 teaspoon of vinegar.
While these boards are also gorgeously made, we unfortunately have not used them as much as other families. Both of my children have been learning writing organically through self-motivated copywork, dictation journal, and making cards for friends and family.
Wood Montessori inspired puzzles on Etsy
One of my daughter's favorite puzzles combines her love of music and math! The natural wood music notes puzzle also teaches children the relationship between different beats in fraction form.
The downside is that the fraction numbers are difficult to see. I would prefer if they were solid font rather than block font. I also wish that the puzzle came with a picture of the completed puzzle for children who could benefit from a control reference.
If you're looking for science materials, definitely check out the lovely Etsy store MirusToys. My daughter loves these beautiful puzzles about the carbon and water cycles which come with information cards. One downside is that there are no controls for the puzzle, so I suggest taking a photo of it so your child can use it as needed for reference.
Both of my children have had such a blast with this large felt world map! The colors are consistent with Montessori geography materials, and the kids love putting their toy animals on the map.
Read my detailed review of our Montessori felt world map and pair it with our fun printable Montessori Animals and Continents Activities (Chinese, Korean, English)!
Fun toys that strengthen motor skills
For practical life skills, both my kids practice twisting the screws and nuts onto the bolts with this board from Momtessori. The nuts and bolts board have 4 different sizes in order arranged large to small. These nuts fit with the screws in the screwdriver board. My kids are in awe of the "cute baby screwdriver"!
Since MOMtessoriLife's screwdriver boards are often out-of-stock, consider these similar options:
My kids love these adorable mini scoops and tongs! These are perfect for sensory bins with expired dry rice, beans, or pasta.
When we're stuck at home, my kids love climbing and sliding on the pikler climbing triangle! This has been such a fun way for kids to get their energy. They also love pretending that it's a tent and hiding under it as shown in the above picture. Since my son recently outgrew the climbing triangle, we gave this to our friend, and her 10-month-old baby is getting lots of exercise with it.
Which wooden Montessori toy is your favorite?
I'd love to hear which Montessori toy you chose for your family or school! Please share your experience in the comments below or tag @chalkacademy on Instagram. I hope your family benefits from it as much as mine.
Best puzzles for children
If you are looking for high quality, educational puzzles, check out our favorite puzzles for kids of all ages and tips for getting started.
Best open-ended toys for kids
Here are our top 10 open-ended toys for creativity and learning!
Happy learning, friends!