10 Survival Tips for Working While Homeschooling
Over the past few years, I have gradually made the transition to work-at-home homeschooling my 6-year-old and 3-year-old kids.
Normally, working while homeschooling takes a while to figure out, so please give yourself grace if you've been suddenly flung into this situation.
This post may have some affiliate links. If you click an affiliate link and make a purchase, I earn a small commission which supports this educational website at no additional cost to you. Please see the disclosure policy for details.
This is not normal homeschooling. This is crisis schooling.
The balancing act is challenging, even if you're used to multi-tasking under pressure, because we weren't meant to parent alone on top of work.
However, preparation and a positive mindset can make the days go more smoothly.
10 Survival tips for work-at-home homeschooling parents with young kids
Here are 10 survival tips that I've learned along the way!
I hope some of these insights can help your work-at-home homeschooling days!
1. Pen down the positives
If I wake up feeling like it's a lose-lose situation, then I've already lost the battle. But if I start the day by thanking God for each and every blessing, our whole family is already on a better path.
While I don't believe in toxic positivity, the poem above by Chelsea Lee Smith has specific examples of how a change in mindset can set the stage for a positive day.
2. Have realistic but flexible expectations
Working at home and homeschooling is going to look very different from a 9-5 desk job or traditional school schedule.
With kids around, work will usually have interruptions, and both of my kids have sat in my lap at some point while I finish typing at my computer.
Therefore, back-up plans, such as working when kids sleep, will be needed to maximize productivity.
As for homeschooling, academic coursework usually takes much less time compared to traditional schools.
Toddlers and preschoolers can simply play with open-ended toys or whatever they want.
For example, they are learning math for free – without workbooks – simply by lining up toy cars or building with blocks.
For older kids, a common rule of thumb is that elementary school takes ~1-2 hours per day, middle school ~2-3 hours per day, and high school ~3-4+ hours.
However, the pace will vary with each child.
The beauty of homeschooling is that you can adjust learning to your family's schedule!
If you're a couple weeks behind in spelling, it's really not a big deal in the grand scheme of things.
3. Declutter, declutter, declutter!!!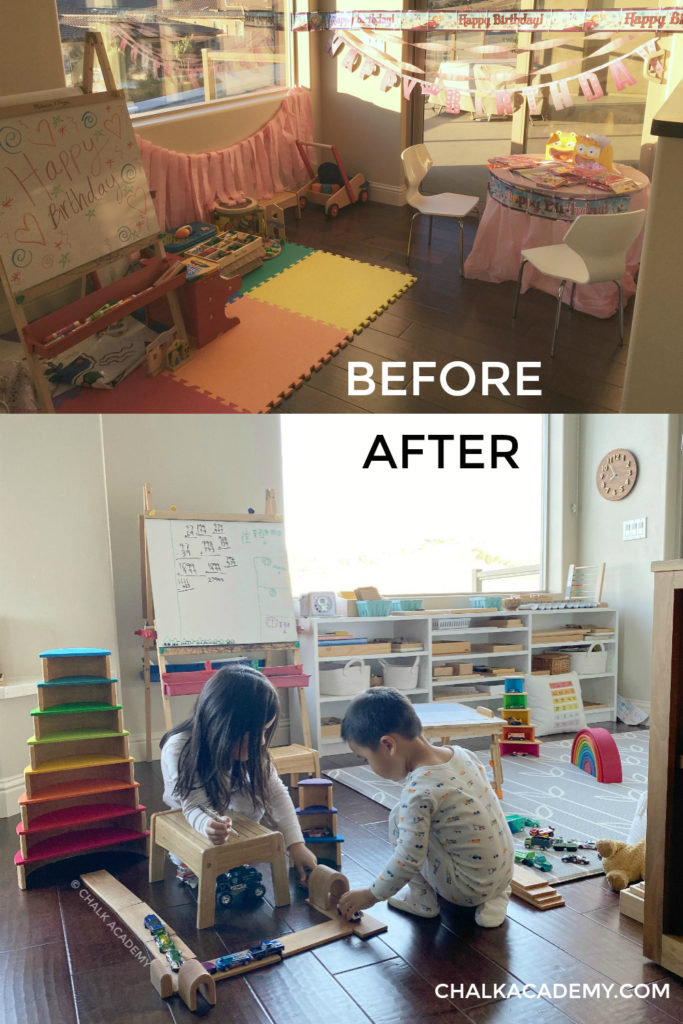 4. Create a safe "yes" space
Safety is the first priority.
Remove any toy or material from the space that requires significant parental help and supervision.

Example 1: No Legos for my toddler unless Daddy's home to help!
Example 2: Put food in containers that kids can open independently.

Make favorite books reachable and accessible.
Offer non-toxic cleaning supplies within reach to encourage clean up.
5. Have a visible work-at-home homeschooling schedule
Create a visual routine chart or written schedule of the typical day. Kids can help draw pictures or write the schedule depending on their developmental level.
During the work block, point it out on the schedule and prepare work materials.
6. Connect with your child
Start the day giving undivided attention to your child (eg, put away your phone/computer)
Check-in with cuddle breaks. Even a few minutes of close connection can be reassuring for a child.
Young children may need to sit near parent during work time. Offer work that seems important and similar to parent's work so he or she feels included.
Thank them for their patience.
7. Plan ahead
Dedicate one night or weekend to plan simple learning activities. Throughout the week or month, you can gradually introduce these activities.
Meal planning can be blocked off to weekends to remove some burden from the weekdays.
8. Everyone helps with chores
On a daily basis, involve children in practical life skills (aka chores)
Here are our favorite cleaning supplies for kids!
Don't worry if you can't get to every chore. Laundry can stay in the basket if you need to get other stuff done or go to bed. Give yourself a break!
9. Special tips for work-at-home homeschooling parents with babies
Babywearing! Walk around while carrying baby in a sling or baby carrier to help baby nap. Then you will have free hands to work during naptime.
Set up a safe "yes" space for babies and toddlers to explore. The Kavanaugh Report has a helpful guide for creating a Montessori-inspired baby space.
Remember that this age group does not require structured activities. Everything in the world is naturally new and exciting!
Welcome older siblings to help so they feel important. Gradually, they can learn important skills, such as how to change a diaper and give a bath.
10. Take care of yourself
Drink water, eat healthy, and call a friend or relative for support.
A few times a week, try to block off some time for exercise that you can do next to your kids or after they go to bed.
Do you have other survival tips for work-at-home homeschooling parents?
Please share in the comments below! We are all learning as we go, and we can encourage each other!
More about work-at-home homeschooling
You've got this, friends!