Almost a year ago, despite being illiterate in Chinese, I taught 老大 (lǎodà / oldest child) how to read Chinese at age 3. Now 老大 can read short stories on her own, and I can read almost as well as her!
This dream came true with the help of Sagebooks Sage Formula Beginner 500《基础汉字500》.
Disclaimer: I have no affiliation with Sagebooks HK and have received no compensation for this review. All opinions here reflect my personal experience.
Review of Sagebooks Chinese for Kids Beginner 500《基础汉字500》
I first heard about Sagebooks through other parents (eg, GuavaRama and Mandarin Mama) who successfully taught their children how to read traditional Chinese characters. Grateful for their recommendation, I wanted to echo our positive experience with learning simplified Chinese.
ISBN:
Simplified Chinese with pinyin and English 基礎漢字500

简体版

– 9789888239726
Traditional Chinese with pinyin and English 基礎漢字500

繁

体版

– 9789888239733
Author: Lucia L. Lau

Publisher: Sagebooks HK
Where to buy Sagebooks 500《基础汉字500》
The retail price of Basic Chinese 500 (Full set) is HK$ 1900 at Sagebooks HK and the conversion rates vary by region. You can buy the books at the following locations:
Overview of Sage Formula Basic Chinese 500 《基础汉字500》
The Sagebooks curriculum teaches the most commonly used 500 Chinese characters. The books are color-coded into 5 sets:
Blue = Beginning Reader
Green = Budding Reader
Orange = Building Reader
Pink = Confident Reader
Red = Fluent Reader
Each set has 5 books with 20 lessons per book (5 x 5 x 20 = 500 Chinese words).
Take a look at the video below to preview the first book (traditional Chinese version).
When to considered leveled readers like Sagebooks?
Leveled Readers are books for children who are ready to read Chinese characters. For advice on when your child might be ready to read, please refer to When and How to Teach Chinese Characters to Kids?
These books are different from Chinese picture books which parents should read young children daily.
Picture books are an important bonding experience between parent and child. They also give parents the chance to model good reading habits and also expand vocabulary and grammar beyond routine conversation.
Please see the "Books We Love" section of this website for recommended Chinese picture books for kids.
Why do we recommend Sagebooks 500《基础汉字500》?
Whole word method
In contrast to other curricula that first teach radicals or phonics (eg, Pinyin, Zhuyin), this series teaches each character as its own component
Spaced Repetition
Retention occurs naturally while the reader gains confidence from practicing familiar words in various sentences:

Each lesson focuses on 1 new Chinese character and begins with an enlarged character showing stroke order.
The new character appears several times within a lesson
Subsequent lessons build on earlier lessons
Context
Except for the first lesson, new words are always introduced with earlier words so that children are learning how to read phrases and sentences immediately. This is better than the flashcards which offer no context.
Large font
The Chinese characters are in large font while the pinyin or Zhuyin and English are in small font. As a result, the characters are the main focus.
Simple illustrations
Cartoons serve as contextual prompts for new words, but their simplicity keeps the focus on the characters.
Initially, the pictures may seem random, but 老大 quickly noticed that the same family, friends, mountain, and animals are present throughout the series. Also, 老大 noticed that all females have pink ovals on their cheeks while all males have swirls.
Audio/Video
Sagebooks Parent guide
Their website has a blog in English and Chinese detailed tips on how to learn Chinese with Sagebooks.
Freeb Sagebooks worksheets
Free coloring pages, writing grids, and other learning resources are available on their website.
Also check this link under the "免費下載練習 Free Practice Sheets" section.
Customer service
I've contacted them a few times through their Facebook page with quick replies each time.
For example, although I had ordered all of our books through China Sprout who had sent one of our sets without a box cover, Sagebooks HK immediately shipped me a brand new replacement!
Free printable Sagebooks flashcards and writing worksheets
Due to popular request, I have created Chinese flashcards and writing worksheets that you can use to supplement the Sagebooks curriculum. The Sagebooks flashcards have Pinyin and English definitions at the back for reference.
The writing worksheets also have Pinyin and English definitions.
You can download them in the following links:
Simplified Chinese characters
Traditional Chinese characters
Please note that these are not official Sagebooks products and that we have not used them personally. My daughter was able to memorize the characters quickly from reading, and we did not begin writing at the time.
Guavarama also has many printable supplemental materials for Sagebooks. These include Chinese flashcards, hundred board, heteronym reference sheet, and Skritter characters lists.
What age to use Sagebooks
The age range will vary depending on the child's spoken fluency, print awareness, and attention span. My daughter was ready to read Chinese at age 3, and I found the series helpful in my thirties! 🙂 However, interest in the content will vary from child to child.
I do not recommend Sagebooks for babies and young toddlers who would benefit from stories with realistic images rather than cartoons.
How did we use Sage Formula Basic 500《基础汉字500》?
老大 knew a little over 100 basic Chinese characters before starting Sagebooks through various activities.
老大 and I read 1-2x per day for a few minutes at before her nap and again at bedtime. At the start of each lesson, we traced the new character with our fingers following stroke order. Then, we would take turns reading each page.
I'm so glad that we bought the whole set because 老大 was very motivated to progress to "the next color". She would peek at the pictures and be curious to learn about the next stories.
Every day, she read the books in the bathroom and car, and we completed the 4th book (pink confident reader) after about 3 months.
However, we had to take a break before the 5th book (red fluent reader) as my daughter was going through an anti-reading phase. During this time, we focused on hands-on Chinese activities to rekindle her interest. After a few weeks, we got back into our reading groove and finished the last set.
Sagebooks recommends that most children should not rush and would benefit from 1 lesson per day, thereby completing the series within 18 months. Although I was worried that my 老大 had finished the series too fast, she retained almost all characters and can read many other books independently!
Photos inside Sage Formula Basic 500《基础汉字500》
Here are pictures of the simplified Chinese books we used:
Any downsides?
Yes!
Lack of page numbers
I wish there were page numbers in the version that we read. When I provided feedback to Sagebooks, they said "We had initially wanted to keep things simple for the child. But after receiving many requests from teachers and parents, we have since added page numbers to the later editions."
Cartoon illustrations
I was surprised that the author, a Montessori teacher, chose cartoons for illustrations. Realistic illustrations are more educational and support the text better than cartoons, especially for young children.
Lack of a storyline
The stories may be boring for older children, but this was not a problem for my toddler.
Cost
The set is very expensive. Why is Chinese learning so expensive? My parents would not have been able to afford this series during my childhood.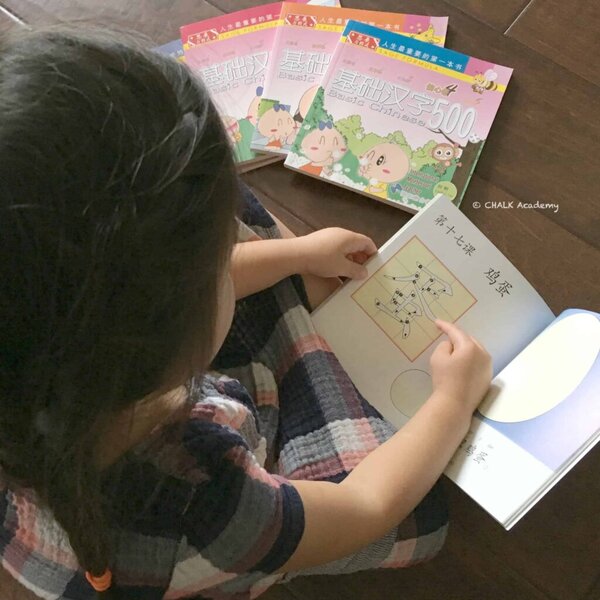 How does Sagebooks compare to other beginner readers?
Click on the below links to see my reviews of other popular Chinese leveled readers that we have used:
老大 and I have enjoyed using each of these curricula. However, I think the first two are better for reading practice after Sagebooks.
Greenfield does not have much spaced repetition, and 四五快读 has too many Chinese characters on a page for new learners. Also, 四五快读 has no audio.
Odonata might be okay as a single curriculum. However, since Odonata does not have as much spaced repetition, especially as the levels become more advanced, many parents have to supplement with activities and other reinforcement.
(Edit 3/31/2019: We recently completed 樂樂文化 Le Le Chinese Reading Pen, a set of 300 booklets that teaches 1000 Chinese characters with the help of a reading pen. This is an excellent series for non-native families to practice Chinese reading and broaden vocabulary. Please see Chinese Leveled Readers: Comparison of Graded Books for Kids for more details).
In summary, I highly recommend Sagebooks Basic 500.
Still undecided? Check out these helpful Chinese homeschooling blogs Mandarin Mama and GuavaRama for their detailed reviews on how their children used Sagebooks to learn Chinese.
Where to buy Chinese books for kids
For more Chinese book recommendations for kids, please visit and bookmark this link of our favorite books! Every week, I will be adding book reviews to this website!
If you're wondering where to buy Chinese books for children, please click here for a list of the most popular online bookstores!
Free Chinese Books for Kids
Recommended articles about how to teach kids Chinese
Bilingual English and Chinese Facebook Parent Support Groups
As always, please leave a comment with any questions, and I'll try my best to answer them! Or better yet, ask other supportive parents in these bilingual Facebook groups:
Happy reading, friends!