Chinese Leveled Readers: Comparison of Graded Books for Kids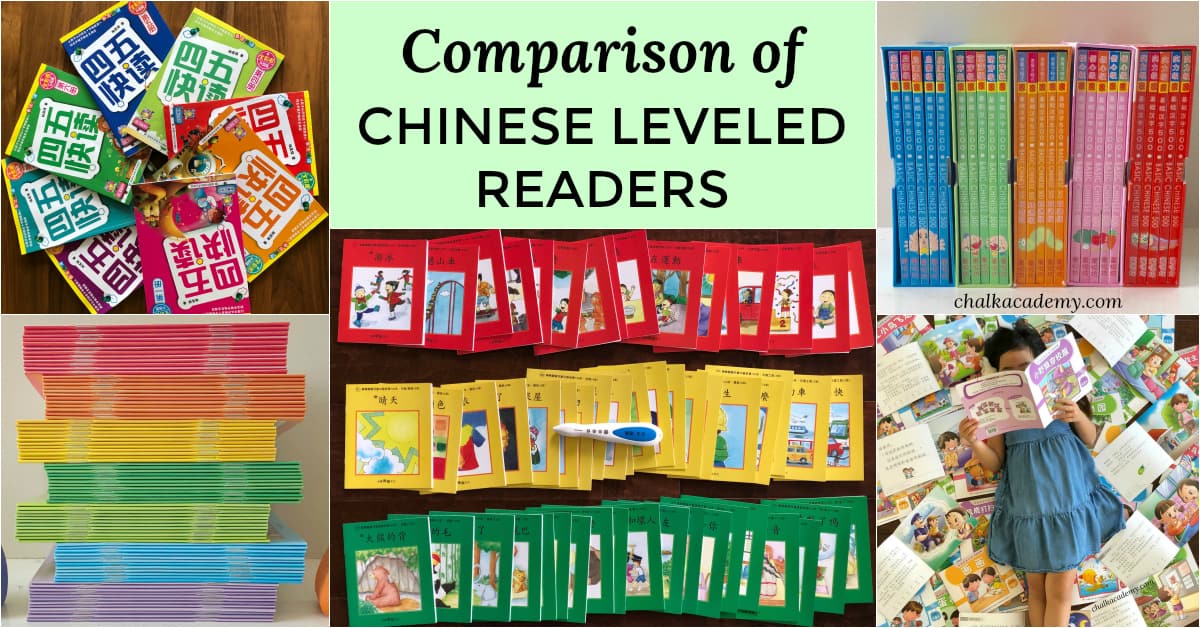 Leveled reading is a literacy strategy that encourages children to read books that match their reading abilities. Also known as Chinese graded or guided readers, a leveled book series is organized by difficulty level. Chinese leveled readers begin with simple words and phrases and progress to sentences, paragraphs, and stories.
Over the past few years, leveled readers have been a huge part of my journey in raising multilingual children as a non-fluent parent. My daughter and I have read numerous leveled Chinese books, and I plan to use many of these with my son. Leveled readers have been immensely helpful in teaching us how to read Chinese.
Many parents have asked for advice on which books to get, and I think the answer depends on the family's circumstances. I'll try to be objective in this overview.
Before kids start using a program to learn Chinese characters, they should first be able to speak Chinese consistently. You can also look for signs of readiness to learn Chinese characters.
For details about our personal experience, please read How I Taught My Child 1000+ Chinese Characters as a Non-Fluent Speaker.
Explore this: Luka Reading Robot is a Game Changer for Bilingual Families
Benefits of using Chinese leveled readers for kids
Leveled readers are effective in helping children and adults learn to read. The main benefits include:
Growing confidence in the ability to read and understand most words on a page.
Following a system without needing to plan your own curriculum.
Feeling a sense of accomplishment as the learner progresses to the next book and level.
Chinese leveled readers versus Chinese picture books
Leveled readers differ from regular Chinese picture books, which all children should be enjoying with their parents. If your child doesn't seem ready to learn Chinese characters, come back to this post later and focus on reading regularly and for fun.
When your child is ready to learn to read, you should still continue reading other favorite picture books out loud and listening to Chinese audiobooks.
Leveled readers are designed specifically to target a goal number of Chinese characters by providing the following features:
Font: Large and standard KaiTi font for beginner readers; smaller at higher levels
Layout: Beginner readers should have comfortable spacing between words and sentences on a plain white background, separated from images. Complex books will have fewer images, and sentences may begin in the middle of lines or extend to the next page.
Length: Single line per page and progressively increase to multiple lines of text per page to prepare a child for early chapter books.
Vocabulary: High-frequency words and phrases with repetition, which progress to sentences with proper Chinese grammar and common idioms. Organized leveled readers generally have a goal of teaching a certain number of Chinese characters.
Illustrations: Images provide context and can help a child decode and understand new Chinese characters. Advanced books will have less image support and require more decoding from text.
Content: Beginner books have relatable, common topics with simple plots. Eventually, stories will have plots with a beginning, middle, and end and require more interpretation.
Audio: Some leveled readers include word-for-word, sentence, and/or story narration through MP3, CDs, or reading pen.
Table comparison of book-based Chinese leveled readers
Although our family has numerous Chinese leveled reading sets, I will highlight the 5 series that have been most beneficial to our family and others. These book-based series require a range from some Chinese proficiency to native fluency. The links below are for each dedicated review, but please keep reading for side-by-side comparisons.
Pros and cons are from our perspective as second language learners.
I have excluded other Chinese readers, such as Shapes, Taoshu, and Chinese Library Series, which lack specific Chinese character counts. However, these books have relatively large fonts and are great for reading practice.
We have not used popular digital Chinese reading programs like Little Chinese Readers and Little Fox Chinese. However, these are good options to consider for those who have budget and space constraints and don't mind screen time.
Comparison photos of Chinese leveled readers
Here are side-by-side photos of the aforementioned Chinese leveled readers. Please look carefully at the layout, content, illustrations, and other features to see which would best suit your family's needs.
In these photos, you'll see that Sagebooks and Greenfield teach children to read sentences, 四五快读, and Odonata teach children to read progressively longer narratives, and Le Le falls between these two groups for final difficulty level.
Photos of the first level of each Chinese leveled reader
First book of Sagebooks (top) versus Odonata (bottom)
Both begin with single characters and end with simple, repetitive phrases. Sagebooks teaches Chinese stroke order through a large block font and square grid. Odonata shows stroke order steps in small font at the bottom of the page.
In Sagebooks, Pinyin and English are provided for all characters, while Pinyin is used only for new characters in the Odonata series.
First booklets of Le Le Chinese Series (top) versus Greenfield (bottom)
Both have realistic pencil illustrations (slightly more detailed and clear in Greenfield) and introduce several characters per story. Greenfield books include tear-out flashcards.
First and last lessons in 四五快读 Book 1
Several characters are introduced simultaneously, with more than one line per page. Sentences overflow into subsequent lines.
Photos of the most advanced level of each Chinese leveled reader
Last lesson in the last book of the Sagebooks series
Sagebooks consistently teaches one character per lesson with spaced repetition. At the end of the series, the child should know approximately 500 characters and read one sentence per page.
Last book of the Le Le Chinese readers (top 2) versus Greenfield (bottom)
When a child reaches the green (advanced) level of the Le Le series, he or she should be able to read approximately 1000 characters. Sentences are long and in paragraph form (3-5 lines of text).
After a child completes the Greenfield series, he or she will know about 840 characters and comfortably read two lines of text per page.
Last book of 四五快读 (top) and Odonata (bottom)
四五快读 teaches 825 characters, while Odonata teaches 1200 characters. Both of these books prepare children to read long picture books and early chapter books.
Questions to consider before Chinese leveled readers
What is your family's budget?

Chinese learning is an expensive endeavor; Sagebooks, Le Le, and Greenfield cost several hundred dollars.
Odonata and 四五快读 are among the least expensive options.

Who will be reading with the child? What is the fluency level of the caregiver/teacher?

Sagebooks is helpful for non-fluent families due to the English translations and consistent Pinyin support.
Le Le's reading pen is the best audio option and a must-have for non-fluent families.
Audio options are less important if the parent is fluent and can help the child with any questions.

Which Chinese language is your child learning?

Does your family speak Mandarin and/or Cantonese? If both, the Greenfield series would be a fantastic option since both languages are included in the CD.
Does your family read simplified and/or traditional Chinese? Odonata and 四五快读 are the least expensive options.

What other books do you have at home?

Do you have other simple books at home that can provide adequate reading practice? Do you have time or skills to make your own personal books for reading practice? Can your child read them independently?
Consider your current options before investing in more leveled readers.

Can your child read other languages?

If your child has learned to read another language, consider their strengths and weaknesses during that process, what types of books they were drawn to, and how much practice they needed before advancing to higher levels.
Please note that it is NOT necessary to have all of these leveled readers, especially if you are a fluent family. Some children will need more practice than others, depending on their speaking fluency, comprehension skills, and caregiver support. No "one-size-fits-all" approach exists.
Which Chinese leveled readers should you get?
Most families will need at least one leveled reading program in conjunction with regular story books. Our children's generation is lucky to have many options for Chinese reading practice!
It depends on language fluency
If you speak fluent Chinese and use simplified Chinese…
Save money and get 学前阅读计划 Odonata and/or 四五快读 4, 5, Quick Read.
If you cannot speak Chinese well or even at all…
Invest in the 樂樂文化 Le Le Chinese Reading Pen. The reading pen will help you speak Chinese and read simplified OR traditional script. These books also function as simple storybooks.
If you speak both Mandarin and Cantonese…
Consider 我自己会读 Greenfield, which has audio narration in both languages. These books also function as simple storybooks.
If your child is ready to learn to read…
Consider Sagebooks, which teaches one simplified or traditional Chinese character per lesson.
Use 四五快读 4, 5, Quick Read as practice for reading early chapter (bridge) books.
It depends on your budget
Consider learning simplified Chinese since resources in this script are more widely available and affordable.
学前阅读计划 Odonata and/or 四五快读 4, 5, Quick Read are among the least expensive options.
It depends on your child
Every child is different, and even siblings might prefer different leveled readers.
Some children will need more reading practice than others, and thus, you may need to invest in more leveled readers.
What is your child's favorite Chinese leveled reader?
Which of these Chinese leveled reading programs has your child used? Please share your review in the comments so we can learn from your experience.
More tips on creating a Chinese learning environment at home