12 Picture Books for Hispanic Heritage Month in Chinese, English, Spanish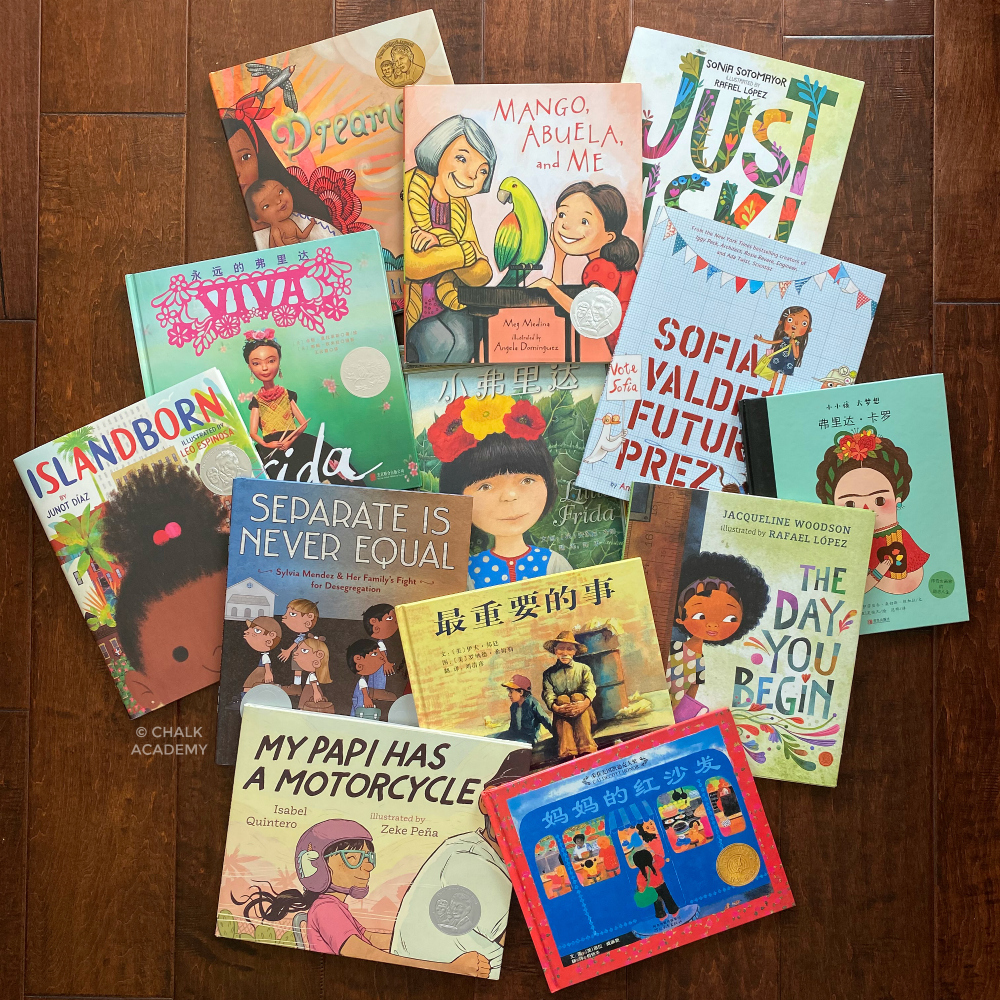 In our home library, we are gradually adding more English and Chinese children's books about Hispanic and Latino heritage. Although my children are Chinese-Korean-American, we believe that reading stories with characters of all backgrounds is essential. Intentionally, our list features Hispanic and Latino authors (eg, "own voices") to learn directly from their experiences which may or may not be similar to ours.
These picture books that celebrate Hispanic and Latino protagonists are geared for ages 3-8 years. However, as a parent, I enjoy reading many of these books for myself!
This post may have some affiliate links. If you click an affiliate link and make a purchase, I earn a small commission which supports this educational website at no additional cost to you. Please see the disclosure policy for details.
Since few Chinese children's books feature Hispanic protagonists, we are reading many of these stories in English. We are not currently reading other languages but have included Spanish versions in this list when available!
I'll share the books we've read so far, and we'd love to hear your recommendations, too! A few of these are compatible with Luka Reading Robot which narrates stories in fluent Mandarin.
I hope the photos and ISBN information can help you find some of these books in your library or favorite bookstore!
Picture books that celebrate diversity:
10+ Picture Books for Hispanic Heritage Month in Chinese, English, Spanish (this post)
Chinese and English books that celebrate Hispanic and Latino heritage
1. 妈妈的红沙发 / 媽媽的紅沙發 A Chair for my Mother
After a fire destroys Rosa's home and possessions, the little girl, her mother, and grandmother save their coins until they can afford to buy a large, comfortable chair for the 3 of them to share.
Love, love, love this story of overcoming hardship and teaching the value of saving money. Highly recommend 妈妈的红沙发 / 媽媽的紅沙發 A Chair for my Mother.
Where to buy:

Simplified Chinese / ISBN: 9787543464568
Traditional Chinese / ISBN: 9578872542

Audio narration: Luka Robot and Ximalaya
2. 最重要的事 A Day's Work
This beautiful, serious story about a little boy and his grandfather captured my son's attention. Francisco, a young Mexican-American boy, tries to help his grandfather find work in California. Abuelo (grandfather) cannot speak English, so Francisco lies in desperation and gets his grandfather a gardening job.
The story emphasizes honesty and integrity; Abuelo teaches Francisco that we cannot lie for work and shows him how to rectify mistakes.
Where to buy:

Simplified Chinese / ISBN: 9787543480193
Traditional Chinese / ISBN: 9789867460486
English / ISBN: 9780395845189

Audio narration: Luka Robot
3. Frida Kahlo
Frida Kahlo was a famous Mexican painter known for her many self-portraits and cultural art. The following books about Frida Kahlo have been translated to Chinese.
(A) 永远的弗里达 Viva Frida
This is a gorgeously illustrated book, but beware that the bilingual text is sparse with short poetic phrases such as, "I dream" and "I understand." If you're looking for details about Frida Kahlo's life, this is not the best option. However, the last page of the book has a short summary.
Where to buy:

Simplified Chinese / ISBN: 9787550283343
English / ISBN: 9781596436039

Audio narration: Ximalaya
(B) 小弗里达 Little Frida: A Story of Frida Kahlo
This is our preferred picture book about Frida Kahlo because of the realistic illustrations plus her inspiring story of overcoming illness and discovering art.
Where to buy:

Simplified Chinese / ISBN: 9787559616357
Traditional Chinese
English / ISBN: 9781536209334
(C) 弗里达·卡罗 Frida Kahlo (Little People, Big Dreams)
This popular series gives an overview of Frida Kahlo's life struggles and triumphs. For our family, the abstract illustrations were not our favorite as we prefer realistic representations, especially of minorities.
Of note, one page featured Frida Kahlo laying in a pool of blood, which some families may not be comfortable with sharing.
Where to buy:

Simplified Chinese
English / ISBN: 9781847807830

Audio narration: Ximalaya
Try this: 15 Ways to Encourage Your Child to Read
English and Spanish books that celebrate Hispanic and Latino heritage
1. Mango, Abuela, and Me
I really love this story about a little girl who is learning to connect with her Abuela (grandmother). Abuela moves in with the family, but she mainly speaks Spanish, a language that the child doesn't know at first.
Over time, they exchange words in Spanish and English and bond while they learn from each other. This relatable story triggers fond memories of trying to communicate with my own grandmother who spoke Changsha dialect.
2. Just Ask
Written by Justice Sonya Sotomayor, this wonderful book is inclusive of children with various medical conditions and ethnicities. The author is the first character in the story; she often felt out of place due to Type 1 Diabetes Mellitus.
She then introduces other children, such as Vijay who is deaf but he loves to read and write. A child with food allergies is also featured, which I appreciate since my son is allergic to several foods. Each spotlight concludes with a question, "Do you?" asking the reader to consider whether he or she can relate to the character.
Related: Living with Hearing Loss and Becoming a Bilingual Audiologist and Mom
This is my daughter's current favorite story, and she loved learning about the strengths of each child. Highly recommend this fantastic book that would be a great resource for preventing bullying.
3. Separate is never equal
This history-based story draws attention to the 1947 California ruling against public-school segregation. Sylvia Mendez was a young child when she experienced overt racism and discrimination. Told by the school administration to "go to the Mexican school", her parents work hard for justice so that children like Sylvia can go to any school.
Where to buy:

English / ISBN: 9781419710544
4. The Day You Begin
This is a gentle, much-needed book to empower children with challenges that they or others may face at school. "There will be times when you walk into a room and no one there is quite like you until the day you begin to share your stories." Gorgeous, gorgeous illustrations. Highly recommend!
Where to buy:

English / ISBN: 9780399246531
Related: 20+ Chinese Books for Children About Going to School!
5. Dreamers / Soñadores
Author Yuyi Morales' shares her personal experience with immigrating to the United States. Though initially apprehensive of the new culture, she finds comfort, freedom, and hope in books. Very relevant story for any immigrant family.
6. My Papi has a motorcycle
Daisy Ramona explores the town with her papi (father) on his motorcycle. During the ride she learns about her family and culture, such as the murals murals that reveal the history of immigrants working on citrus groves. I chose this book because my son loves books with vehicles, and this was a relatable way for him to learn about a story featuring a girl.
7. Sofia Valdez, Future Prez
Sofi is a brave little girl who works leads her community to collaborate and create a park. By overcoming bureaucratic challenges, she becomes a role model for little girls to see that their voice is important. This award-winning fictional story was written by the author of the Questioneers series: Iggy Peck, Architect; Rosie Revere, Engineer; and Ada Twist, Scientist.
8. Island Born
A story begins with a teacher asking Lola and her classmates to share about where they immigrated from. TRIGGER WARNING: This question may be difficult for children separated from birth parents and/or displaced from home. For Lola, she cannot remember the Dominican Republic because she left as a baby. Through her family, she learns about heritage – it's always a part of her, even though she can't remember.
9. Nine Months
This gorgeous picture book by Jason Chin is perfect for expectant parents who are preparing for a new sibling. Captivating, realistic illustrations feature an Asian American husband and Mexican American wife, based on the author's brother's family.
Where to buy

English ISBN: 9780823441617
What are your favorite children's books about Hispanic and Latino heritage?
What other books Hispanic and Latino heritage do you recommend?
If you end up reading this book, let me know what you think in the comments below! We'd love to hear about your learning experience with the books you choose! What other books do you recommend we check out?
Happy reading, friends!