Chinese New Year Banners – Simplified and Traditional Chinese Printable
To celebrate Lunar New Year, families decorate their homes with red banners in China, Taiwan, Singapore, Malaysia, and other countries. In addition to being beautiful, Chinese banners feature welcoming greetings painted in calligraphy. Now you can decorate your school or home with our printable Chinese New Year banners!
Our printable Chinese banners also come with information sheets that answer questions like:
What are Chinese New Year banners?
How do you say banners in Chinese?
How do you decorate a home or school with Chinese banners?
Print out the banners and information sheets for your Lunar New Year Lesson Plan! It's bound to be a fun way to introduce Chinese culture to your children or class.
This article was originally published in January 2018 and has since been updated with new information.
Cultural lessons with Chinese New Year banners
In Chinese, banners are called 春联 / 春聯 (chūnlián). That's because native Chinese speakers refer to New Year is called Spring Festival 春节 / 春節 (chūnjié) to celebrate the arrival of a fresh blooming season.
Although you can buy Chinese decorations on Amazon, my sister created printable banners for our family and anyone else who wants a convenient way to learn and decorate their home.
To be honest, when I first began to learn Mandarin with my kids, I was reluctant to incorporate culture. Growing up in a small, non-diverse town, I never saw Lunar New Year decorations. Even now, in contrast to my sister who currently lives in a diverse city and has traveled to Asia several times, Chinese culture is relatively new to me.
I'm so grateful that my sister made these banners to bring culture into our home. And we hope your family and school can enjoy them, too!
During the first couple of years of decorating, the Chinese greetings were foreign and hard to pronounce.
Now it's the 7th consecutive year that my kids and I have been decorating for Spring Festival.
Fast forward to today, my children have grown up quickly, and we can say, read, and understand many of these Chinese messages.
One year, we even went all out and made a cardboard Chinese market! But that's totally not necessary. You can keep the experience as simple as you'd like.
This post may have some affiliate links. If you click an affiliate link and make a purchase, I earn a small commission which supports this educational website at no additional cost to you. Please see the disclosure policy for details.
How to decorate with Chinese New Year Banners
Hanging red banners around the house creates a print-rich environment for learning Chinese. Through Chinese Lunar New Year books, I've also learned that banners are hung in certain ways at home, schools, or businesses.
1. Vertical couplets
Traditionally, long red scrolls are hung in pairs (couplets) around doors and windows to welcome new guests.
2. Horizontal banners
Typically, a long, rectangle-shaped Chinese banner is hung above doors.
3. Diamond banners
Sometimes on doors, a diamond-shaped 福 Chinese character is hung upside down. Because Chinese traditions often play on words with similar pronunciation,倒 (dào) means "to invert" and also "to pour out." Therefore, "你的福倒了" (nǐ de fú dàole) can represent that your 福 is upside down and your 福 is pouring out.
倒 also sounds like 到 (dào / arrive). In other words, it's a wish for good fortune to arrive all over your place.
As for 春, some friends have seen this Chinese characters upside-down, while others have remarked that it's less common.
Examples of decorating with Chinese couplets
Here's where we put Chinese red banners in our home.
However, reality with young children means that many banners are in random parts of our home. Who can relate?!
Download printable Chinese banners
To save time, download and print the Lunar New Year decorations from the links below.
Other supplies for making Chinese red banners
Scissors and/or paper cutter
Wall putty
Optional:

Gold leaf pen – recommended for shiny results
Biodegradable gold glitter and liquid glue
Glitter glue – only recommended if tracing a couple banners. If doing a large batch, hands will be sore from squeezing the bottle!
Black paint and paintbrush
How to prepare Chinese banners for Lunar New Year
Print banners template
Cut along solid line or dotted line (depending on desired shape)
Optional: Trace or color each Chinese character with gold or black art supplies
Hang up on walls and door with wall putty
*TIP: If your child has trouble remembering Chinese characters, use the solid font (instead of outline font) for more visual input.
Common Chinese greetings on Lunar New Year couplets
Here are popular Chinese New Year greetings included in our festive printables.
Vertical couplets
大吉大利 (Dàjí dàlì / Happy and prosperous) – Also part of the saying 大吉大利晚上吃鸡 (Dà jí dà lì wǎn shàng chī jī / Winner Winner Chicken Dinner!)
恭喜发财 / 恭喜發財 (Gōngxǐ fācái /

May you have a prosperous New Year

, or literally Congratulations and Make Money!)
年年有余 / 年年有餘 (Nián nián yǒu yú / Have overflowing abundance every year)
五福临门 / 五福臨門 (Wǔ fú lín mén / 5 blessings come upon your door)
身体健康 / 身體健康 (Shēntǐ jiànkāng / Wishing you great health)
心想事成 (Xīn xiǎng shì chéng / Best wishes)
花开富贵 / 花開富貴 (Huā kāi fùguì / May wealth bloom as flowers bloom)
吉祥如意 (Jíxiáng rúyì / Big fortune)
新年快乐 / 新年快樂 (Xīnnián kuàilè / Happy New Year!)
出入平安 (Chūrù píng'ān / Peace and safety wherever you go)
Diamond banner
福 (fú / happiness)
春 (chūn / spring)
Horizontal banner
欢迎光临 / 歡迎光臨 (Huānyíng guānglín / Welcome)
Christian Chinese Banners
In our humble opinion, traditional greetings are too focused on luck and wealth, which we try to de-empathize in our daily parenting. As a Christian family, we wanted to display blessings that reflect our beliefs. Many thanks to Stream of Praise worship songs for teaching us Christian blessings in Mandarin.
Vertical banners with Christian blessings
耶稣爱你 / 耶穌愛你 (Yēsū ài nǐ / Jesus loves me)
爱在我家 / 愛在我家 (Ài zài wǒjiā / Love in my home)
十架之光 (Shí jià zhī guāng / Light of the Cross)
神真美好 (Shén zhēn měi hǎo / God is great)
常常喜乐 / 常常喜樂 (Cháng cháng xǐ lè / Always rejoice)
以马内利 / 以馬內利 (Yǐ mǎ nèi lì / Emanuel)
主赐平安 / 主賜平安 (Zhǔ cì píng'ān / Lord gives peace)
福杯满溢 / 福杯滿溢 (Fú bēi mǎn yì / May your cup overflow with blessings)
Diamond banner with Christian blessing
恩 (Ēn / grace)
Decorating Chinese banners
In the next photo, my daughter was focused on tracing each Chinese character with a gold leaf pen following Chinese stroke order.
Here are some wonderful pictures that parents and teachers have shared with me on Instagram!
And below is a colorful version that we made in the past. A few years ago, I used SongTi font, which is more block-like. However, I have been gradually switching all of my printables to KaiTi font, the standard Chinese font so that the Chinese characters look more like calligraphy!
And here's a gorgeous pair of banners that a mom sent to me. We love seeing how much fun your children and students are having during Lunar New Year.
Get Your Chinese banners here!
Did you decorate your home or school with lucky red Chinese banners?
If you decorate your home, school, or office with our Chinese banners, we'd love to see how they look! Please share in the comments below or send us an email!
More Lunar New Year resources for children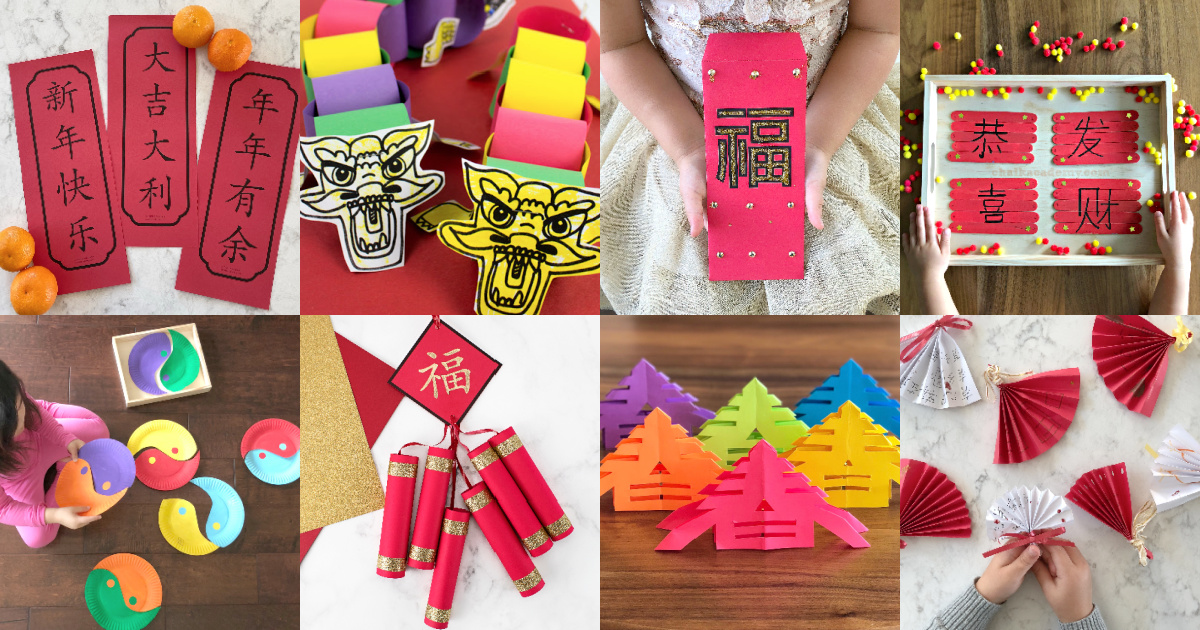 Happy Lunar New Year, friends!