20 Easy Christmas Kids Crafts and Activities in Chinese, Korean, English
Christmas is coming up fast, and I am excited about sharing my children's favorite Christmas crafts and activities with you!  Year after year, my kids have a blast re-doing many of these Christmas activities!
Each of these Christmas activities take only a few minutes to set up. I also love that simple DIY ideas can be used as holiday decor or handmade gifts!
Low-prep Christmas activities for kids
Christmas crafts have been fun for our family to bond and make memories. The kids are also improving their eye-hand coordination, fine motor skills, creativity, and practical math skills.
In addition, we try to focus on boosting the minority languages, Chinese and Korean, while making new creations. As always, you can do most of these activities in any language!
This post may have some affiliate links. If you click an affiliate link and make a purchase, I earn a small commission which supports my blog and free printables at no additional cost to you. Please see the disclosure policy for details.
DIY Christmas Ornaments
Printable Christmas banner
Please review the Terms & Conditions before downloading any materials.  © CHALK ACADEMY. Do not share any files without permission from chalkacademy.com. Only this website link may be shared.
We decorated the kids' bookcase with Christmas banners! Feel free to download them in the links below:
Simplified Chinese
Traditional Chinese
Korean
English
In the above photo, we printed the simplified Chinese version with black words – 2pages per sheet. Then we colored the words with a Gold Sharpie.
Please see my post about Free Printable Birthday Banners for step-by-step instructions on how to set up the banners!
Candy Cane Pipe Cleaner Patterns
When I was a kid, I remember making candy canes with pipe cleaner and beads in school. This is a fun and simple way to teach kids patterns, and my 4-year-old discovered that 2 candy canes can make a heart! Here are the simple materials:
Yarn-Wrapped Cardboard Tree Ornaments
My kids had such a blast making these sparkly recycled trees inspired by Imagination Tree and Easy Peasy Fun! They are so fun for a wide age range.
Here's how the DIY cardboard ornaments look on our Christmas tree! My kids love pointing out which ornaments were created by them!
Last year when my daughter was 5 years old, she could decorate it independently, while my 2-year-old felt proud of his choice of orange yarn 😍.
Trilingual craft stick ornaments!
Every year, my kids make their on craft stick ornaments with colorful craft sticks, ribbon, and jewel stickers!
To incorporate their 3 languages (Chinese, Korean, and English), we like to write trilingual messages on each craft stick ornament!
Learn about the materials we used for the trilingual craft stick ornaments here!
Handmade Christmas cards
Washi tape Christmas cards
These washi tape Christmas tree cards are some of the best cards that my daughter has made for friends and family! No need to run to the store when you can quickly make your own beautiful Christmas cards at home!
In each of these cards, my daughter has been copying bible verses for handwriting practice and also adding the sweetest, personal messages.
Read about our teaching tips and favorite sparkly washi tape in this post about the Washi tape Christmas cards!!
Handprint Christmas Tree Cards
As I've mentioned before, my daughter is like a Hallmark factory and makes dozens of cards every week for friends and family!
Handmade cards are the best way to personalize greetings, and cards have also been useful for improving my daughter's reading and writing skills.
Inspired by the Glued To My Crafts blog, she instantly began to grab green paper and traced her hands!
Faith-based Christmas crafts
Washi Tape Crosses
My kids have fun making these every year for both Easter and Christmas!
Find out about our favorite washi tapes in our DIY Washi Tape Crosses post!
Jesus is King Crown Craft and Coloring Pages
Here's another favorite faith-based Christmas activity that celebrates Jesus as our King!
To compliment the fine motor strengthening of the beaded words, I also created free printable coloring sheets.
You can learn more about these Jesus Crown activities and download the coloring pages in English, Korean, and Chinese here!
Christmas learning activities
Decorate felt Christmas Tree Activity
These felt Christmas Trees have been enjoyed by both of my children year after year, even though they have a 3 year age gap!
Felt Christmas trees are easy to set up because felt sticks to felt.
They're a simple way for kids to get creative while exploring shapes and patterns.
Just keep an eye out for the small felt parts – you will need to supervise kids under 3 years of age who are mouthing non-food objects!
This is a smaller, portable version of an awesome giant felt tree that we saw on Amazon which you can buy from this link!
Paper roll Christmas tree word matching
A few years ago, we made Paper Roll Christmas Trees for a word matching lesson, and my daughter wanted to keep them! Since then, we have been taking out these recycled trees every year!
Christmas tree word bowling
Cardboard roll bowling is one of my son's all-time favorite games! All you need is a ball, cardboard rolls, & scrap paper or index cards. It's a fun way to get energy out while reviewing a few Chinese characters! As usual, you can adapt this to any language eg, alphabet letters, sight words, numbers. You can see the video of this in action on my Instagram here.
Free Chinese Christmas coloring sheets
If you're too busy to set up crafts, download and print our educational Chinese Christmas Coloring sheets! It's a convenient way for young children to review Chinese Christmas vocabulary, numbers, and shapes.
Click here for the free printable Chinese Christmas Coloring Pages!
Recycled polystyrene Christmas tree poking
Here is a fun and low-prep Christmas-themed activity that I set up for my son last year!
In addition to strengthening fine-motor skills and eye-hand coordination, we also reviewed shapes and Chinese characters.
For more details and teaching tips, check out this post: Christmas Tree Polystyrene Poke – Learn Shapes, Colors, Words, and More!
Christmas sensory writing tray
Children who are learning to write might enjoy the tactile experience of a sensory writing tray!
Read about how I set up our Christmas sensory writing activity and download free printable writing prompts in this post!
Christmas lights dot sticker word matching
We love the convenience and versatility of dot stickers!
While my kids were playing beside me, I quickly set up this festive word matching activity resembling Christmas lights! To boost my son's confidence, I added only a couple new words among other words he knows well.
Christmas holly dot sticker word matching!
Using red dot stickers, I wrote words that my son is learning, and he matched them holly berries!
Snowman button counting!
This is an easy to set up snowman made of felt! We made it extra large, but you can make it table size like our felt Christmas trees above!
Have your child roll a dice and see what number he gets; then place that number of buttons on the snowman! (We used rocks that we painted with acrylic paint a while back.)
Christmas Tree Bottle Cap Word Matching!
These "ornaments" (bottle caps) are fun for fine motor skills! And you know we are all about word-matching games here!
With dot stickers, the caps can re-used for different words! Since my son loves animals, he asked me to write the Chinese words for them. But you can also do numbers, color names – whatever your kid wants to learn!
Materials needed:
Cardboard
Pencil
Acrylic paint
Paintbrush
Bottle caps and screw ring
Tacky glue (I think this works better than glue gun)
Dot stickers
Black Sharpie marker
Instructions:
Draw outline of Christmas tree on cardboard
Paint tree
Glue screw ring part of bottle cap
Write 2 sets of desired words on dot stickers, one set for tree, one set for the caps
Put 1 set of stickers on tree, the other in caps
Have fun matching!
Christmas craft stick puzzles
Craft stick puzzles are very easy to set up, and we've covered a variety of topics and vocabulary through these puzzles!
The above photo is an example of Christmas-themed puzzle, and you can check out other DIY puzzle ideas here!
Christmas countdown crafts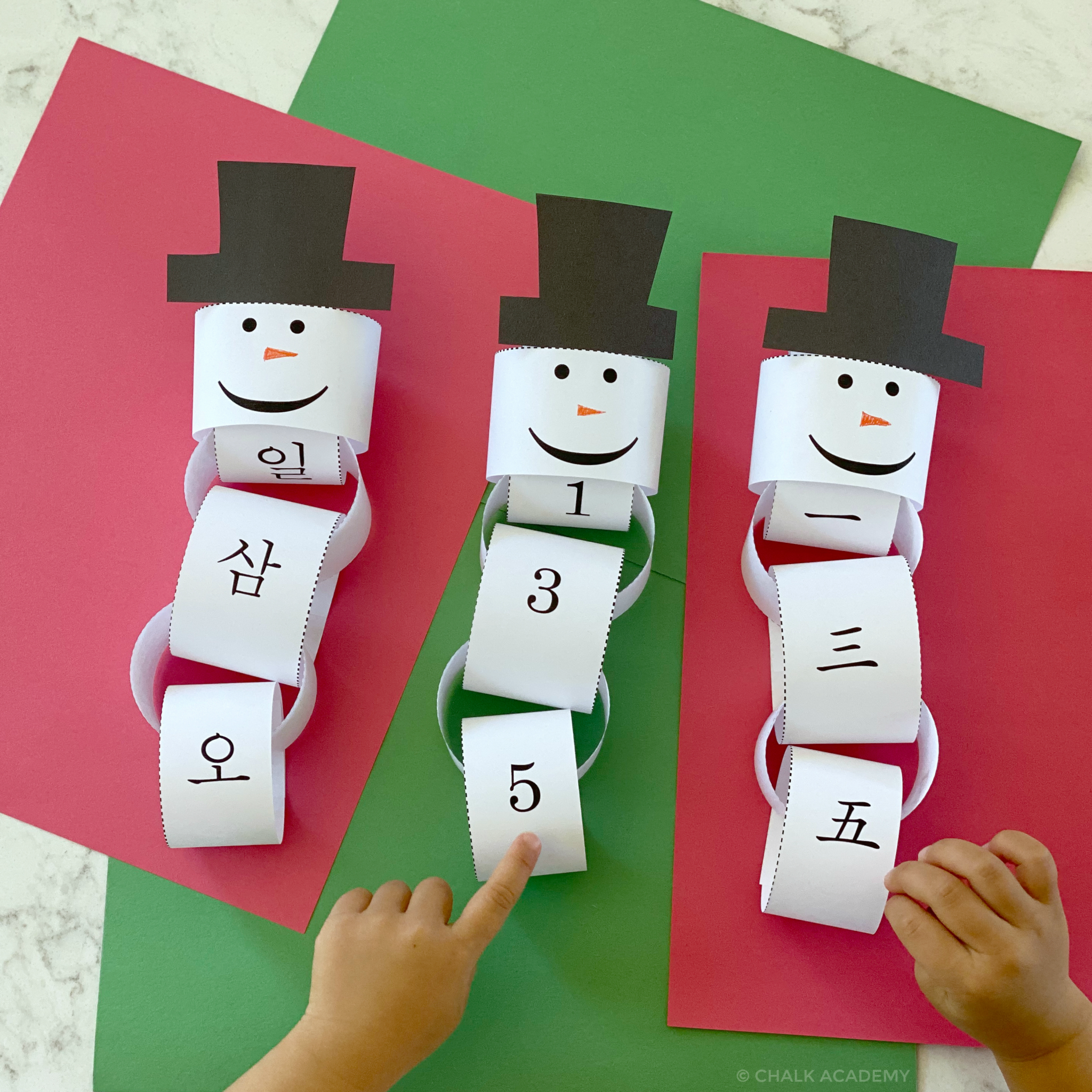 Paper Chain snowmen Christmas countdown (free printable)
A few years ago, my daughter practiced counting backwards with our printable paper chain snowmen for our Christmas countdown!
Now, my youngest child is is excited to rip off each paper chain as we approach the next Christmas!
You can find the instructions and free printables in Korean, Chinese, and English in this post about the paper chain snowman activity!
Bilingual Snowmen Christmas Countdown (Chinese & Korean)
To encourage our children's minority languages (Chinese and Korean), our nanny and I made these paper plate snowmen to encourage bilingual counting practice!
This activity was inspired by the amazing paper plate Christmas snowman from Happy Tot Shelf!
In hindsight, we should have put 남은 날 (Days Until) on the Korean snowman's hat to keep the language consistently in Korean.
Save these educational Christmas crafts on Pinterest!
Have you tried any of these easy-to-set-up Christmas activities with your kids?
If you try any of these Christmas activities, please let us know in the comments below!
On Instagram and Facebook, tag a photo @chalkacademy and use the hashtag #ChalkAcademy so our family can check out the action!
We'd love to hear about your learning experience!
Holiday shopping guide for kids
If you're shopping for holiday gifts, check out our educational gift guides!
Learning activities for every topic!
To sign up for our educational newsletter plus convenient access to our Free Printables Library, please click the button below!
What is your child interested in today? Click below to explore activities and books that your child will love!
Merry Christmas, friends! 圣诞节快乐 / 聖誕節快樂! 메리 크리스마스!